Happy September!! I am back at it with a fab round up of September's fresh picks. In case you're new here, fresh picks is a monthly collection of my favorites… items on my wish list, items I have purchased and love and anything between! I hope you enjoy…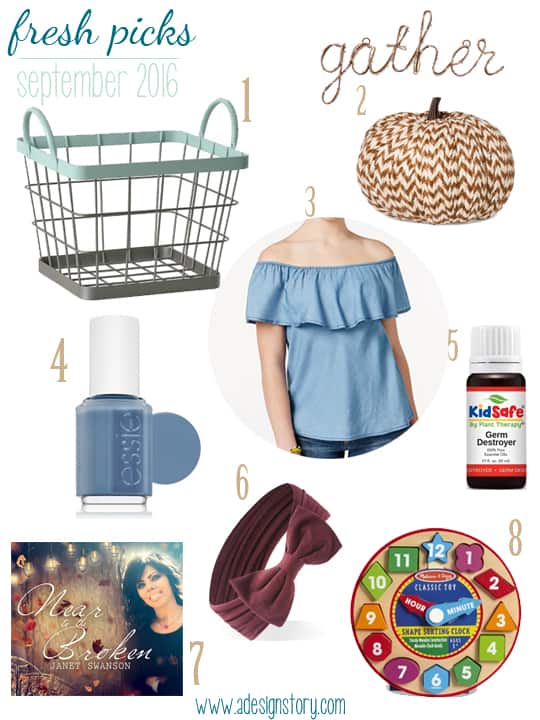 Item Details:
1/ Bins, bins and bins. I am a lover of storage gals. This month, I have been on an organizing kick and in an effort to grab some additional square footage, bins are the answer. I love this wire bin from Target for a playroom or front door for drop off 'stuff'. Clutter is the enemy at our house, so for me, the more bins the better!
2/ Fall is almost here. In fact, the 22nd is the start to the autumn season! I haven't started the fall decorating yet, but I have a few plans up my sleeve to show you guys. I came across a few fall items that I love so much. This gather sign can actually be out all year and can light up or stay dim. I think it would look great on open shelving or in a dining room where your family gathers for meals and quality time. I also love this chevron pumpkin, I would grab a few and pair it with a pretty runner for the dining table for a simple and clean fall tablescape.
3/ Who else is loving the off-the-shoulder tops that are trending right now? I absolutely adore all things denim and this chambray shirt marries the two so perfectly. Pair it with white or dark blue jeans and some nude flats and you have yourself a classic outfit for the changing season.
4/ When I have a few minutes to myself after a shower or bath at night, I like to glam up a bit and fresh nail polish always does the trick. I am especially loving Essie's Truth or Flare color for the upcoming fall season. It's like chambray for your nails… what's not to love about that!?!
5/ School is in session around here and most states are following suit really soon. Our son doesn't attend school or daycare, but since other kids do and there are plenty of germs to go around, we diffuse oils on the daily. I love Plant Therapy's kidsafe line and use many of the products on or around our little guy. My favorite is Germ Destroyer and I literally diffuse this multiple times a day. If you haven't started with essential oils, get to it! Seriously, these oils have been a life saver around our house. We use them daily and we know the benefits are so big!
6/ Mom hair, mom buns. Seriously, we all know that we don't have an hour to ourselves everything morning to get ready… especially on a crazy get out of the house fast kinda day. For me, those morning fall on Wednesdays and Thursdays because our little man goes to back-to-back speech and occupation therapy sessions on those two days. I like to look cute, but in a hurry. Thankfully, headbands and head wraps are trendy these days and come in all sorts of styles and designs. I love this bow wrap for the fall season, I would either wear it with my hair down and put it right over my head or around my mom bun. It will glam up a plain outfit and make your second day mom hair look adorable!
7/ My aunt just recently sent me a family friend's new christian cd. As soon as I popped in the car and it began to play, our son immediately raised his hands and said "Thank you Jesus" "Yay Jesus". I, being the emotional mom that I am, sobbed like a baby. Seriously, this one of the best cds I have ever listened to. Our son cries when songs end… we both love it so much. It will minister to your heart, build up your faith and make your heart yearn for more of the Lord. If you are looking for a wonderful cd to listen to with your kids- please check out Near to the Broken– by Janet Swanson.
8/ Educational toys– all mom's love them! B is learning his numbers and shapes and I grabbed this Melissa and Doug wooden clock toy off of amazon and we are obsessed. It's a great toy because it has several learning uses… colors, shapes, numbers and telling time. B is loving it. All Melissa and Doug toys are equally great and if you watch on amazon, they go on sale frequently.
So, what about you all… what are you loving this month? What would be on your fresh picks lists? Any purchases you are itching to share? Do tell…
** Disclaimer: All links posted are because I truly love the product. Affiliate Links included.