Hi! In case you missed the last post, I am back on the blog here for good! I took a small break right and really took the time to enjoy the transition into mommyhood. Now that I am back at this thing, I thought I would post a favorite past-time post, the monthly fresh picks feature! It's just a quick post showcasing some of my favorite items, items on my wish list or items I am just loving! Here's this month's edition…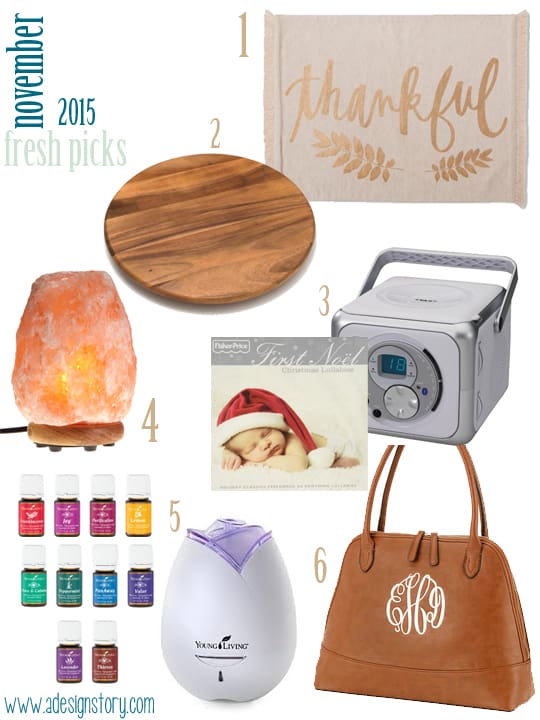 1/ We may be hosting Thanksgiving this year and I have been contemplating what kind of tablescape I want to use. I like the idea of a casual look, maybe these thankful place-mats with a pretty pumpkin and flower centerpiece…
2/ I have been eyeing this wooden lazy susan for quite awhile, I think it will end up on my Christmas wish list for sure! It would be perfect for entertaining and just family meals at the table. Plus, I think it would look really great on my farmhouse table!
3/ Sleep, it's a real struggle with a toddler. B (nickname we call our son) is a pretty good sleeper… usually he sleeps from 8:30pm until around 8:30-9am and then takes a nap for 1.5-2 hours. Lately, his sleep has been interrupted by serious separation anxiety (he is 22 months) and the struggle has gotten real. We were pretty desperate and after realizing he would wake up after his lullaby machine would stop after 20 minutes, we decided to invest in a cd player and cd's. I scooped up this modern cd player and Christmas lullaby cd and we are loving it. It's working yall!
4/ I am obsessed with our new Himalayan Salt Lamp. It's not only pretty, but it also has some amazing health benefits. The have been known to neutralize and purify the air, reduce allergy and asthma symptoms, improve your mood and increase your energy. We are absolutely loving ours… I want to buy one for every single room!
5/ I have been one of those gals who was super interested in essential oils, but always afraid and skeptical to try them. That has changed friends. I am a believer. I bought the starter kit from young living and I am obsessed… well, actually my husband is too! Both of us were struggling with cold symptoms and after diffusing for a few days, both the symptoms and the cold were completely gone. My hubby actually felt better within 30 minutes. I now diffuse daily and even have researched ways to use these to promote better health for our son too. They are amazing. (Side note: I just happen to use Young Living, but there are plenty of other great brands out there too).
6/ I found this beauty online and knew instantly I had to have it asap. This monogrammed purse is light weight, classic and so cute… Even though I rarely carry a purse (my wristlet fits down in the diaper bag these days), I wanted it for date nights, church and the mom's day/nights out!
Well, I hope you guys have fun shopping. What are your favorites this month? Do share… I wanna know what you are into!
Disclaimer: A few of these links do contain affiliate links.