It's Spring… hopefully you are feeling it outside too! I L-O-V-E the warm days and cool nights… don't you? One of my favorite things about the seasons changing is updating my decor! I especially look forward to popping 'life' back into our lanai's/porches. I love to go outside, water my plants and sit in my cute Adirondack chairs & enjoy the bird's chirping and the palm trees swaying. We actually spent some time washing our porches out, planting new flowers & adding a few new items out there… that post is coming soon!
In the meantime, the fabulous Rhoda from Southern Hospitality is having a Spring Wreath Link Party today & I am joining in! I made two spring wreath's this year, I really like adding one to the front door and one on our interior garage door (which sits near out kitchen). I was on the search for a regular wreath form & a flat backed basket…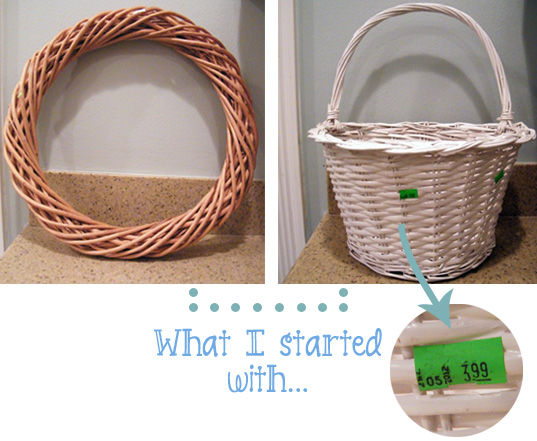 I bought each of the wreath forms awhile ago at my local Goodwill for next to nothing. Thrift stores are a great place to find inexpensive wreath forms and baskets, especially if you change your door decor a lot… (mine were actually brand new too). I grabbed up some coupons for Michael's craft store & headed over to find some new flowers and decor…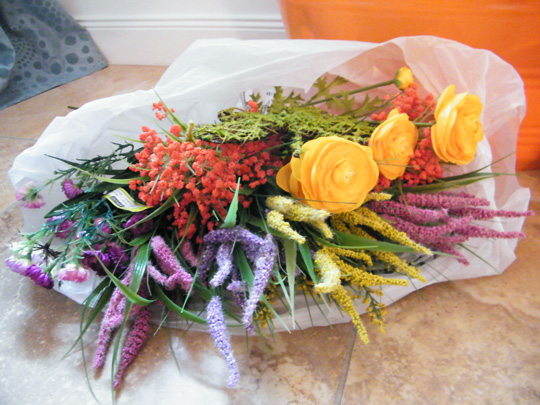 I decided I wanted to go with a bright & bold color scheme (& skip the usual pastels I used in last years Spring Wreath)…

While my hot glue gun was heating up, I played around with placement… once I had the 'perfect' configuration I began to glue… AND WA-LAH..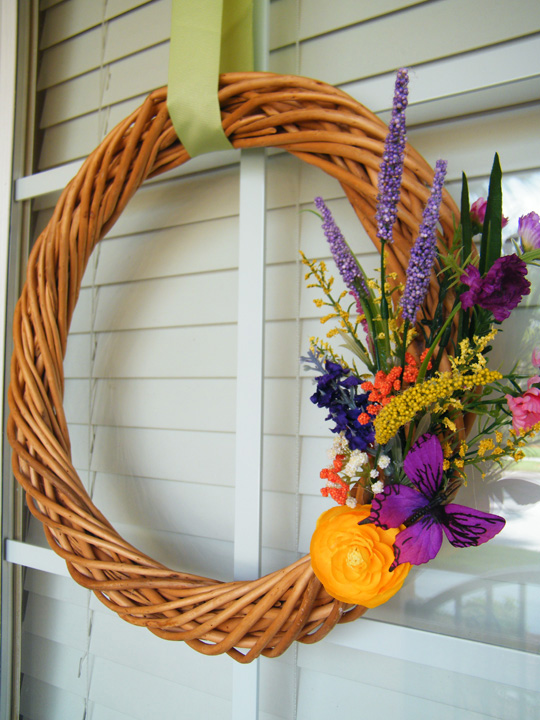 I love it. We have a glass front door, which I have a love/hate relationship with. I love the extra sunlight we gain from it, but sometimes I would love to have a door I can paint a bold color (or maybe aqua— you know me). This wreath was super easy & really inexpensive… (wreath form $1, flowers $7, ribbon free/I had it). What do ya think?
The next wreath I decided to keep inside because I loved it too much not to look at it all day (well maybe not all day, but it's adorable). The only thing I differently with this one is I didn't hot glue a thing. I figured I might want to use this over & over again, so I stuck a Styrofoam brick inside and pocked the flowers inside it! It was so easy– & you gotta love that it too was inexpensive (wreath basket $3.99, flowers $7, moss bug $1, fabric bird $1).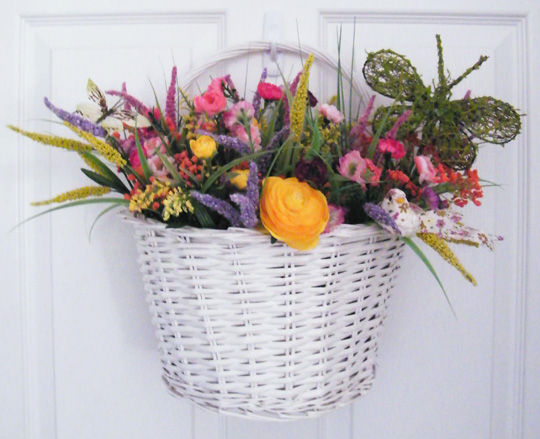 My favorite things about this one… the moss bug in the back & fabric butterfly…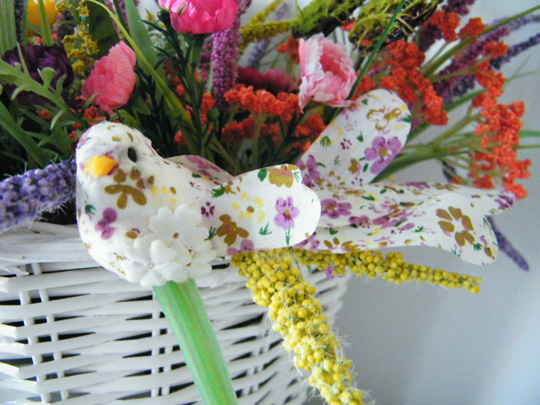 Oh, & if you want to enter to win the E-Design It Giveaway this week, there's still time! I also have a brand new editorial schedule for you to check out… obviously today's post isn't on the "right" day… but the linky party came first!