Happy Monday! Hopefully you all had a fabulous weekend! Any Ravens fans out there? I am not a huge fan of NFL football, but I rooted for the Ravens purely because Michael Oher and Ray Lewis are on the team. The won & I was happy!
A Quick Update…
The last few weeks here have been crazy. We are almost done re-organizing and putting everything back in its place after the wood flooring was installed. My dad & brother did all the work… my dad owns his own building & remodeling business and it kind of comes in handy at times! I can't wait to show you guys… It's unbelievable! Instead of staying focused on the rooms that need to be out back together, this weekend I dissembled another space… my kitchen nook got a little makeover! Thanks to my sister who rode with me all the way to Fort Myers, we now have a beautiful new kitchen table & chairs. Thanks Candice.
Biggest News: My birthday is this Wednesday (the 6th) and last week my hubby gave me one of my gifts a little early. It was half for my birthday and half because we have been thinking about it forever… he got me a new car! Woo to the hoo. I named my Pearly White Lexus RX350 Pearlescent… Pearl for short. I say all of this just to mention that life got busy busy last week and my blog posts that we scheduled just never got published… so stay tuned!
Any who… back to the Fresh Picks… or monthly favorites post. I decided to shorten it down to one board this month just to see what you guys like. So let me know if you like them divided into house & fashion boards… we can go back to that if ya like!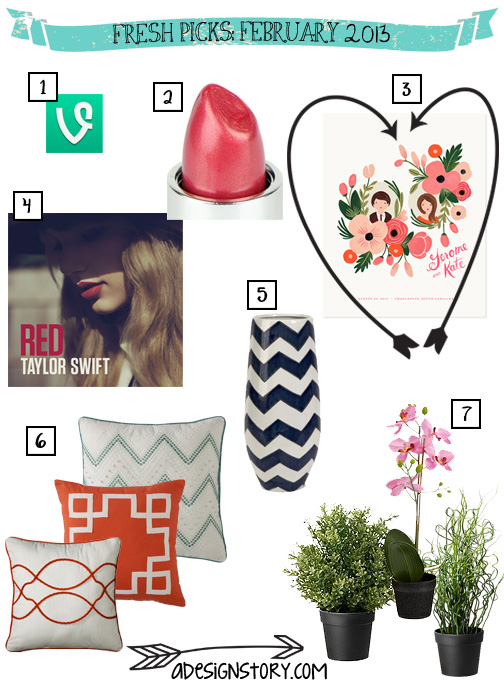 …..THE BREAKDOWN…..
ONE // Vine App – About a week ago I saw that Rhoda from Southern Hospitality had joined Vine. Last night during the boring parts of the super bowl aka more like when the lights were out… I went searching for what this Vine app was all about. I am in love. It's almost like twitter, but it's all about video's! I joined last night and immediately followed all of my favorite bloggers. I haven't posted a video yet, but look for one soon! Follow me @ A Design Story.
TWO // Ruby Red Lipstick – Red lipstick has made a huge comeback these days… have you noticed? I just got my hair done on Saturday and it kinda made me want to give the ol' red lips a try. I am going to order this Ruby Red Lipstick because it's vegan, paraben free & of course gluten free.
THREE // Personalized Print– I am in the midst of trying to fill the frames on our gallery wall and I happen to fall upon this cute family print. I love the floral pattern and I think it would make an adorable statement!
FOUR // Taylor Swift's Red CD– I really don't have to say much about this… it speaks for itself really. I am totally obsessed with her new cd. I adore her & her music.
FIVE // Chevron Vase– It's no secret that since I am an interior designer, I know my prices on all things home décor. Kevin and I were hunting for a new sofa a few weeks ago and I stumbled upon this vase. It was listed at around $80.00. I wanted it, but I resisted my urge because I knew better (even with my designer discount). I went into Marshall's a few days later and found the exact one for $16.99. Yes, it was worth the extra two days wait! You can find one similar on Amazon.
SIX // Pillows – I am a sucker for decorative pillows. My husband loves it. Ok, not. But I do and whatever makes me happy makes him happy, right?… Well, that's what I am sticking to anyways. I found these adorable pillows are Target a few weeks ago and thought they would look perfect on the new sofa we are ordering. [Chevron, Coral Geometric & Coral Wave]
SEVEN // Artificial Plants – My Mr. surprised me a week ago with tickets to see the Broadway show Wicked. Friends, it was fabulous. Literally, fabulous. And no, I can't share my husband… he is mine and I am keeping him. Anyways, after the show we thought we stop by Ikea which was only minutes away from the show. I grabbed up a few more artificial plants for the kitchen. Ikea has the best prices on the lil beauties.
What do you think? What are your favorites this month? Share… please do! Oh, and the Apartment Therapy Blog Awards on happening right now! I didn't realize they were on until I got an email from a very nice reader mentioning she had nominated me! It was such a sweet gesture~~ thanks Cindy! Hop on over… I would really appreciate your vote! While you are there, find a few other blogs to follow!