Happy Monday! Last week got a little crazy around here… our entire home was displaced and a tad dusty! See, we had carpet in the bedrooms, stairs, hallway & closets and it was reeking havoc on our allergies… so we had it all ripped out and replaced with nice wood flooring.  It was a long week of pure craziness around here… hence the lack of presence on the blog. I actually couldn't even reach my computer. We took the entire afternoon & evening last night cleaning up and putting stuff back in its place. The finishing touches are being done today and the clean freak inside of me is rejoicing!
I can't wait to show you the new flooring and all of the other blog worthy goodies to show you. In the meantime, let's talk love. It's almost Valentine's Day, my second my favorite holiday. I start looking forward to February right after Christmas because my birthday falls on the 6th and Valentine's Day is only 8 days after. I love the colors and the cheesy hearts everywhere… in fact I still ask for Valentine's plates for my birthday dinner every year. In honor of the day of love, I put together 14 of my favorite picks…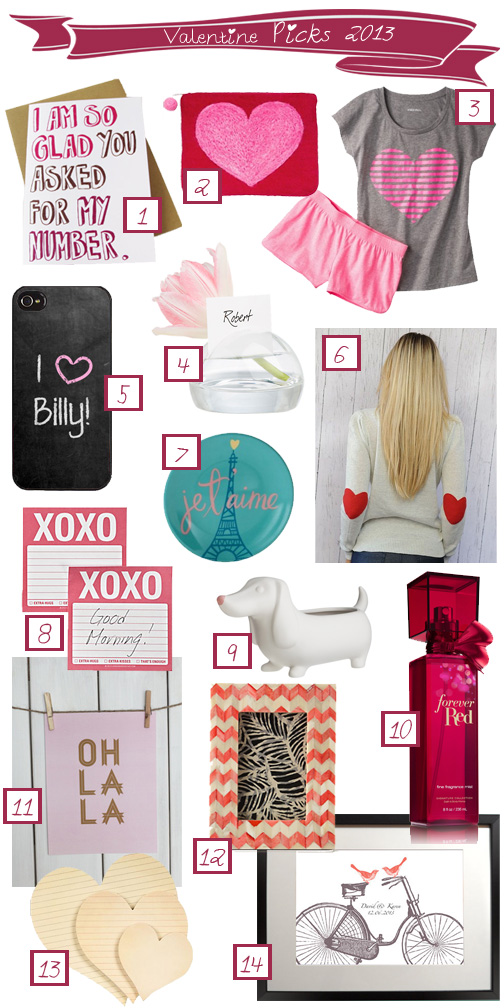 HERE'S THE V-DAY BREAKDOWN //
ONE // Valentine's Day Card– I love this card! My hubby & I met at a church small group and he called one of the girl's in the group to ask for my number— the rest is history.
TWO // Heart Coin Purse– I love a good change purse. I use them for the obvious, but also for my epi-pen, lipgloss & my travel toothbrush (I just got invisalign—I brush my teeth a billion times a day).
THREE // PJ Set– I love a cute lil pj set. I think this one is adorable. Don't you?
FOUR // Card Holder Vase– This vase is so versatile!  Fill it with a few fresh blooms and add a quick note to your love, or use a bunch for a nice personalized place setting. This is going on my wish list asap!
FIVE // Chalkboard Iphone Case– It's no secret that we love chalkboard (we started using it on some of our logo's way back in the spring). I adore this customizable iphone case… obviously mine would say I love Kevin!
SIX // Heart Elbow Sweater– Look how adorable this sweater is with the heart patches! I think it would look great with dark skinny jeans & red toms.
SEVEN // Plate– Make your love breakfast or dessert served on this adorable plate. Then use it to place jewelry or a candle on later.
EIGHT // XOXO Sticky Notes– I forever the queen of notes, to-do lists and doodling when I am on the phone. These would make a cute addition to a V-Day gift for all your gals out there that are doodlers too!
NINE // Dog Candy Bowl– How cute is this? I love a dachshund puppy (my grandparents & brother's family both have one). This would be great for a candy bowl for the holiday as well as serve as a cute space for sticky notes & office supplies on a desk.
TEN // Red Forever Fragrance Mist– This smells great. I am a big fan of spraying a little fragrance mist on days where I am just at home or doing light errands. I tend to save my perfumes for dates, meetings, church & other bigger tasks days.
ELEVEN // Oh LaLa Print– Love, love, love this print. It's girly and fun. I am thinking about adding this to our office or bedroom.
TWELVE // Chevron Frame– Take a photo every year on Valentine's Day of the "two" of you and change it out yearly. This frame is perfect for the occasion!
THIRTEEN // Heart Notes– I love writing cute notes on cute paper! I am thinking of getting these cuties to write love notes to the Mr. to hide in his lunch or business bag!
FOURTEEN// Bicycle Print– I am on the hunt for prints for our gallery wall & fell in love with this lovebirds & bicycle print. I am thinking it's a must!
What say you? What are your love day wish list items? Any favorites?