Its August… can you believe it?! Where did the summer go? I had so much to pick from this month! I was inspired by late summer and things that really speak to the essence of beauty! Please Enjoy & Shopping!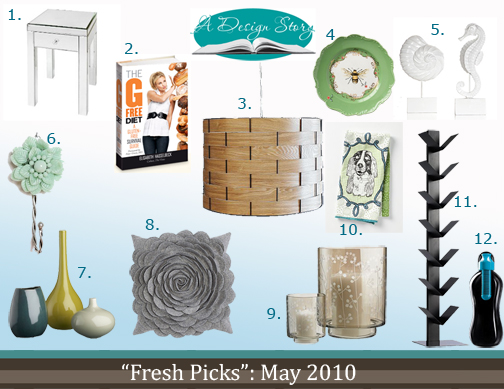 August Breakdown:
With summer coming to a close, these "faves" are sure to get keep you in the season while preparing you for the fall! Happy shopping! Do you have a product you are dying to tell us about? Feel free to comment or email us and share!!
Remember, we are having a fabulous sale on our design packages… a whopping 40 % off of ALL DESIGN PACKAGES IN "Our Shoppe" with the coupon code: Summer. Do Enjoy!
Also, do you have a blog or store you want to showcase? We are offering some really great deals this month for advertising and giveaways… click here for details!
P.S. Have you recently renovated your space or have a DIY Project that was successful? Well, we want to showcase it right here on A Design Story! Just email lindsay@adesignstory.com for details!
P.S. We are having a fabulous Giveaway this week… click here.
This Post was shared over @ The Inspired Room.