Happy New Year! Can you believe it's 2014? Yeah, me neither!! Alas, it is time again for the monthly favorites fresh picks post!
If you haven't noticed, there hasn't been much posting going on over the last several months. We have been up to our eyeballs with to do's and life circumstances. I appreciate you guys understanding and being patient and loyal!! So… Just to recap 2013 in a few bullet points…
Winter & Spring:
– House hunted
– Made many offers
Summer:
– Found a short sale
– Waited from June until August to know our offer was accepted
Fall:
– Packed, packed & packed
– Stated renovating our new house
– Moved in during renovations
– My Sweet Grandfather went to be with Jesus
– I took on 3 Interior Design Projects Locally
Holiday Season:
– Renovations were still happening
–  Decorated for Christmas
– 3 Local design projects underway
– Shopped for gifts
– Hosted the Christmas Eve family party
– Had family in town
– Spoke at my Grandfather's Memorial
I would say we have been BUSY, BUSY, BUSY. Now that life is slowing down a bit I am ready to get back at it. You will see an all new blog schedule, tons of home project updates, more posts during the week and updated pages! I have been really working hard to perfect the blog schedule and make it into something you will love! So keep coming around!!
Now… for the January's Fresh Picks…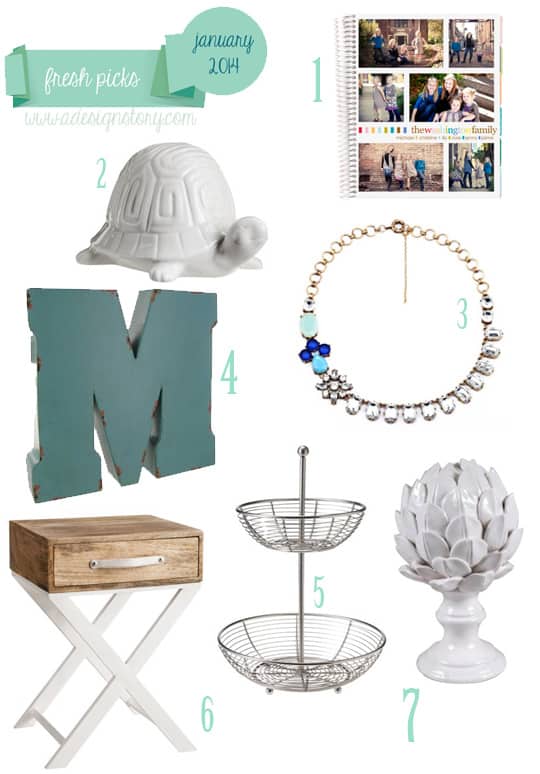 Here's the breakdown:
1/ There is nothing like a new family daily planner to start the year off right. I picked up one from Target this year, but next year I would love to have a personalized one from Erin Condren. These are super detailed and really keep you organized throughout the day! It's more of a life planner!
2/ After taking down the Christmas stuff and packing it all away, I always rearrange things and redecorate a bit. Every year after Christmas I am always in the mood for all things white. I have several white ceramic accessories I sit out on the bar area in the kitchen, a few things I add the to dining table to crisp up the place for winter. I love this white turtle I spotted at Target… even though it's winter, we live in Florida and our home has a very coastal feel to it, so I think mr. turtle would fit right in.
3/ In the next month, we have two weddings to go to… one of which I am a bridesmaid in. I need something sparkly to dress up a rehearsal dinner outfit and this sparkly necklace is perfect.
4/ I am in the process of trying to hang a few pictures and accessories on the wall. A few weeks before Christmas I found out letters to hang in the hallway and the M broke. I have been on the hunt ever since to find another to complete the set! I really like this turquoise M from Hobby Lobby. It's rustic and pretty bulky which would look great next to the K + L we already have.
5/ Since our kitchen is now 80% done, I am beginning to accessorize it a bit. I found a great way to store fruit so it can be ready for grab. I found a tiered fruit bowl at Home Goods a few weeks ago (similar to this one) and we absolutely love it. Mine is a bit more decorative and has more of a matte finish, but you get the idea!
6/ I am a true believer that Target outdoes themselves every single season. I was flipping through some of their newest products and came across this nightstand. I think it would be great in a coastal + cottage interior. Ever since I saw it I am trying to figure out where I can put one!!
7/ Like I mentioned before, I am a sucker for all things white. I picked up one of these ceramic artichokes from TJMaxx a few weeks ago for the kitchen. It looks absolutely fantastic. I really enjoy adding simple accessories to the kitchen so that it remains a very crisp and clean space.  What about you?
Alright, that's it for January's Favorites.. but I want to hear from you guys. What's making your list these days… share!