Since we closed on our house, we have been knee deep in renovating, painting and moving into our new place. For only moving a mile away from our other home, we really had a very stressful move. I have debated on what to post about first, but I really wanted to clue everyone in on our dining room design list first!
I am going to show you guys all of the projects we have been working on in our house in a really fun and organized way. They may not be in order of progress, but it will hopefully all make sense! I have gone back and forth on what to show you first, but I thought it might be fun to showcase one of the easier spaces in the house. I say easy because it isn't very big and it won't require a ton of work!
The dining room…. well actually it isn't a room more of a space within our open floor plan. Let me give you the before's…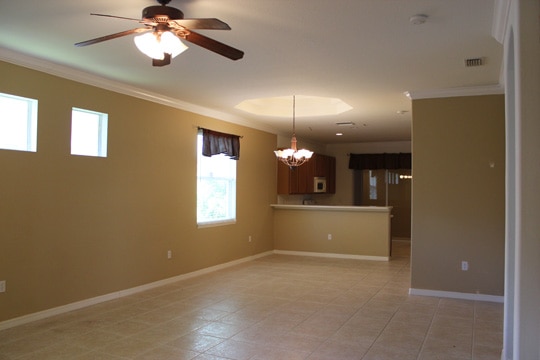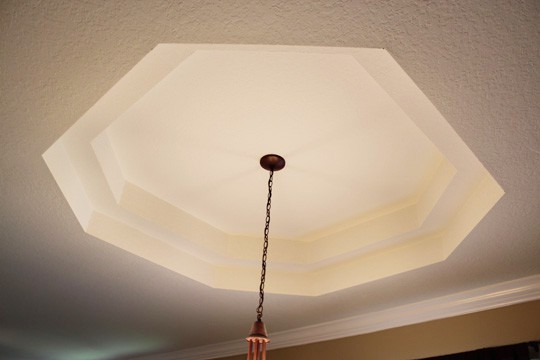 (If you are interested in more before's… click here.)
Now… as for the dining room to-do's go… let me list them for you…
Paint
Hang curtains (we are using our custom curtains from our office in the previous house)
Buy a curtain rod
Put our kitchen table & chairs in place
Buy or DIY a bench for one side of the table
Purchase a thin buffet piece for the wall
Mirror
Art ?
Table Centerpiece
Do something creative with the tray ceiling
Replace the chandelier with something more us
I thought long and hard about what look I really wanted to have in this space. Kevin and I decided we wanted both the living room & dining room to be a mix of beachy and rustic since they are open to one another. Using that theme, this was a space we don't want to use a lot of our 'house money' on (because we have the kitchen to renovate, the shower and seriously the list goes on and on). So, I came up with a design concept mood board to steer us in the right direction…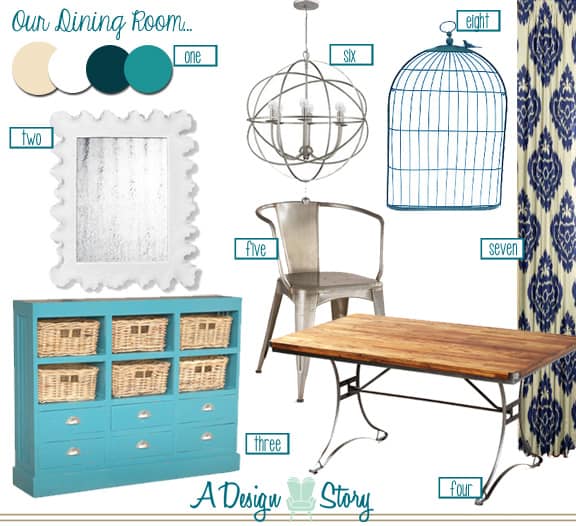 Here's the breakdown…
1/ Color Scheme… Let's talk color for a second. We ended up choosing a very neutral paint color for the main living areas (living room/dining room/ hallway) to brighten our home up and create a flow in the open floor plan. We actually picked the same color that was in our previous living room stripes… Behr's Raffia Cream. As for accent colors, we still love white and turquoise, plus in this home we are adding a bit more navy blue to the picture. What can we say, we are cool color type of people!
2/ The Atoll Mirror from Ballard Designs has been on my wishlist for quite some time now. I ended up ordering it as soon as we got the green-light that our offer had been accepted by the bank (it was a short sale). I actually saved some money on this because of my designer discount… score! I absolutely love the look of the mirror and am so excited to hang it up!
3/ In between our dining space and the wall we would put some sort of buffet or hutch piece is a walkway into our kitchen and someday sun-room area and then into our bedroom. So, in order to keep a functional space where it's easy to move around, we decided we needed something that was very narrow. So, out goes the idea of having our hutch there!! I went to Homegoods, Marshalls, TJ Maxx, Ross and thrift stores looking for a piece I could put here and I was batting "0". After many sleepless nights (not because of the furniture piece… I was still getting use to the new house) I finally found a narrow furniture piece that I fell in love with. The problem was… it was ringing it at around $560.00… a bit more than the budget for one piece for this space. (We have tons of other areas we need to buy items for and renovate too). So, I did what any interior designer would do… I contacted the manufacturer of the furniture and found out they have a designer to the trade discount! Yay! I love wholesale prices!! So, I got mine for $205.00 + 119.95 in shipping for a total of $316.95. Every penny counts. It's going to work great for extra storage!
4/ We fell in love with this rustic table from World Market back in early spring of last year. We got it on sale and it's really been a quality piece. We love it.
5/ We also picked up 4 of the metal tub chairs at the same time we purchased the table. We only bought four because we really wanted to either buy or diy a nice bench for one side for a more casual/beachy look. I will show you when we get to that item on the to-do list!
6/ Lighting… we have to replace the chandelier that's currently hanging in that niche above the table. It's too tuscan for our taste. We really havent' even begun to sit down and chat about the exact style we would like to see here, but this orb light is a favorite of mine and it's absolutely on the list. Once we narrow down a few, I will put the on thee blog and maybe even have a vote!
7/ Drapery… we already had two different sets of drapery panels that we loved that came with us to the new house. We decided to take the custom drapes from our office and use them in the dining area since they are a bit more dressy and bold than the plain aqua one's we had in our last house (these will eventually go in the sunroom when it becomes one). I purchased the fabric awhile back on fabric.com when they had a sale and then had my window treatment gal make them for me. They are lined and I only paid $25.00 per panel. Steal of a deal folks. In case you want to check the fabric out, it's Duralee Kalah Blue (it's on sale every once in awhile).
8/ The truth is there isn't too much room for art other than the space where the mirror is going. There is a little spot between the window and the bar area of the kitchen where I can put something kinda fun. I had picked up a fun rustic blue bird cage memory board at Home Goods for my mom for mother's day last year. Before I gave it to her, I realized she had beat me to the punch and bought it before I did. So… I decided to keep it in hopes we were finally going to find a house! I am so glad I decided to hang on to it… it's going to go in the space between the window and the bar area. It's not really dressy, but we really are casual and functionally driven people!
So… that's the direction we are headed in as far as the dining room goes! I will show you the progress as it happens! So, what do you think? What room are you all working on? Do you hit the easy rooms first or work on the challenging one's to get them out of the way? Do share…