Happy Monday! It's March. Finally! Every year I look forward to March… it means spring is near!
With March already making a mark, it's time to get to the oh so favorite's list…Fresh Picks! Today's post was supposed to be up on March 1st, but I had a little computer failure early Friday morning. Actually, my little "baby" is still getting repaired & I am using my sweet hubby's while he is out at a real estate photo shoot. Thank goodness. In case you're new, our Fresh Picks posts are all about revealing my newest obessions, latest & greatest purchases &/or my new favorite items in stores I love. It's something I started back when I began the blog. It's a fun way to share my likes, loves & obessions… oh, and hear yours too! On that note, let's begin..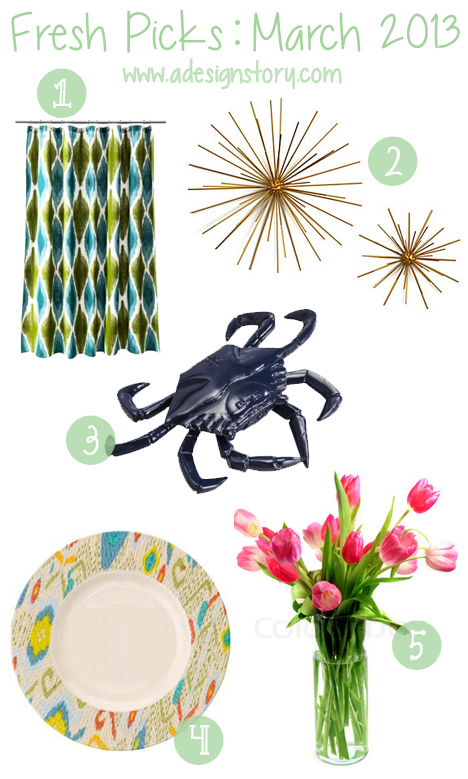 Here's the breakdown…
1: In the midst of getting our hands way deep in our home to-do list, I decided the guest bathroom upstairs needed a little pick-me up! This new ikat shower curtain from Target's Threshold collection caught my eye & it literally jumped on in the cart… well that's my story anyways! 😉
2: We are also working on our master bedroom re-do. New curtains, paint & bedding are on the agenda. I love these spike-y wall decorations… I think they would look adorable paired with a sunburst mirror, don't you?
3: Crab. I absolutely loved this navy blue crab from the newest Nate Berkus collection. It too jumped in my cart on a recent Tarjay run. It's going to reside in our guest room…
4: Friends, I have a weakness for ikat. I love it. On the same Target runs listed above, I also found a set of the cutest casual ikat dinnerware. I bought. Yep, I did. They are so fun! I feel like having a pre-summer BBQ now that these will be playing a part in the tablescape! (In stores, not online quite yet).
5: I am a sucker for flowers. I love potted flowers, freshly cut flowers in a pretty vase or planting flowers. This time of year, I really like to grab up some tulips on a grocery run to brighten up the house… it puts me in the mood for spring!!
What about you guys? What stores & fun home décor items are you guys loving these days? Have you made any fun purchases you want to brag about? Dish it…