Hey there… Happy May! I am back with a full fresh picks post…
Spring is in full bloom around here and it makes me want to change things up a little. I love adding crisp whites, greens and turquoise shades in our house during the spring months. What colors do you like to incorporate during the warm months? This month's fresh picks is coming at you with a bunch of things we recently added to our home…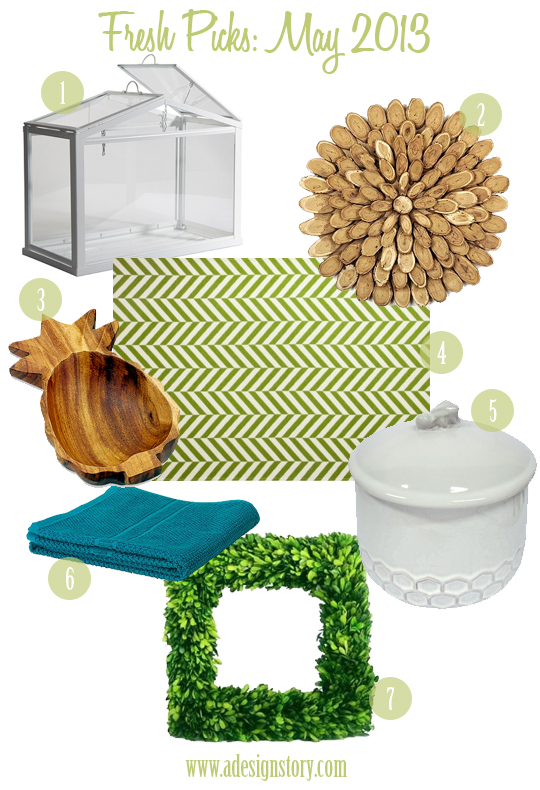 Here's the list & details…
1/ Greenhouse… I picked up one similar to this from TJMaxx a few weeks ago for our front entry table. I like the idea of adding succulents inside for the spring and maybe sand and shells for the summer months.
2/ Wooden Sunburst… I literally ran into this beauty at a Kirkland's stop with my mom. My leg hit it and I immediately grabbed her up and hauled her to the front desk, pulled out my designer discount card and made the purchase. It was a must have for me. I have big plans for it once I narrow down the best location for it. We just have a few things in the air before I nailed it down.
3/ Wooden Pineapple Server… I picked up this same pineapple at Goodwill months ago. I just recently pulled it out of a cabinet and it's resting on our guest room nightstand now. It's perfect for jewelry or odds and ends.
4/ Green Rug… I love the idea of adding green to our home for the spring. The shade goes perfectly with the whites, tans, & aqua hues we already have everywhere. I especially like the idea of an indoor/outdoor rug for durability and cleaning reasons. I haven't made the purchase yet, like I said we have a few things we are figuring out first…
5/ Ceramic Bee Box… I love, love this. I have a cute ceramic butterfly and  neat wooden & metal bumble bee sitting on our entry shelving for the spring. I thought this "bee box" would be a cute addition to the small collection. I spotted it on a Target run like 2 months ago maybe and it made it's way right into the cart. Maybe I will do a spring tour and show you a few of those additions…
6/ Turqouise Towels… I ran through Ikea with a friend a few weeks back and grabbed up two of these towels for our master bathroom. They are really neat because they have a fabric tab on the side for hanging up on hooks… they are quite perfect. I think I may need to add these to all of our towels… maybe a DIY project in the making?!!
7/ Boxwood Wreath… Some love box-woods for the holidays, I think they lend themselves to spring decor quite nicely. Add a few stick on butterflies or fabric birds and place it on an interior door. Cute. Very cute.
Well, that basically wraps up this month's favorites. What made your list of favorites this month? Do tell…
Note… As you may have read over the last few weeks, I have been a little MIA from the blog. I am coming back to post more regularly… I do promise. Family is super important to me and we have had a ton of things going on… grandparents being sick, a family dog passing away and a few things up in the air around here that have taken much of my attention & excitement. I will hopefully be sharing more on the last bit soon… Until then, thanks for being so loyal and sweet to come back and read my blog. Xoxo