Friends, it's October. Where did it come from? It totally snuck up on us… as every new month does I guess. Time is totally flying, right?! With the new month always comes one of my favorite posts to write… Fresh Picks!
I had fun creating this month's favorites… as always! I have been hard at work with new clients so shopping hasn't been too much of a problem 😉 Plus, we are in the midst of planning our new office look, master bedroom & a few living room updates. I will clue you in later this week! Let's get to it…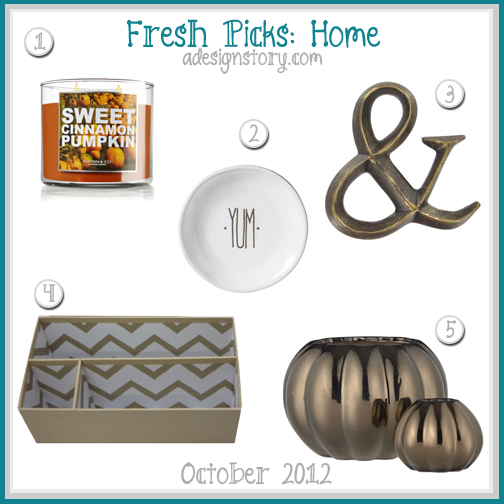 1. It's fall y'all. I am a candle gal… I burn candles every night (and sometimes during the day). I love candles. I am totally into the sweet pumpkin scents around this time of year. They fill our home up and make us feel cozy while we pretend to have fall weather (it's been in the 80's & 90's here still…). I guess you do what you have to do… fake it until we make it right?!!!
2. I mentioned in friday's post all about the latest & greatest Target Threshold line. I adore pretty much everything they have this go around. I love the yum dessert plate… they come in aqua, red & white. Cute right? I think it would be cute hanging up in a kitchen or on a plate stand. (I also loved the squirrel canister I mentioned in last week's e-design project).
3. Ampersand's have been a big trend over the last few years. I love the idea of adding this in between photos in a bedroom or hallway. Letters & Ampersand's are a great addition to a fun gallery wall. I am thinking of adding this ampersand to our office gallery wall (the one that's in the works).
4. Chevron. It still a love, love for me. How about you guys? I adore this line of chevron office/desktop accessories. I purchased the tray awhile back… I actually plan on using it in our bedroom! We are currently re-working our bedroom a bit— I'll show you the plan this week!
5. What says fall & autumn more than pumpkins? How great are these bronze pumpkin vases? I LOVE them! Add a candle to one with coffee beans or acorns and some fall flowers to the other… they would make an adorable tablescape addition!
So, what do you think? What items are you in the works to purchase? Any new fall additions in your homes? Share!
Now onto the oh so fun fashion edition…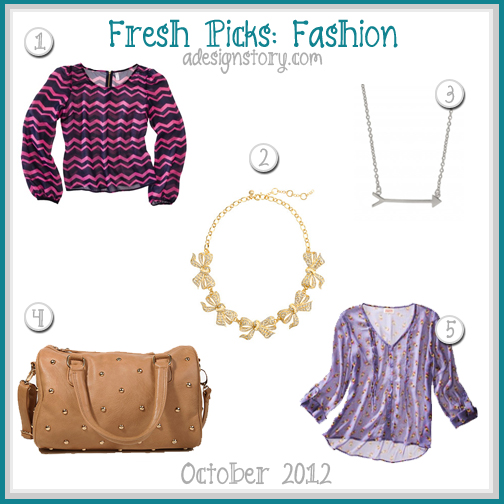 1. Chevron. Once again. I popped into Target last week (no surprise there) and found two tops I had to have. I love to pair a Target top with a nice pair of jeans or shorts… This sheer chevron top is going to be perfect with my pink or dark denim skinny's. I loved it!
2. I am a fan of all things girly (like you haven't figured that out yet)… jewelry can sometimes make an entire outfit. I love sweet & girly accessories like this bow necklace. I think it would be beautiful with a nice black dress or with skinny jeans, a cardigan and a belt. Love it!
3. I love arrows lately. It's a bit "trendy", but I happen to find this arrow necklace on my search for jewelry for an event next month. It's perfect for casual days.
4. Studded purses– love! I mentioned awhile back how much I love studded handbags. This handbag is super inexpensive and can make a perfect fall purse. I picked up one very similar they other day while I was out… mine is more of a brown/gray with gold pointy studs… but this one is just as cute! It looks great with fall fashion…
5. This purple sheer feather top was the other one I picked up from Target last week. It's adorable. I love it. I plan on wearing it with new ankle length skinny jeans, a cami underneath and my hair in a side braid (at the top)… it's so cute!
So, those are my favorite's for October. What about you guys? Any new additions to chat about? What's new in your closet & homes these days? DO TELL…