Hello October! It's Officially Fall and it's time for another round up of monthly favorites, or as I call them, Fresh Picks.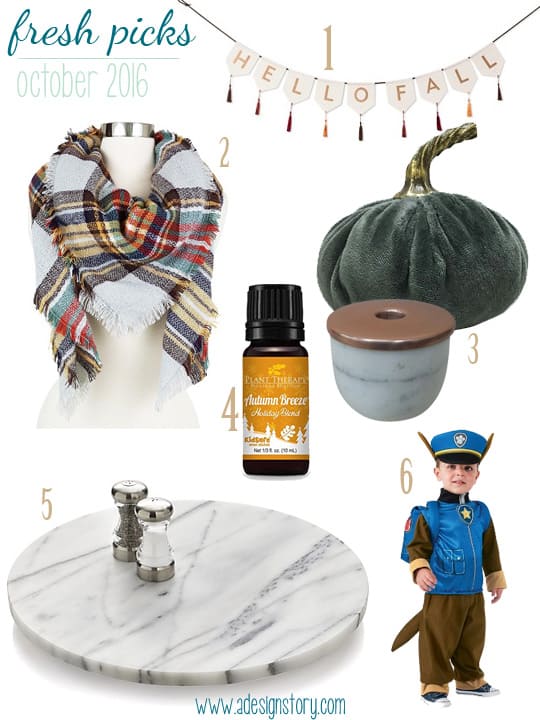 Here's the breakdown:
I am pretty obsessed with banners and I like to change them out seasonally. I usually add one to the foyer door above my boxwood wreath, one to the bookshelf in the main living area and one to my dining room hutch. I also added one to the playroom, but that one stays put. I thought this Hello Fall Banner was especially adorable with the tassels on it.
It's October now and since I grew up in Richmond, Va, I still feel the need to add fall into my wardrobe, even if it is still 100 degrees out. I still dress like it summer, I just change up the colors and add a few accessories. Hey, fake it until you make it right?!? I love a good scarf and right now with it being so hot, I will pair them with some shorts or a skirt. This Plaid Blanket Scarf is adorable and would look cute with some jean shorts and cute brown sandals or flat booties.
All of our fall décor has been put out and being enjoyed by a cute little two year old. I put some of the décor that's not breakable more on his level. Although, I must say, I have taught him not to mess with the décor around the house and for the most part, he has listened very well. This Velvet Pumpkin is sitting on our coffee table and it looks so cute. I also picked up this cute marble candle holder to add to the dining buffet- it's on clearance at your local store.
Who doesn't love autumn candles and smells moving through your house!?! I recently purchased this Autumn Essential Oil and we all love it. I add a few drops to the diffuser and we enjoy the scent for a few hours. If you don't have a diffuser, check this one out.
Marble has become a pretty popular design trend and I adore it. I actually got this Marble Lazy Susan last year for Christmas and we are now in October and it's still one of my favorite things in my kitchen. I keep it by the stove with the kitchen utensils/caddy and marble mortar and pestle on it, along with the things we use most- olive oil, local unfiltered honey and Himalayan Salt. At only around $18, this is a steal of a deal!
Halloween is almost here! With B (our son) being 2.5, this year is already shaping up to be so much fun! We went to pick out his Halloween costume and he was so excited. We purchased Chase from Paw Patrol. He picked between many costumes and this was his favorite! We got home and he wanted to wear it non-stop, so we went back and bought Marshall so he could play in that one before we completely wore out Chase. We had no idea he would like to play dress up as much as he does, so I went back a third time and bought a doctors costume and a chef costume too. So fun. We can't wait to show you our family Halloween Costumes in another post soon!
Alright, that wraps up this month's favorites. What are you guys loving these days? Please share below…
Also- check out my first contributing post on Sarasota Moms Blog by clicking here.