A few weeks ago, I got a surprise email from the fab people at Target. I get sneak peeks at their new lines frequently… which is so much fun! One of my favorite collections so far… this fall. Target never ceases to amaze me with the …
Like I mentioned above, this email was such a sweet surprise… Target was sending me a fun box of home décor goodies. After reading the email, I jumped up & down & immediately called my hubby. I have always tried to persuade him that my love of all things Target would impact us in more ways than our wallet 😉 I kid, I kid. A few short days later, a HUGE box came to our door and inside was all kinds of fab fall goodness from the Threshold line. It kick started my fall decorating… so you can have a lil peek at that too… This year I went very simple…
Inside the box was a great fall inspiration board with all the goodies included in my box & a handwritten note from my friend (well, I feel like we are friends now) Sabrina Soto. Yes, it made my day in case you were all wondering.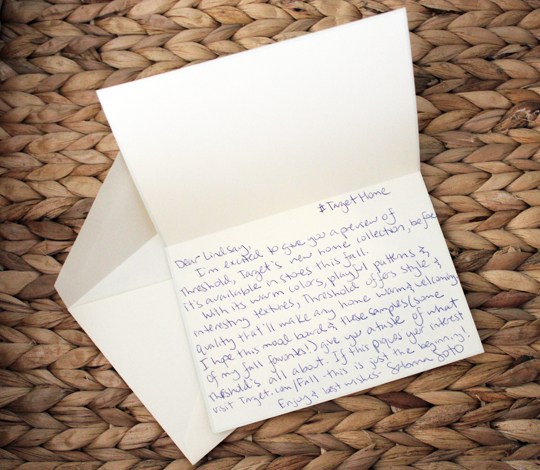 First up,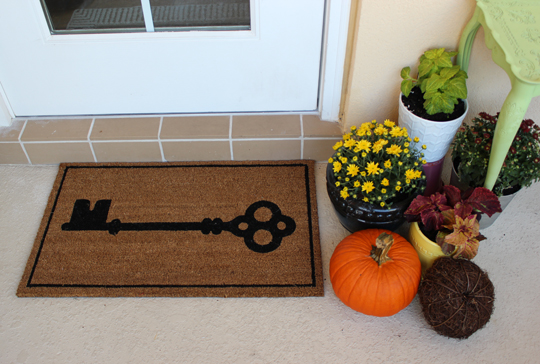 This rug is one of my favorite items they sent (which is hard because they are all my favorites)… I quickly swept & washed our porch so I could show it off! Kevin and I swung by Home Depot & grabbed a few mums, plants & a pumpkin to go along… (The small vine pumpkin is actually a Target dollar section find— gotta love that lil section). This one is by Threshold– Doormat in Key Design $12.99…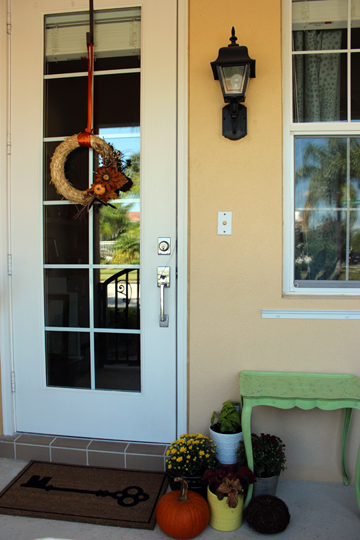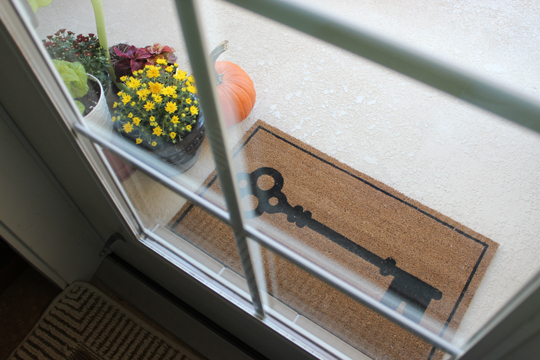 Next, I am so, so in love with the new picture frames… I am in the process of printing out a few new photos to add to them.  I added them to the shelves in between our new gallery wall… (The feathers are also a Target find)… (5 x 7, 4 x 6)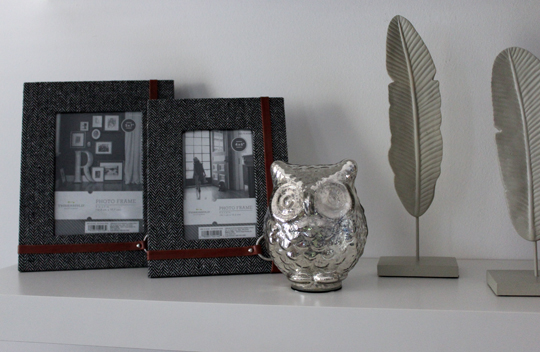 Pillows= love. Kevin makes fun of my decorative pillow obsession. Target had me at box + pillow. Seriously…  I adore this fox pillow. Fox are a big trend these days. I love that the backside has a nice gray & white/tan plaid. It's reversible!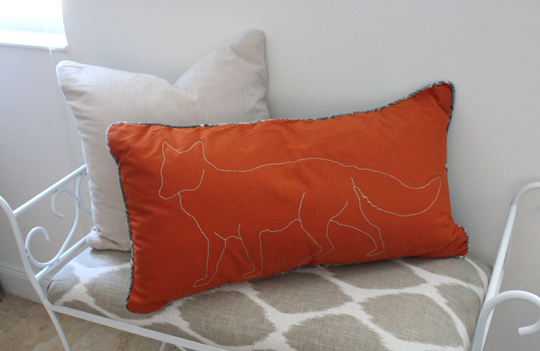 Nothing says fall quite like throw blankets. We are blanket kind of people. We pretty much snuggle under blankets almost nightly… so when I opened the box and found this beautiful new throw complete with a strap, I gasped. I love it. It's great because we can use the throw and wrap it back up for a clean look during the day! Love that.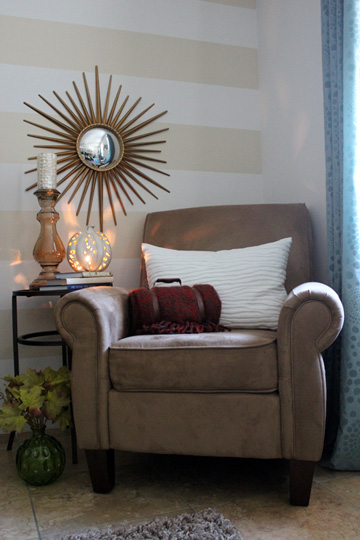 In an effort to maintain an organized living room, I love keeping bins and baskets out to store extra blankets, throws & pillows when they are not in use. I immediately loved this gray felt woven basket… how fab are those handles people?!! Someone else thought that Target sent that especially for him. So much for storing pillows & blankies, right?! Actually when we pull them out at night, he goes in. It's his new favorite evening spot.  Love that little Tebow!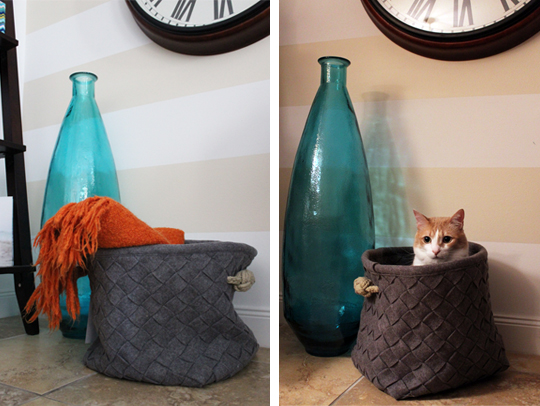 Here's a few other fun lil fall décor peeks…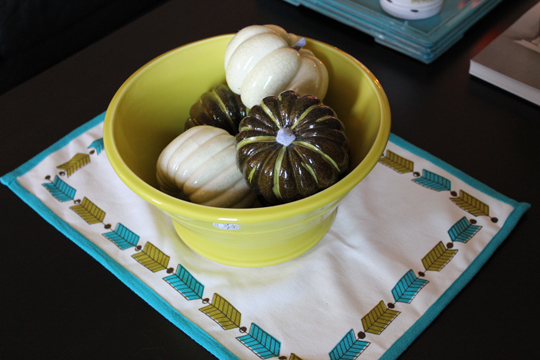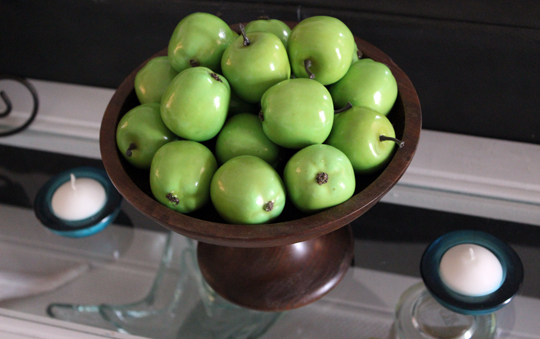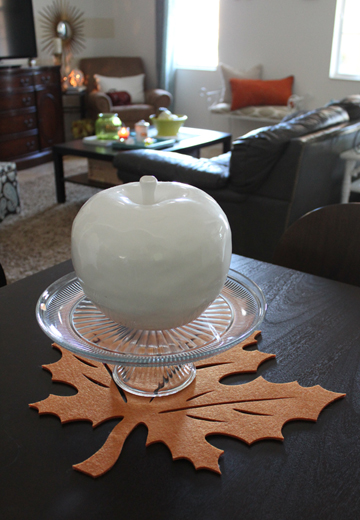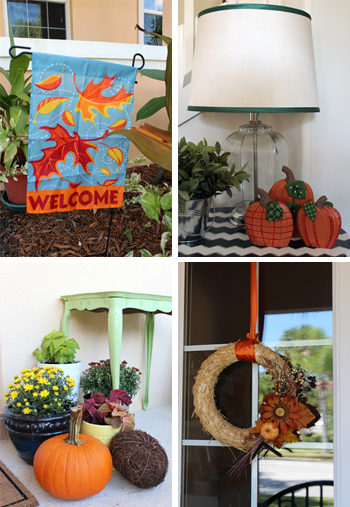 So, a HUGE, BIG Thank You goes out to my FAVORITE STORE in the whole world, Target. This box of goodies was a true blessing and I really, really appreciate it!
What about you all… are you decorating for fall? Going all out this year? Going simple? What Target goodies have you picked up lately?? Share…