Happy almost Valentine's Day! I have a fun sweet recipe to share with you today… gluten free strawberry cake! Just in time to make for your love!
I thought I would post this sweet recipe the day before V-Day just in case you want to treat your loved one's tomorrow to this oh so yummy dessert. In case you aren't gluten free, you can make this the regular way too! My family has made it both ways and they said they are equally good! My mom actually made this cake last year for my birthday and it's absolutely one of my favorite sweets! It's fresh and so yummy. Last week was my birthday, so I whipped some up in a super hurry for a family party on Sunday. I didn't go all out on the overall look like I usually do, but boy were they so good! Here's the recipe…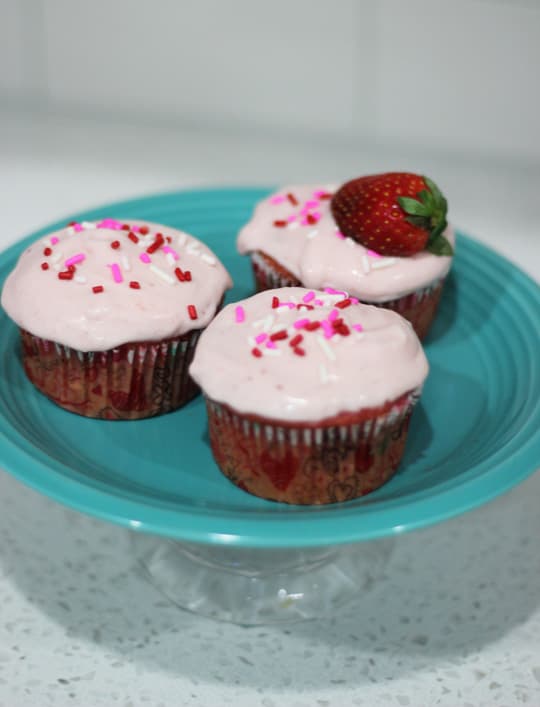 Cook Time: For Cupcakes- 18-20 minutes (or until one)/ For Cake- 30 minutes
Ingredients
Yummy Cake:
1 18.25-ounce box white cake mix (If you aren't gluten free, you can use regular— if you are, I just used Betty Crocker GF Cake Mix)
1 3-ounce box strawberry-flavored instant jello
15 ounces frozen strawberries in sugar, thawed and pureed
4 eggs
1/2 cup canola oil
1/4 cup water
Yummy Frosting:
1/4 cup butter, softened
8 ounces cream cheese, softened
3 ounces frozen strawberries, thawed and pureed
6 cups confectioners' sugar
Sprinkles or Strawberries for decor
Instructions
To make the yummy cake:
Preheat oven to 350°. Lightly grease/spray 2 (or 3) 9-inch round cake pans so you can layer them. Or use cupcake wrappers.
Combine the cake mix and the jello in a mixing bowl (I use my kitchenaid mixer). On medium speed, add in the pureed strawberries, oils, eggs and water until the batter is pretty smooth. Pour batter into cupcake pan or cake pans, dividing the batter equally between them.
For cupcakes, bake 18-20 minutes until a toothpick or fork is interested and comes out clean. For cake, bake 25-30 minutes.
Cool for 20-25 minutes.
To make the yummy frosting:
Using a mixer (again, I use my kitchenaid), blend butter and cream cheese at medium speed until a nice creamy texture results. Add in the pureed strawberries in. Slowly add confectioners' sugar and beat until smooth. (The last part can get a bit messy). Chill frosting in fridge for at least 20-25 minutes.
If you chose to bake the cake, spread the frosting on cake, between layers and the sides. Top with fresh strawberries, sprinkles or even candles!
Enjoy! What kind of sweet treats are you sharing with your loves this Valentine's? Do share….