Fall. The Autumn season has officially begun today!
I am excited for the changing season and hoping our weather here in sunny Sarasota will follow suit soon. This year, I came up with a fun way to dress up our front porch for the fall season. I am really excited to show you the fun autumn front porch design I came up with.
The holidays are getting way more fun now that we have a toddler. Our little guy is memorized and in complete awe over everything these days. Everything is "wow" or "oh my". He's two and a complete sponge when it comes to learning and it's so much fun to watch. During nap-time, I decorated the inside of our house with pumpkins and other fall things and he woke up and walked around the house pointing and saying "wow", "oh my" and then once he had seen it all, he hugged me and said "thank you momma". Heart melted. He speaks my love language and was genuinely thankful. After the house was finished, I waited until the mums came out to decorate the porch. I had so much fun putting it together and my family really likes it too…
I couldn't wait to get the fall wreath out that my mom and I made together last year. It's my favorite fall decor piece I own. I also added the "hello" vinyl sign to the door recently.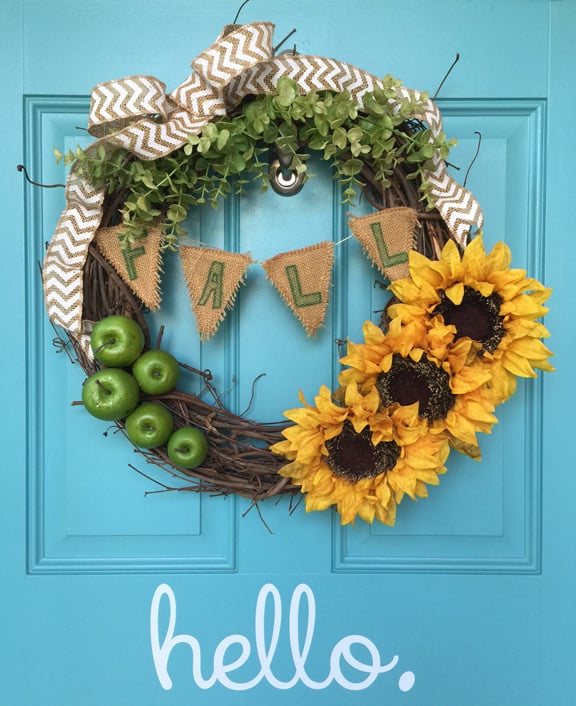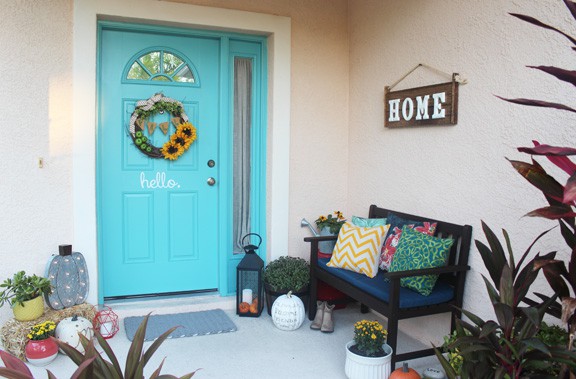 I picked up this cute pumpkin and lantern at Marshall's. The lantern was on the clearance rack for a whopping $7. Score! The pumpkin could go inside or out since it's pretty heavy and durable. The wooden planter behind came from Ross and was less expensive than other places I had seen them.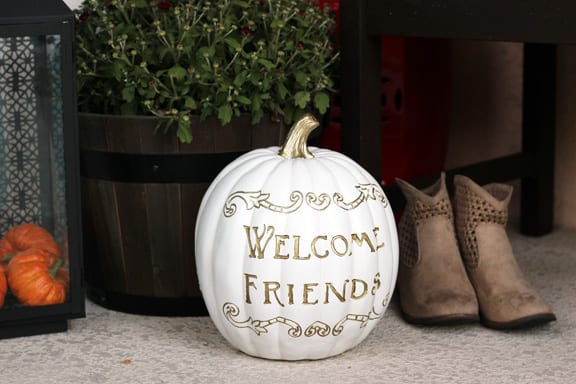 The home sign isn't meant to be on the porch just for fall, I actually just finished it and was too excited not to share. My dad made the wooden sign and I stained it and added the rope and letters. Once it was dry, I put two coats of polyurethane on it to seal the deal and wear the elements better.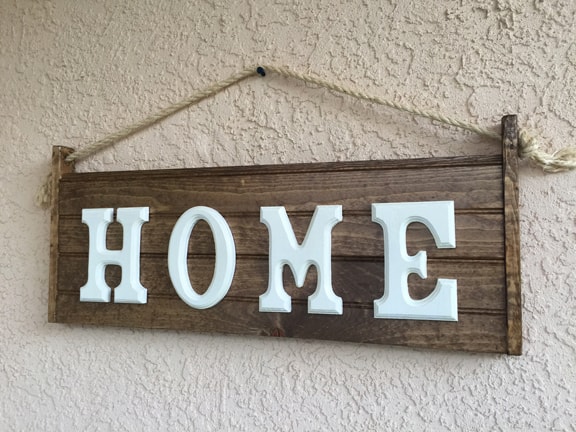 The deep turquoise and green pillow and recovered another pillow with a yellow chevron pillow cover I ordered from amazon. I am the pillow queen inside, so I had to follow suit out here too! Mums are the flower of the season so I picked up a few from Lowe's as soon as they came in!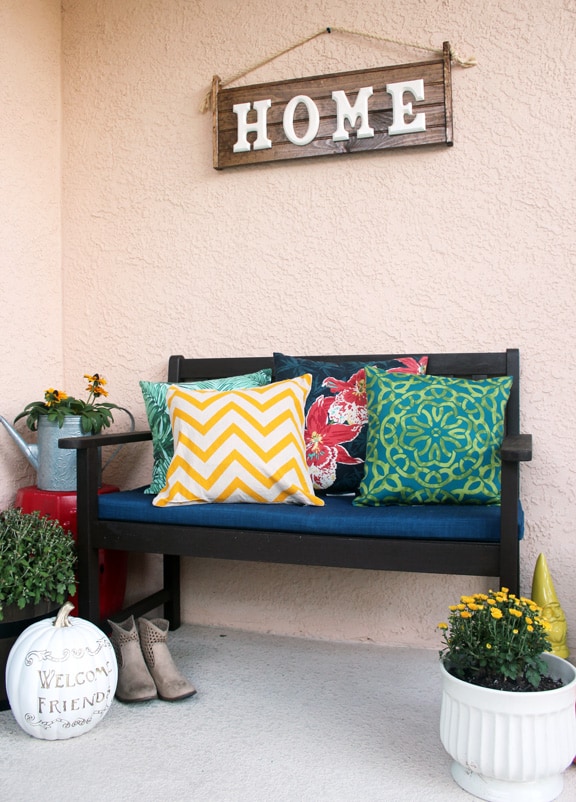 To the left of the door I added a straw bale (from Hobby Lobby), a fun metal pumpkin that lights up, some plants, a small lantern and a pumpkin I decorated with sharpie. On the right I added a lantern with pumpkins and a candle inside, mums and the white welcome pumpkin I mentioned above.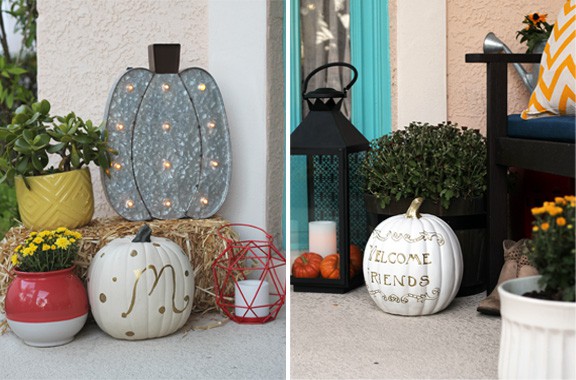 Here's what each side looks like at night. Of course our son absolutely adores it both by day or night. I have always loved to decorate for the seasons, but having a child makes it that much better. Plus, having a husband that appreciates your effort and style is pretty nice too!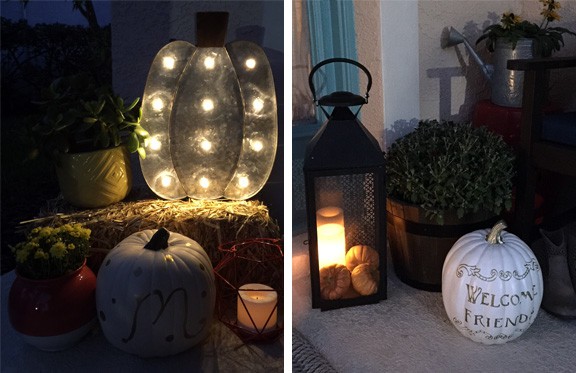 Happy Fall Everyone! I am super happy with our front porch for the season! Have you decorated your porch for the fall yet? If not, I hope ours gave you some inspiration and ideas too! Enjoy and happy decorating!
This post has been linked up with Southern Hospitality Blog's Fall Link Up!
Note: This post contains affiliate links.