Let's talk fashion today! I absolutely adore Fit & Flare Dresses… they are a big trend these days!
Recently my family all met up in Charlotte, North Carolina to celebrate the wedding of my sweet cousin Joy. In preparation for the big weekend, my mom, sister & I went shopping! I had to have something to wear to the rehearsal dinner and the bridal luncheon (I had a bridesmaid dress for the wedding already). While we were looking, I saw a ton of fit & flare dresses. I absolutely love the shape of this style dress because it accentuates a high waste and really looks great! I believe this dress can make many body shapes look fantastic… go and try one one ladies… I love them!
I put together a few 'everyday' type of fit & flare dresses for you to check out…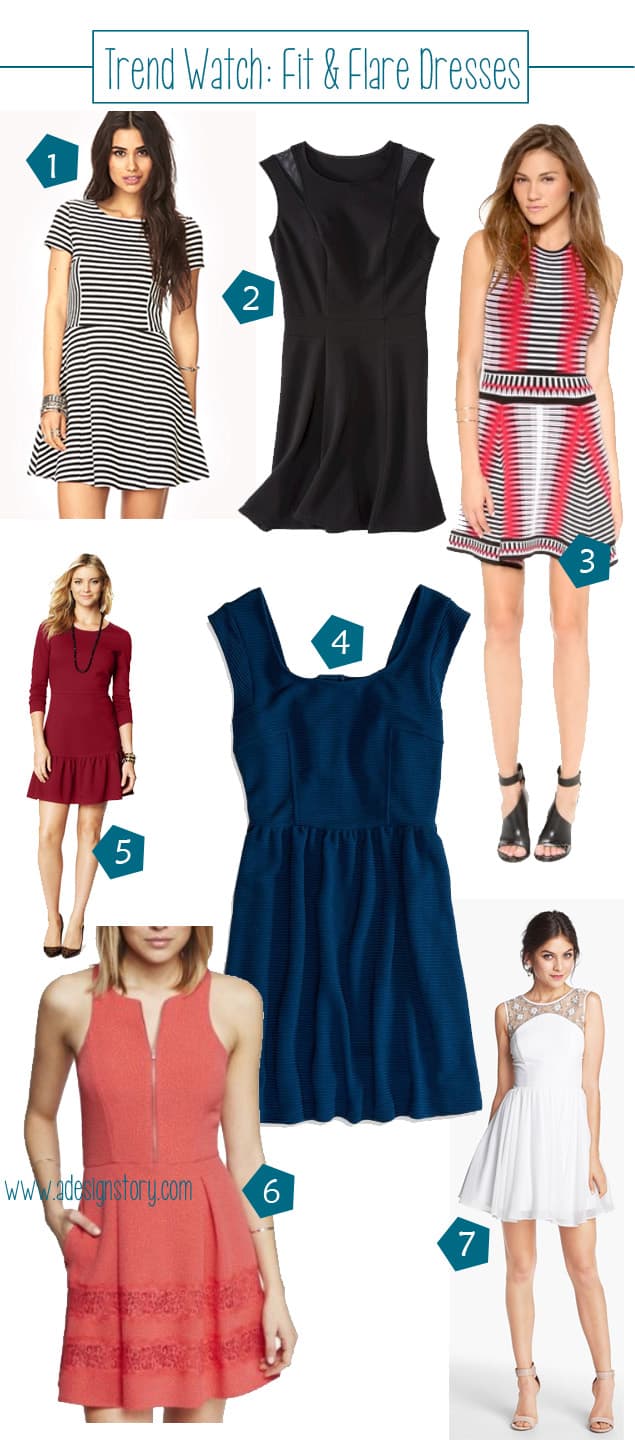 Here's the breakdown:
1… I actually purchase this striped fit & flare dress for the bridal luncheon. I paired it with thick black tights and black ankle boots. I topped it off with a floral scarf. It's comfy and so cute!!
2… This is a simple black fit & flare dress… it would be perfect for work or dinner because you can dress it up or down with many colors and accessories.
3… I love the pattern to this tribal style fit & flare. You could pair this with a black scarf and cute boots and tights to make it work for the winter.
4… Cobalt blue seems to be a big color this winter. I actually bought a dress very similar to this one just a few weeks ago. I would probably add brown tights and boots to this and accessorize it with a big necklace.
5… I found it hard to find long sleeve dresses while I was looking for the wedding weekend. On my hunt this week to show you fit & flare, I spotted this long sleeve solid dress and thought I might share to those of you are in a deep winter!! Florida doesn't get many super cold days, but this fit and flare looks great with pointy heels and a pretty statement necklace.
6… Just to get you in the mood for spring, I added in this zippered front fit & flare. I love the bottom lace detail. I would simply add a fun bracelet and earrings to make this a successful outfit!
7… Have a party to go to? I think this white lace top fit and flare is adorable!! I would wear it with silver shoes, a diamond bracelet and stud earrings.
So… what about you guys? Let's talk fashion… what kind of dresses are filling up your closet with these days? Any dress crushes from above… please comment!