We have been in our house for just a few short months now, and we finally have a true color scheme happening! We have a beachy color scheme and it's a beautiful mix of cool shades and then a pop of two warmer shades!
If you need a refresher on what our house looked like before we got our hands on it, click here. As far as the color scheme goes, we knew we wanted our main living area to be uniform as far as wall go. In an open floor plan concept, you really want to try to make the space flow and keeping the same paint color throughout can really make that happen. We actually loved our paint color from the living room stripes in the old house (Behr's Raffia Cream)… so we used that color throughout the living room, dining room, hallways and into the kitchen. It's really lightened the entire space up and created a nice neutral canvas that we can play with.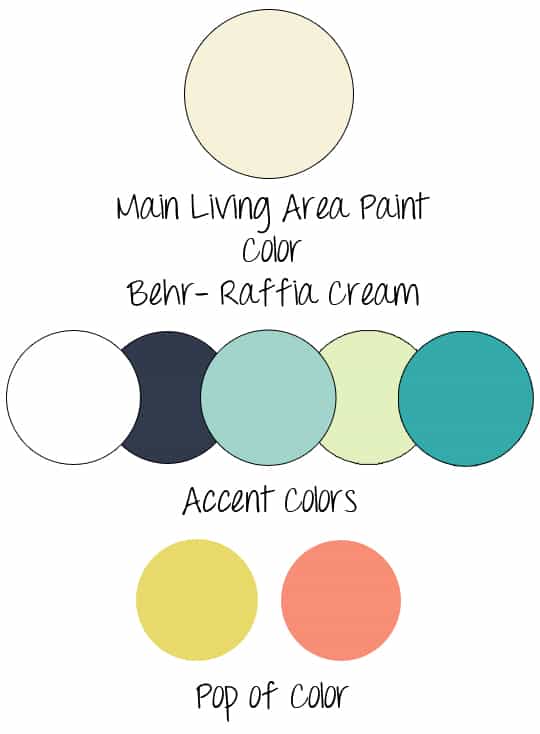 Selected the theme for our house was very easy, we really love the beach and nautical interiors, so we have taken that theme and are literally running with it. We don't like any of the 'cheesy' beach decor, we really execute a more polished approach. I can't wait to show you! Kevin and I are luckily one in the same when it comes to the colors we both love. We love navy blue, white, aqua/turquoise and green, so those will be the accent colors we will use for decorative pillows, picture frames, accessories and over all decor. I do really like to use a pop of color in a few areas for the unexpected fun 'beachy' feel. I think we settled on a mustard-bold yellow and a coral hue for small pops of color here and there.
As far as the painting goes, we are all finished painting the interior. I will show you guys a nice before & after photo lineup soon! Have any of you been color scheming lately? What did you pick? Share…
In the meantime, I have a favor to ask… would you consider voting for A Design Story for the 2014 Homie Awards? ADS was apparently nominated, so yay for that! Click here and sign up to vote and hit the check mark by A Design Story! Thanks a bunch and a million. Oh… and while you are there please check out some of the other bloggers too!