Hi! It's Wednesday and cold outside. Most of you guys are probably a bit more cold than we are down in here Florida, but hey it's old to us! On a nippy day, there is nothing better than comfort food. I whipped up a pot of (gluten free) chili and thought I would share the recipe with you guys today…
Chili is one of my go to meals for the winter. It's comfort food and we always have leftovers for lunch the next day! You really can add more ingredients to double it or triple it if you need to. I make my version gluten free and it is absolutely delicious!! Here's the recipe…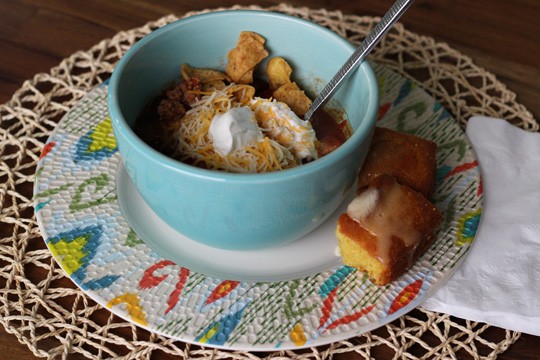 Main Ingredients:
1 Package of Ground Turkey (you can do ground beef or ground chicken too)
2 Cans of Diced Tomatoes
2 Cans of Light Kidney Beans
1 Can of Dark Kidney Beans
Optional: Green Pepper + Onion
1/2 Cup of Water
Chili Powder (For those who are Gluten Free- use Carroll Shelby's Mix- find it at Walmart. For others, Chili-o Mix works great).
Toppings:
Sour Cream
Frito Chips
Cheese
Directions:
1. Brown the meat in a large soup pot. (For those using ground chicken or turkey add a little olive oil so the meat won't be so dry.)
2. Once the meat is cooked, pour in 2 cans of diced tomatoes, 2 cans of  light kidney beans and one can of dark kidney beans. Keep the heat to medium-high.
3. If you like your chili thick and chunky, you can skip this step. We like ours a little thinner so I add in 1/2 cup of water.
4. Next, add in your chili powder. I use about 4-5 tablespoons of the Carroll  Shelby's mix. This really is a personal preference of how spicy and flavorful you like your chili. It depends on your taste-buds!
5. Finally, add some salt and garlic salt to bring out the flavors. Reduce the heat to low.
6. To enjoy, my family has always added Frito's to the bowl before pouring the chili in. Next, we dress it up with sour cream and cheese! It's divine!
So, I hope you guys are in the mood for comfort food now! This recipe is super quick, super easy and is sure to please! How about you? Any recipes you want to share? Do tell…