Pretty on Paper: Stationary Goodies
Happy Monday… I am back to start the week out with a fun lil' post…
I love paper… I always have. I love writing, sketching, making lists & scheduling events. At the beginning of each new year I try to start fresh with new journals/sketchbooks, stationary, notepads & calendars (for obvious reasons). There's something about jotting down a quick note to Kevin (or a family member, friend or client) on cute stationary or brainstorming new ideas in my journal that make my heart so happy! In my quest to surround myself with beautiful things this year (which is one of my resolutions/to-do list items for 2013– more on that tomorrow), I hunted down some must-have stationary/paperie items worth mentioning…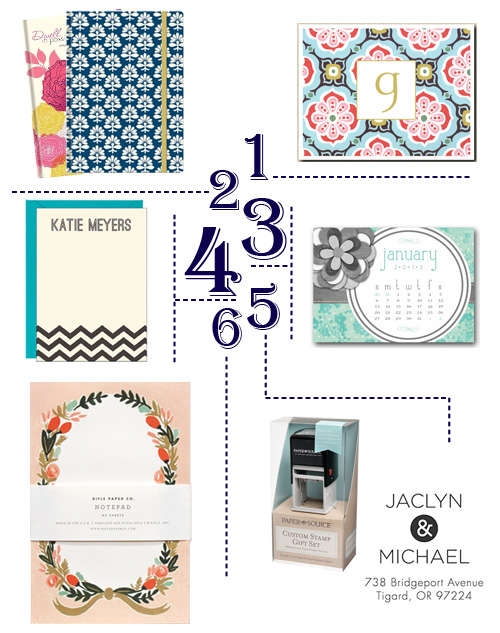 Here's the breakdown:
1- Personalized Notecards: I had written myself 28 things to learn, do & remember of my birthday last year. Among the 28 things, I told myself to write notes, cards & letters more. I have done an OK job when it comes to Kevin… but I could do a bit better with this task. Writing a handwritten note always feel a bit more fun with fresh new & pretty cards. Don't you think so too?
2- Journals: I am a huge fan of journals… I love to sketch and jot down ideas when the come to me. Ever since I was a little girl, journals and I have gone hand in hand. I have many of my old journals, especially from college and I refer to them often for ideas or just to read through for inspiration I had written myself.
3- Calendar: I love getting a new calender for the start of a fresh new year! I love this one… each new month comes with a fun & pretty graphic look!
4- Personalized Stationary: I love writing notes or a note to a client or business contacts on professional personalized stationary. I try to go with a new design yearly… sometimes you just gotta change things up a bit!
5- Personalized Stamp: Since this year I am increasing my efforts to get my handwritten notes & cards out, I decided to take the plunge and get a fun address stamp for our family. There are a ton of different designs & style to choose from… but this one if my favorite!
6- Notepad: A pretty notepad goes a long way! Believe me. I am a list maker, note taker kinda gal. I love writing to-do's or quick notes on a pretty notepad on my desk. It goes well with my idea this year of surrounding myself with beautiful things.
Won't you join me in writing handwritten notes, cards & lists on pretty paper? What are your favorite sources for paper goodies? Share…