Hi… Gluten Free Sweet and Sour Chicken… yummy! I have a really, really, really good recipe to share with you guys today. If you follow me on instgram, a few weeks ago I posted a picture of a new gluten free recipe I was tinkering with. Several followers asked that I share it and to be honest, it's too good not to!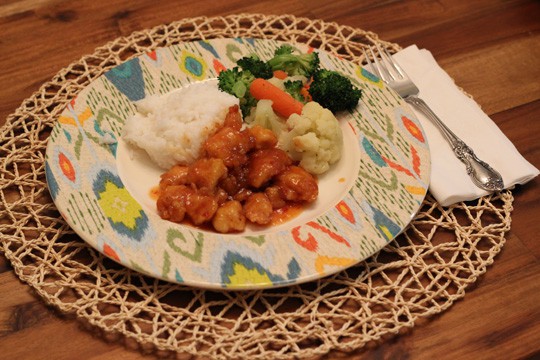 Coating:
3-4 Boneless Chicken Breasts
3/4 Cup of Cornstarch
3 Eggs Beaten
Salt + Pepper
1/4 Cup of Olive Oil
Sweet + Sour Sauce:
1/2 Cup of Distilled Vinegar
3/4 Cup of Sugar
4 Tablespoons of Ketchup
1.5 Tablespoon of Honey
1 Tablespoon of Gluten Free Soy Sauce
1 Teaspoon of Garlic Salt
1 Tablespoon of Balsamic Vinegar
Preheat oven to 325F.
1. Cut chicken into small cubes and add salt + pepper (however much you like— enough to season). Put cornstarch in a large zip-lock bag, add chicken, and shake until chicken is well coated.
2. Dip chicken cubes into beaten eggs. Heat olive oil in a skillet on medium heat. Take dipped chicken and cook until slightly brown (don't over cook). Remove from the skillet and place chicken in a glass casserole dish.
3. Whisk together all of the sweet + sour ingredients until smooth. Pour over the cooked chicken evenly in the casserole dish.
4. Bake for 1 hour. Turn chicken at least once.
I served the sweet + sour chicken over Jasmine Rice and added some seamed veggies. It is the best meal ever. It's so delicious my husband and I were literally fighting over the last pieces!! It's a new favorite to add to our meal list! When you try it, come back and tell me how much you guys love it too! I love trying out new recipes, so if you have any send them on over!