Hey, hey! It's February… my favorite month! It's time for another installment of Fresh Picks/ Monthly Favorite's.
We just arrived back into town from a wedding weekend in Charlotte, NC. My family rented a house on the lake for 5 days and we had an absolute blast! I'll write up a post all about the house… it's to die for! Anyways, like I mentioned above, February is my favorite month because it's my birthday month and Valentine's day! Kevin and I celebrate the entire week of my birthday because I am cheesy like that. It's really just called my Birthday week. Ha. This year I turn the big 30. Wow. Where does the time really go people? I have been a little sad about turning 30, but I kinda feel a little encouraged about it today. I turn 30 tomorrow and there is so much to be thankful for in my life. I know this year is going to be full of amazing and wonderful things and adventures… I can't wait!
As for what made the list this month, it's really just items I am planning on diy-ing, things I bought and things I love. The thing I love the most about Fresh Picks posts are hearing from you guys about what has made your lists… so please feel free to share!!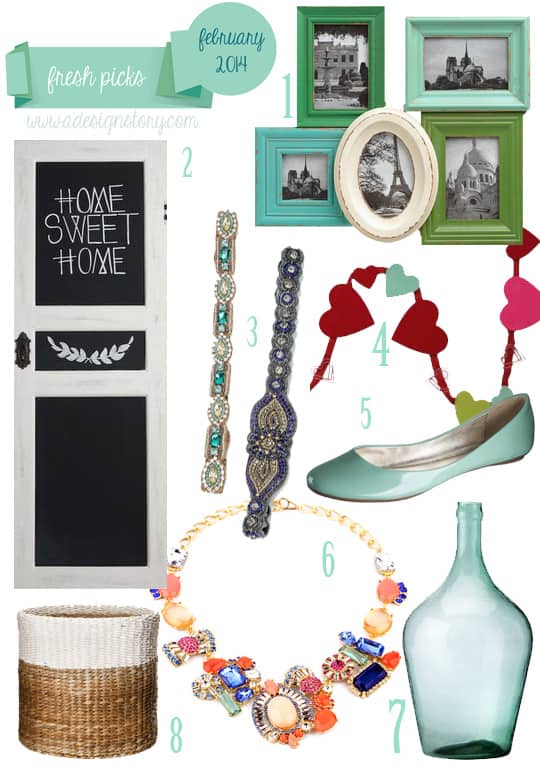 Here's the breakdown:
1/ Awhile back I was browsing through the clearance section of Hobby Lobby when I spotted a picture frame grouping similar to this one. It's purples & greens and lost it's hanging mechanism. I grabbed it up for $5 and thought I would paint it similar to this one! I may out it in our hallway or guest bedroom…. I do have to paint it first… yet another item for the good ol' to do list!
2/ On one of my dad's many trips back to our hometown of Virginia (he is a builder/contractor and still services clients in both Richmond and Sarasota), he was remodeling an older some and was telling me about the skinny closet doors he was throwing out. I literally screamed no. I begged him to save at least one for me so I can paint on some chalkboard and hang it in our new place. Fast forward, I was browsing the World Market website and discovered this beauty. It's a perfect inspiration photo for yet another diy project to do. I can't wait!
3/ I am obsessed with jeweled head wraps. I love, love, love them. I just recently cut my hair a bit shorter (shoulder length-ish) and these beauties are the perfect accessory. I think the tan and turquoise jeweled one would look great with a lace dress and boots, while the blue beaded head wrap would look great paired with skinny jeans, a flowy top and sparkly flats. What do you think?
4/ Valentine's Day is one of my most favorite holidays. I love the colors and the girlishness to the whole thing. I actually have a birthday tomorrow (February 6th) and usually buy valentine's plates and cups for my family birthday party. Yes, I am a girly girl… I can't help it! Last year I bought a felt heart garland similar to this one and it already made it way out to the dining room table! Do you guys decorate for Valentine's Day?
5/ Yesterday, I ran walked slowly through Target to buy a few groceries etc. since we just got back into town. I always walk through the entire store on every trip because you never know what you might find. I popped through the shoe department and found these mint flats and they jumped into the cart. The grey one's did too actually. Ha. I loved the idea of pairing these with skinny jean capris and cute spring tops. So preppy don't ya think?!
6/ What girl doesn't love all the new necklace styles out these days? I love this one from the Accessory Concierge… the colors are so fun and vibrant. I have bought many necklaces from this site and through their Facebook sales ad they don't disappoint. The packages arrive fast and I get so many compliments every time I wear one.
7/ Have you guys seen either the Target ad or commercial with this pretty vase and greenery in it? I love, love, love it. I think this would be so pretty on top of the dining room table or even a coffee table. It's classy and fresh. What do you think?
8/ Has anyone spotted the trend with painted baskets? I kinda really love it, do you? Anyways, I found this painted basket at Target the other day and fell in love. I didn't buy… but it might be another fun diy project for a basket I already have. I'll keep you posted… do you  guys find stuff out and diy thing you have to make it look like it? Share…
So, that wraps up February's monthly favorites. What are your faves this go around? Do share…