It Just Makes Perfect Scents!
We are excited to announce the winners of this week's Gracious Giveaway. Thank you to Trista @ Scentsy for blessing two of our readers this week… We all appreciate it!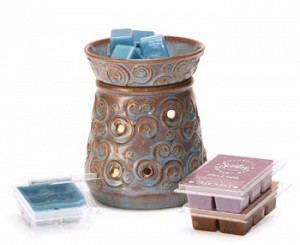 Anita– congratulations on winning the Scentsy Warmer and Bars! To claim your prize, just contact me within 3 days to finalize the prize!
Her Entry~ ""Make Perfect Scents" My favorite scents are fruity, like Mango, Pineapple. I also like fresh flowers.
Thanks for the fun giveaway!!! Looking forward to seeing who wins… hope its me!!!"
Also, big congratulations to Cara for taking home the runner up prize, a lovely room spray!
Her Entry~ "Makes perfect scents – they are all so good! I think my favorite might be Autumn Sunset…or Baked Apple Pie!"
——————————————————————————————-
Scentsy offer unique fragrance collections in a variety of designer "looks". Scentsy Candles are a Unique Candle Warming System that uses a 25 watt bulb to warm the wax slowly into a pool of melted wax that maximizes the strength and life of the scent. Scentsy Candle bars last up to 80 hours and will never release the harmful chemicals that you can find in regular jarred candles. You will LIKE them for their safety and the peace of mind they provide. You will LOVE them for their long-lasting fragrance and incredible value.
They truly are the hottest new thing in candles!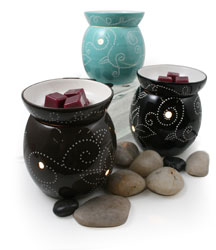 For those interested in purchasing a Scentsy Warmer and some Scentsy Bars, you can find them HERE. Don't forget Trista @ Scentsy offers free shipping if your order is emailed to her directly and paid via PayPal. (Her email: losetheflames@gmail.com)
Have a Blessed and Happy Weekend! Don't forget to come back for more giveaways and design inspiration. You can subscribe by clicking HERE, to get the inside scoop on what's happening, when it's happening!
Images courtesy of Scentsy.
Wanna know more about our Gracious Giveaways? Click here.
If you are interested in sponsoring a Gracious Giveaway, Click here.