"I wonder if any element of interior design is more personal than color? Nothing can more quickly reveal aspect of personality and character than the choice – or absence – of color." ~Van Day Truex
We all love to watch decorating shows and they always say the easiest way to redecorate is with paint,  but if you live in an apartment and are prohibited from painting the walls, or just don't have the time to move the furniture, prime and paint the walls, here are some great ways to add color without painting! These ideas trulywork great for people who rent or otherwise aren't ready to break out the paint cans and roller brushes.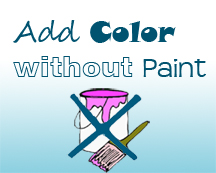 Step 1: Area Rugs
An easy way to define a space within a room and add color is an area rug. One large dramatic and colorful area rug is much better than multiple smaller area rugs scattered throughout a room. If you are decorating the living room, for example, select one large area rug to anchor the center of the room and then place the furnishing around this area rug with the coffee table in the center. Use this colorful area rug to pull colors from to use in other parts of the room such as wall art and curtains.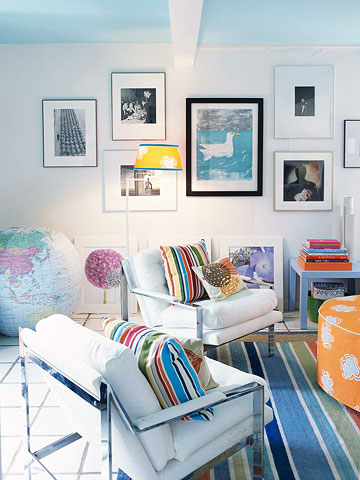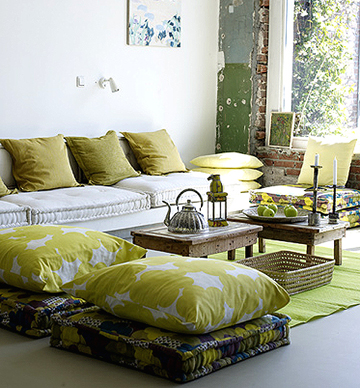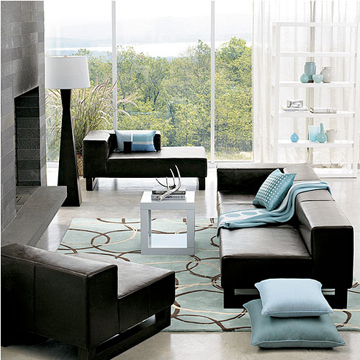 Step 2: Curtains
Use colorful curtains at the windows to add color to a room without painting. It will look more dramatic if you use solid color curtains or draperies and not prints. Make all the draperies or curtains the same color and purchase the longest length available. Mount the curtains way above the top of the window, as far up as you can with still having the curtains reach the floor. The curtains should puddle about 4-6 inches on the floor. (If you want to look at a guide to window treatments, click here, here, here and here.)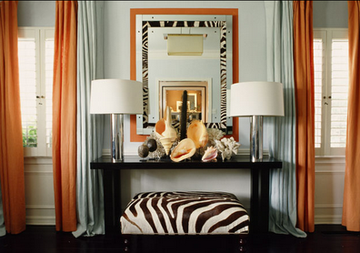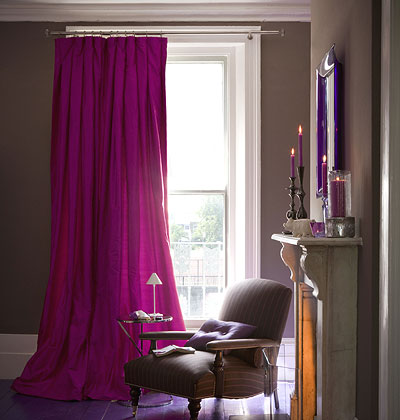 Step 3: Artwork
Of course you can add color to walls without painting by using wall art which can certainly be purchased or made. Choose bold paint colors that reflect the theme of your room. If you are doing French Country style, you will want to choose golden yellows and lavenders to reflect the French Provence countryside. If you are in the mood for a little DIY Project~ you do not need to paint a picture, unless you want to and are artistic. Simply paint the entire canvas the color of your choice. Then hang 3 large canvases side by side on your biggest wall. This will give the illusion that the room has been painted that color.
If you choose to purchase artwork, pick a piece that showcases intense colors but also works well with the existing pieces in your room.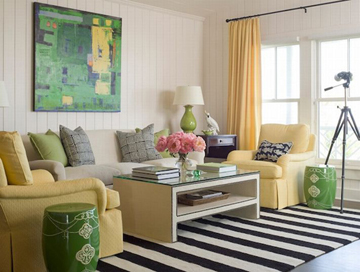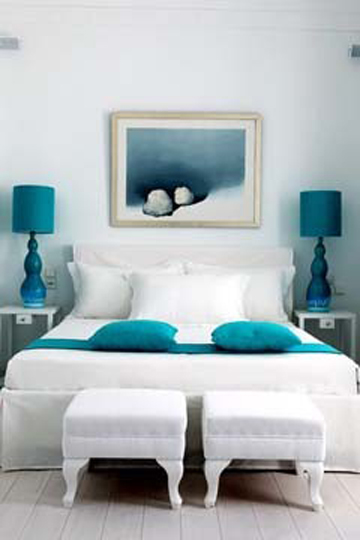 Step 4: Pillows & Slipcovers
If you have a dark room, and you want to lighten it up for spring, add a few bright-colored throw pillows to accent your furniture.
Buy a couch slipcover for every season, and change it out as desired. Try light, airy colors such as light blue, yellow, white, or green for the spring and summer months and deep, rich colors such as purple, gold, red or navy for autumn and winter. You can also try the same with duvet covers for your bedroom.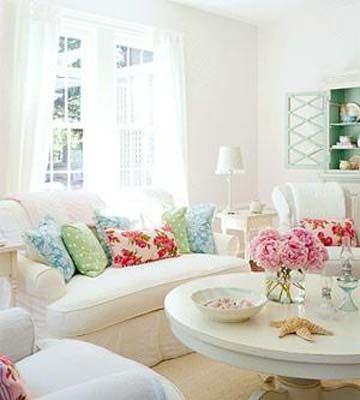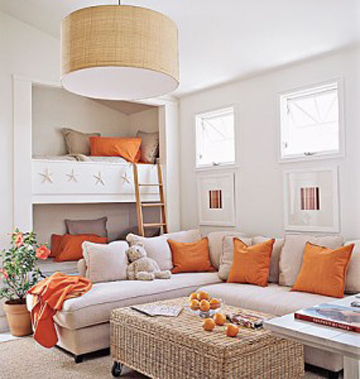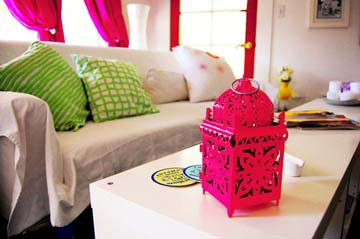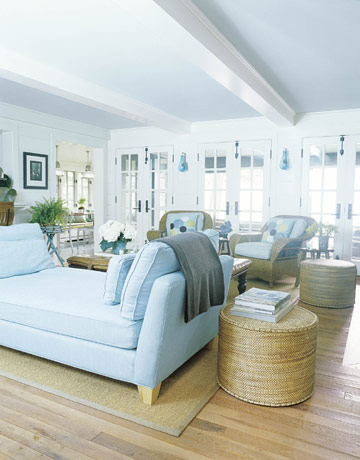 Step 5: Fresh Flowers
Group your favorite spring flowers, or scatter single stems, in bud vases around the room to infuse a little freshness and a dash of color into your space. Just remember to dispose of them when the color fades.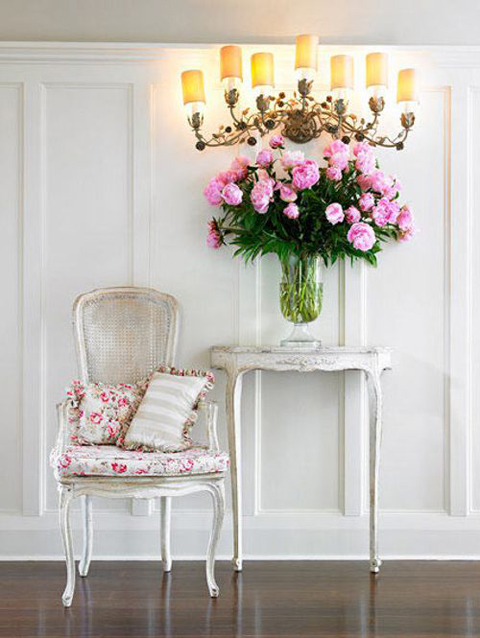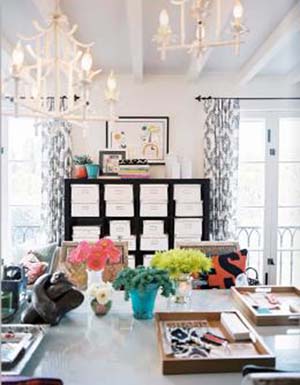 Step 6: Headboard
With endless color, texture and design options, fabric is the perfect way to lend new color and personality to your space. Without a stitch of thread, you can shed new light on your bedroom by fashioning a gorgeous tufted headboard. Simply cut out a wooden template for your headboard, and then wrap the piece in foam, batting and finally your chosen fabric, fastening the materials taut to the headboard with a heavy-duty staple gun. For an elegant finish, gather fabric and hammer down upholstery nails to create a simple diamond pattern throughout the headboard. Once complete, attach the new piece to your existing headboard, or mount it directly to the wall behind your bed.
Another great way to bring in a pop of color is by incoportating painted furniture within the space.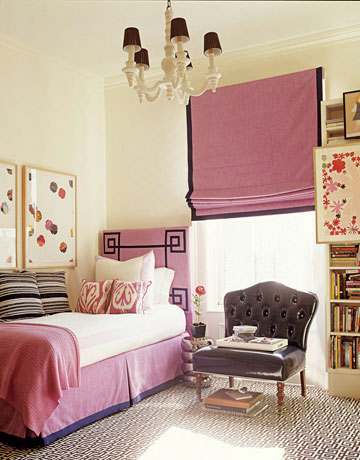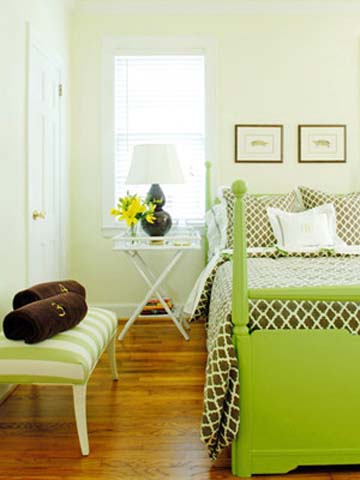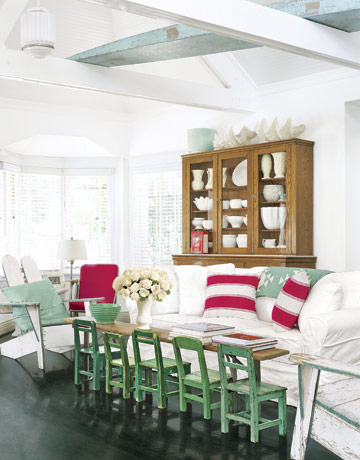 Step 7: Lighting
Add color with lighting? Sure! A simple solution would be to incorporate some colorful lamps and pendants. Also, Incandescent lighting can add more warmth, and accent lighting can highlight an area of the room adding some additional cheer.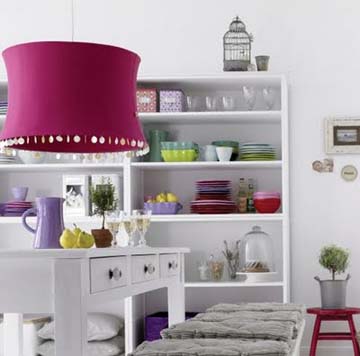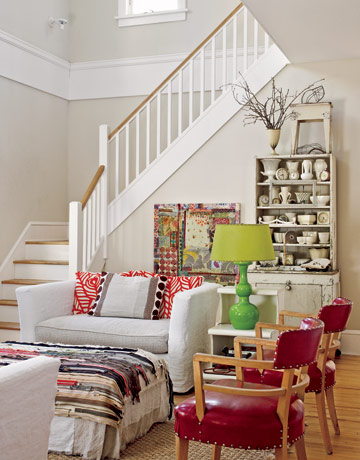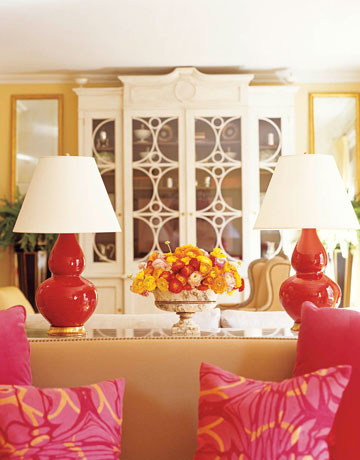 Step 8: Accessories
Incorporate colored accessories within your room. It's ok to be playful and fun when dispersing your accessories around the room. Also, bookshelves aren't just for books, incorporate some freestanding bookshelves, and use them to display a colorful collection of pottery, figurines or glassware.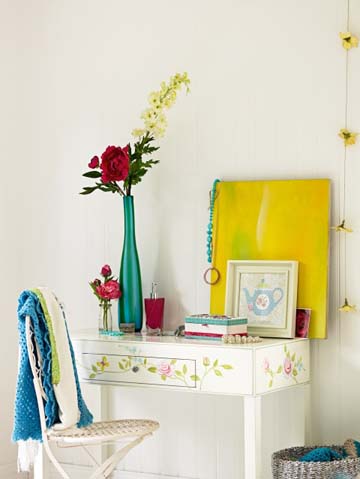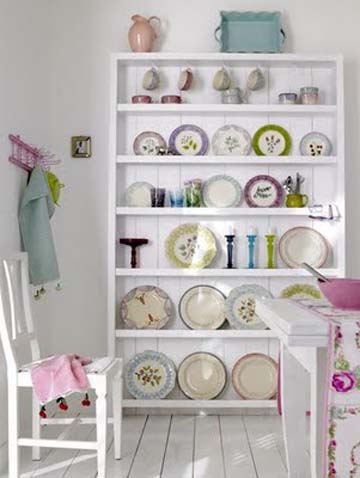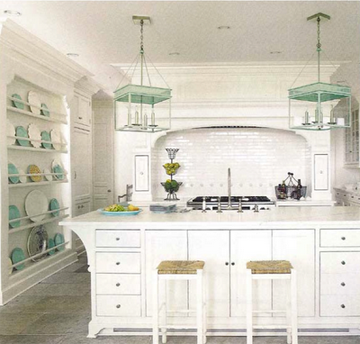 Look at this great space for inspiration~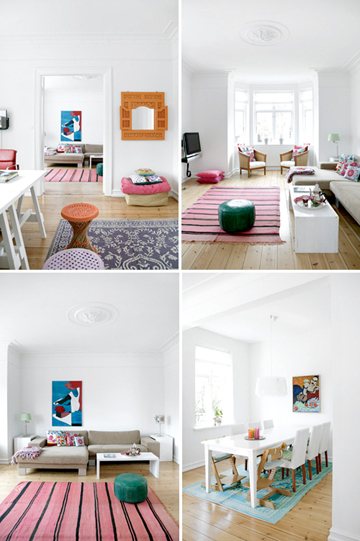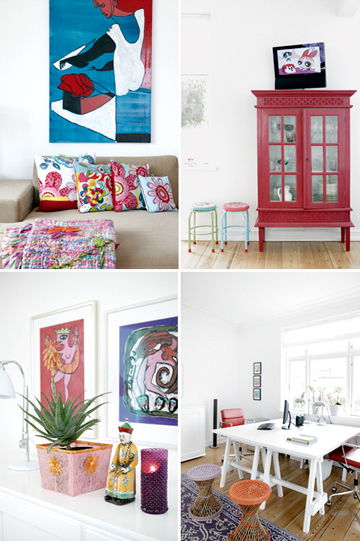 Can't you just see the possibilities? You can infuse a lot of color into any room without once having to pry open a paint can. Have fun!
Like what you are reading? Click here to subscribe.
Images Courtesy of Country Living, My Home Ideas,House Beautiful, Decor Pad, BHG & Apartment Therapy.