Let It Snow, Let It Snow, Let It Snow…
It is snowing in our family room. Well, sort of. Since we reside in South Florida (Sarasota to be exact), we never see snow.
 Living in the sunshine state has it perks…
– We live near the beach (which happens to be voted #2 every year)
– We get sunshine 95% of the time
– It is paradise
– During the winter, when everyone up North is freezing, we aren't.
– We can swim in the pool year round
– We never fully lose our tans
There are so many reasons to love the great state of Florida; these are just some of those! Of all the fabulous things we love about Sarasota, Christmas never "feels" like Christmas. I grew up in Richmond, Virginia and my family is there. This time of year makes me yearn for the days of wintery weather, snow on the ground and seeing your breath when you walk outside. Yes, I do occasionally like to see snow!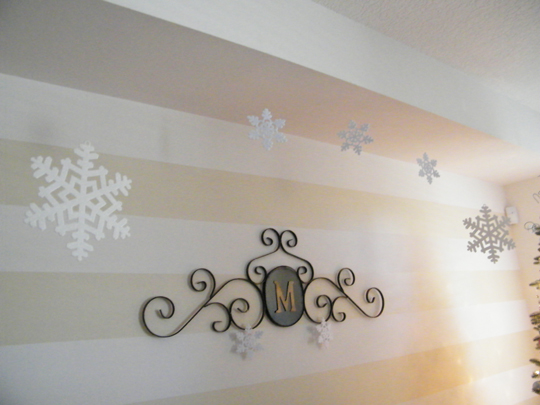 That's why this year, we took the extra step and added some in our house! What can we say, we have to at least try and make it feel wintery around here! Although… I must say, we have been wishing for chilly weather and it actually got down to 29 degrees the other night. CRAZY!
I found a few sparkly (large) white snowflakes and a few white felt (small) snowflakes and hung them up above our TV in the family room. They are so fun because they cast shadows and sparkle as they move.
 Sometimes it truly is the small things that can make a room feel more "Christmasy"!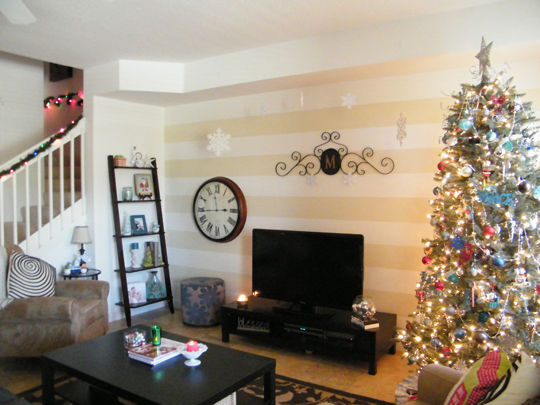 What do you think? Easy or what! At only $4 the snowflakes add a little wintery whimsy to the room! How about you? Would you rather be escaping the winter mix? Do Tell.
~~~~~~~~~~~~~~~~~~~~~~~~~~~~~~~~~~~~~~~~~~~~~~~~~~~~~~~~~~
Find other Holiday Posts Here: 12 Days of Christmas