Happy Monday! I am up & at it early this morning to bring you guys a fun giveaway! Exciting, right?! DENY Designs emailed me telling me all about their newest mirror lines & offered one lucky ADS reader the chance to win one for their wall!
(*** This Giveaway is Closed***) Winner: Angela!
DENY Designs are a "think-outside-the-box company that creates home decor accessories, supporting art communities all around the world!" They don't believe in inventory, they make your product once your order is received and they have state-of-the-art printing processes… pretty unique! They offer mirrors, jewelry boxes, sheets, duvet covers, shower curtains, art & clocks & their artists and designers are stationed all over the globe. You can shop by product or artist on the site or you can become a designer yourself… which sounds super fun!
I went through & picked out a few of my favorite mirror designs…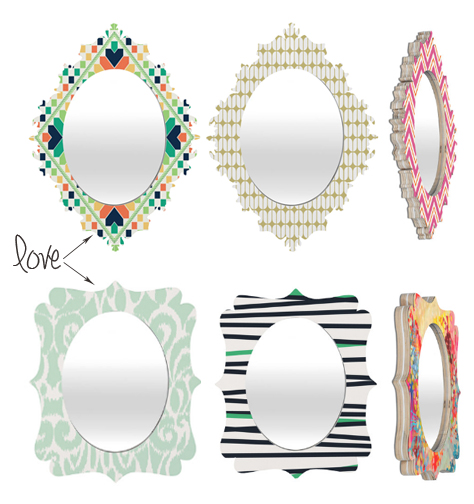 Go over & check out Baroque or Quatrefoil Mirrors & see which one you hope to win!
Here's how to enter:
Prize: Winners choose between a Medium Baroque or Quatrefoil Mirror valued at $299. The mirror is a sleek mix of engineered wood trim that's unique to each piece with a glossy aluminum face. The Medium Baroque Mirror measures 22″ x 29″ x 1″ and the Quatrefoil measures 23″ x 28″x 1″.
To Enter: Comment below saying "Mirror, Mirror" & TELL me which Mirror design you think is the fairest of them all? Comment and share!
Bonus Entries… Tweet…"Enter the @Denydesigns giveaway for a chance to win a Mirror on @adesignstory https://adesignstory.com/giveaway-mirror-mirror/ OR "Like" the Deny Designs Facebook and Share it with your friends…
Giveaway Closes: Friday, March 15th , 2013 @12pm EST (Winners will be announced Saturday, March 16th, 2013)
Number of Winners: 1 Lucky Winner
Prize Ships: US only (all 50 states)
In case you want to shop a bit early, DENY offered a fab discount code: Customers can simply fill out this form and they will be given a 20% off discount code for our new Spring Wall Collection, good through Sunday, 3/17/13: blog.denydesigns.com/deny-designs-wall-collection-discount.
Good luck & may the odds be ever in your favor! (Yes, I just said that)…