This week we're wondering about your dream kitchens. Well, mainly the countertops. Do you yearn for Granite or Zodiaq? Or is it Corian that tickles your fancy?  Selecting the right countertop for your space is one of the most important decisions you will have to make in the kitchen. The countertop sets the tone for the space and can really add both a dramatic and luxurious feeling to the space. So, do you need a little help on choosing the right material for your space? Here is a little guide to enlighten you on the features and concerns of some of the most popular countertop choices.
Granite
Features:
Durable
Stain resistant when sealed
Water and heat resistant
Concerns:
Avoid Ammonia products when cleaning
Can be fairly expensive to install
Use qualified installers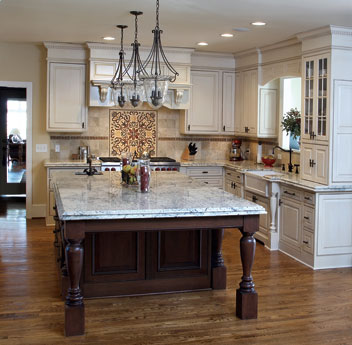 Zodiaq (Engineered Composite Stone)
Features:
Requires no sealing
Nonporous
Abrasion, stain and impact resistant
Concerns:
Not as heat resistant as natural stone
Resinous feel and appearance
Concrete
Features:
Durable
Custom colors available
Tactile surface
Acquires patina from use
Concerns:
Sealer recommended
Subject to staining and cracking
Hot elements will damage sealer
Qualified installers required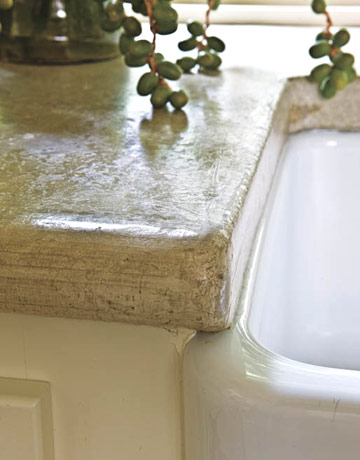 Plastic Laminate
Features:
Moderate Cost
Waterproof and stain resistant
Water and heat resistant
Easily cleaned
Concerns:
Not heat resistant
Seam lines
Joints susceptible to damage
Scratches cannot be repaired
Marble
Features:
Heat resistant
Natural stone features
Tactile feel on honed finish
Concerns:
Costly
Sealer required
Susceptible to staining
Use a qualified installer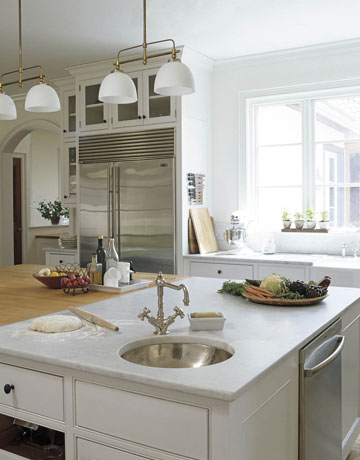 Slate
Features:
Available in a honed finish
Stain proof and antibacterial
Water and heat resistant
Concerns:
Costly
Avoid ammonia products
Use qualified installers
Ceramic Tile
Features:
Durable
Water proof when sealed
Stain and heat resistant
Concerns:
Costly
Glaze may be damaged by grit
Grout requires maintenance
Tile can chip from impact
Stone Tile
Features:
Less expensive than dimension stone
Natural stone features in tile form
Water, stain and heat resistant
Concerns:
Labor-intensive to install
Grout requires maintenance
Wood (for islands)
Features:
Forgiving surface (does not dull knives)
Concerns:
Susceptible to water damage
Monthly application of mineral oil required
Scorch marks and light stains can be sanded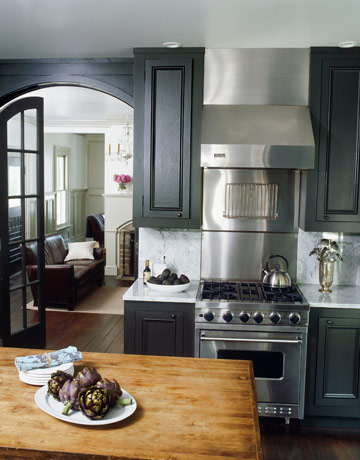 Solid Surface (Corian)
Features:
Water and stain  resistant
Light stains, scratches and scorches can be buffed out
Integral sinks available
Concerns:
Not heatproof
Costly to fabricate and install
Avoid Acetone
Soapstone
Features:
Soft, satiny, tactile feel
Water, stain and heat resistant
Concerns:
Bimonthly oil treatment required to prevent chipping
Can be costly
Use qualified installers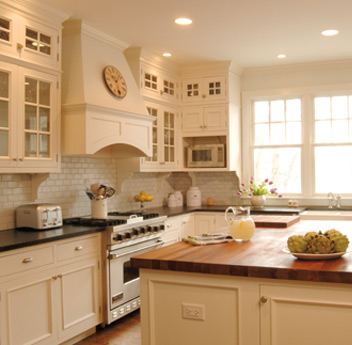 Stainless Steel
Features:
Integral sinks available
Used in commercial applications
Water, stain and heat resistant
Concerns:
Subject to water spots
Plywood backup recommended to reduce noise
Use qualified installers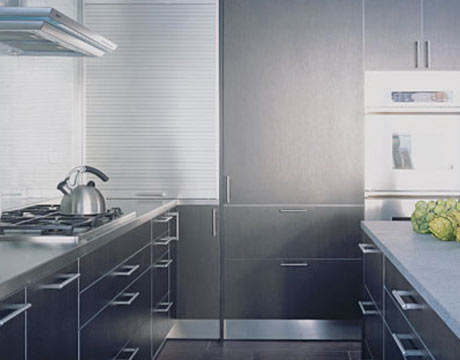 As for Kevin and I, our home now has Corian countertops in the kitchen. We like the durability and smooth touch of the Corian, but in our next home we plan to install Granite for the overall luxurious feeling as well as the durability and functionality. How about you? What countertops do you dream of having in your kitchen? Or did you recently install a fabulous countertop… we want to hear all about it!
All images courtesy of House Beautiful, Country Living and Signature Kitchens and Baths.