Season's Greetings! Can you believe Christmas is just days away? Where is the time going? We have been really busy this season styling our home for the holidays. Have you?
This year, we thought we would add some spice to our annual Christmas tree appearance post by having you all participate! That's right… if you share a picture of your Christmas tree with us & our readers (on Facebook), you get entered in a fun giveaway!
You may have already read that once again we had a bit of a tree debacle. Seriously, it wouldn't be a Milner Christmas without one! Anyways, we took back my beloved tree we purchased last year and picked a new one because half the lights wouldn't work. After a few days of trying to pick the best tree, we finally picked one!! Who knew picking a Christmas tree could be so stressful!
We got it home and put it up immediately. I actually love it. We both do. Last year we went with silvers, blues, reds and greens. This year, we wanted to go modern & bold with silvers, gold's, whites & deep turquoise & aqua.  Similar to what we chose for our wreath designs for the porches! Ready to see??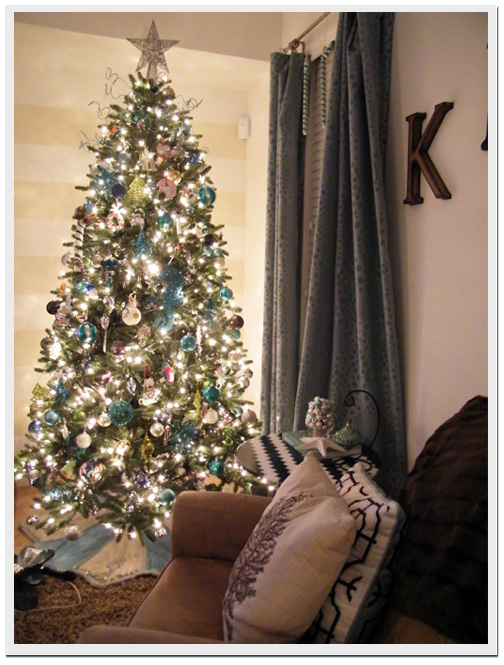 Last year, we picked up an entire box of new turquoise ornaments on sale after Christmas at Target. I have been waiting all year to put those puppies up. In addition to those, this year I grabbed up a few new ornaments to put on the tree (I like a super full tree). Here are just a few of my faves…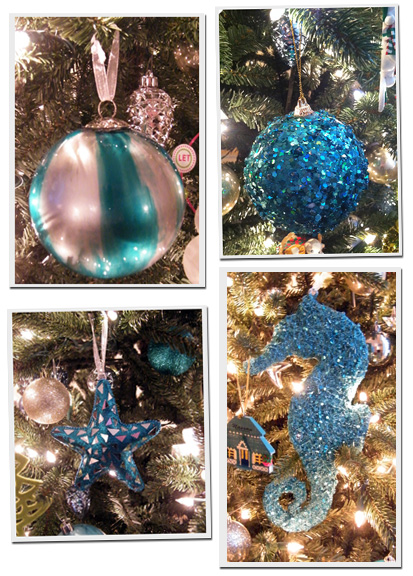 The oh-so-important top of the tree is the silver star and our turquoise spiral sticks…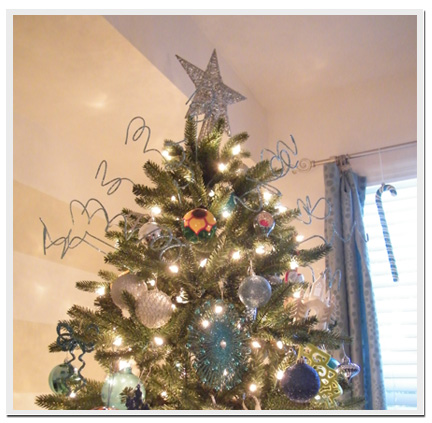 My favorite addition to our Christmas tree this year is the new skirt I bought. My mom called me from Marshall's and said I had to get over there asap! I was already on the way to meet her anyways, so I just sped up a bit. I walked in to her holding the most perfect Christmas tree skirt I had ever seen. It screamed "us". It buttons up with wooden buttons in the back & has embroidered shells & seahorses on it with beads… Needless to say, it came home with me….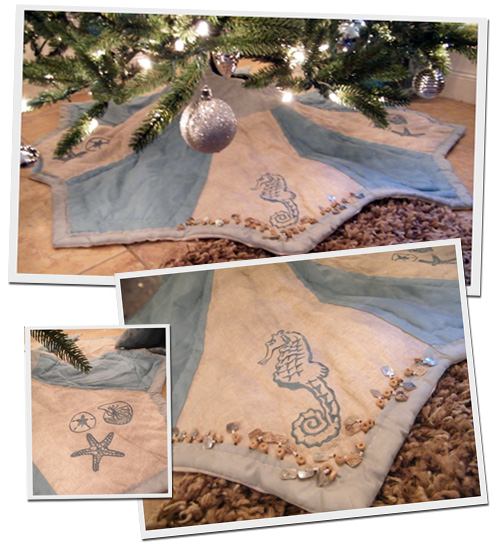 It just so happens… we have another new tree making its grand appearance this year. Remember this month's fresh picks post? Well, if not I mentioned that we had bought a new small tabletop tree on sale from Target. We put it in our kitchen on the counter top and we adore it. I added a bow to the top and I instantly fell in love with it…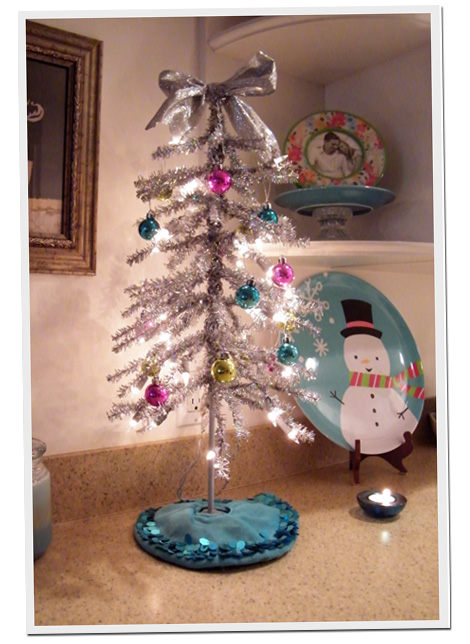 Do you have your tree up yet? Do you go with the same theme each year? How about a color scheme, do you stick to traditional or try new ideas yearly? DO TELL. In fact, we are running a fun giveaway on our FACEBOOK page so you can show off your tree…

We wanted to bless one special reader with a gift this Christmas season…  As a token of our appreciation for all of you that read A Design Story, we thought we would giveaway 2 ornaments that match our color scheme to one of you…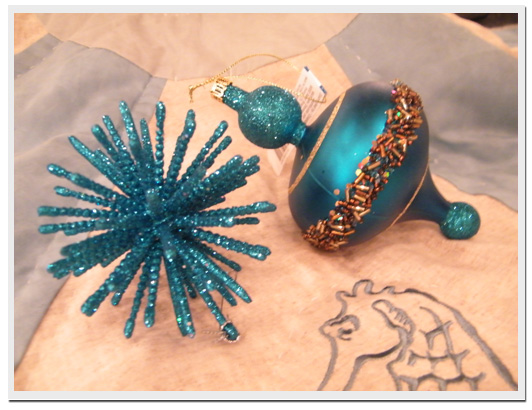 Aren't they just fabulous?!? This giveaway is a bit different than our others… so read carefully….
Here are the details…
 Prize: The above (2) Turquoise Christmas Ornaments
To Enter: Like our Facebook page & post a picture (or link) of your Christmas tree there to share with everyone!
Bonus Entries… Come back to this blog post & comment telling us what your favorite Christmas decor colors are…
Giveaway Closes: Saturday, December 16th, 2011 @12pm EST
Number of Winners: 1 Lucky Winner
Prize Ships: Anywhere in the continental U.S.
Rules: One entry per person is permitted, unless you partake in the bonus option. The winner will be selected using random.org and announced on Sunday, December 18th, 2011. Good luck!!
(We linked up to Thrifty Decor Chick's Linky Party) P.S. In the mood for prizes? We have another giveaway going on from Royal Design Studio… be sure to stop be enter that giveaway too!!