Happy December everyone! Can you believe we have only 24 days left of shopping??
I love this time of year… the family time, the foods, the parties & the décor. I love it all! Don't you guys? Today my hubby and I are in the living room enjoying Christmas movies and our Christmas decor! I am working from the chair while my Mr. is on our sofa recovering from getting his wisdom teeth taken out this morning. Poor baby! (He is doing so well and I have definitely had a few laughs while the anesthesia was wearing off)!
Since today marks the first day of December, it's time for our monthly favorites & to begin the 12 Days of Christmas Style… This year I came up with items we recently purchased & items we love during this time of year! I always try to gather up ideas that are budget friendly so anyone & everyone can find something they might like too! Let's start with the home edition…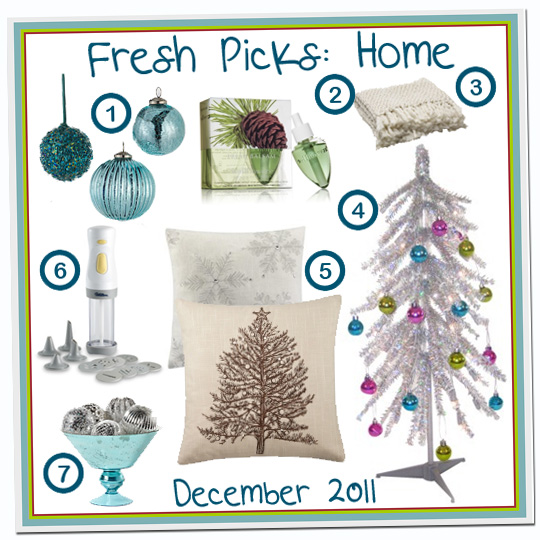 Here's the Home breakdown:
1. This year, we added a ton of new ornaments to our collection. We went with a more deep turquoise shade, silver, soft gold's, aquas, whites & blues. In our search for a few 'perfect' turquoise ornaments, we came across this collection of 3 from Z Gallerie, which includes a glittery one, a grooved one and a mercury glass ornament.
2. We love, love, love Christmas & Holiday scents. Bath & Body Works always has a huge collection of holiday scents. They offer lotions, sprays, candles and even wall plug-in fragrances. This Fresh Balsam Fir is one of our favorites!
3. In addition to all of the holiday décor that comes out every year, I also bring out our warm 'winter' snuggly blankets & add them to our sofa & chairs. It warms up your space for the season and makes the perfect complement to a night on the sofa with a cup of coffee in hand! This loose knit blanket from West Elm is just perfect for the season!
4. About two weeks ago, on one of my many weekly visits to Target, my mom and I stumbled upon this cute silver Christmas tree. It totally screamed 'me'… I love it! It was on sale for $10.00 so it came home with me! We put it on our kitchen counter and it looks adorable!
5. My Mr. is always laughing about my obsession with decorative pillows. I can't help it… I am a designer 😉 Anyways, I wanted to add a few new holiday pillows to our living room this year. I was going for more of a neutral approach this year, so I grabbed up these two pillows from Target's Gilded Noel Collection.
6. Cookies, cookies! I love Christmas spritz cookies (her's the spritz cookie recipe). I find that Wilton makes the BEST cookie press. I love it! It's easy to work and easy to clean! I got ours for a wedding gift, but they also have them at Bed Bath & Beyond!
7. I always like to put extra ornaments in a fun metallic bowl for extra holiday sparkle… they look great on buffet tables, coffee tables or even on your kitchen counter. I LOVE this aqua mercury glass bowl from Z Gallerie. It's perfect for silver ornaments.
Fun, right? Next up, the beauty edition! This month, I decided to add a fun assortment of holiday wear…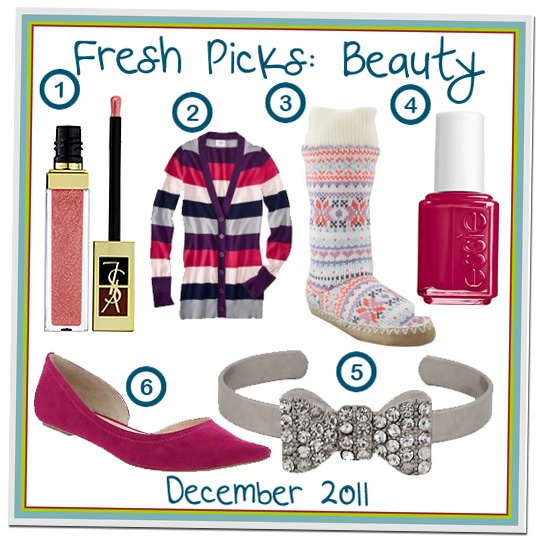 Here's the Beauty breakdown:
1. Get those lips ready for Mistletoe! My client recently bought this gold shimmery lip gloss from Sephora (Yves St Laurent) and I think it would be the most beautiful addition to a holiday outfit. It's glossy, shimmery & has real gold flecks in it! It's so pretty!
2. I love a colorful sweater for the holidays. They look great with jeans, leggings and even dress pants. This striped cardigan is from Target and comes in a variety of colors!
3. It's that time of year when we tend to stay indoors a little more all cozy & cuddled up enjoying time together and watching holiday specials on TV. I am a huge pj and slipper gal… these slipper boots from Old Navy are too cute!
4. As you know, I am a big nail polish kinda gal. (I am super girly)!! I am thinking about rocking this ruby red shade from Essie for the holidays! I might even add some glitter to the tips if I get really creative!
5. Costume jewelry is perfect for holiday parties. I always try to go with something shimmery or sparkly to add a touch of glitter to my outfit. This bow bracelet cuff from Forever 21 is really inexpensive (only $6.80) and comes in silver or gold.
6. Adding a pop of colors to your outfit can make for a festive holiday ensemble. I like to wear red or pink shoes with holiday sweaters to parties and gatherings. These pink ballet flats from the Gap are stylish, pointed and perfect for this season!
What are you guys loving these days? Any favorite items you bring out this month that are especially wonderful? Any items on your wishlist? Do tell…
P.S. We have a giveaway that will knock your Christmas socks off tomorrow… make sure you stop by! Also, the 12 Days of Christmas Style series will not be 12 consecutive days in order… but 12 days in total!