Hi! I have still been a little MIA… Sorry… We are working on our house… a few changes are coming up! In the meantime, I have a fun fashion post for you today…
It's fall. Even though we are not feeling it here in Florida quite like others, I still like to dress like its fall. One of the ways I add a little "fall" to my outfits is by adding prints & patterns to the look. Animal prints have been a big trend for a few good years now. I came up with 8 ways to update your leopard print outfits…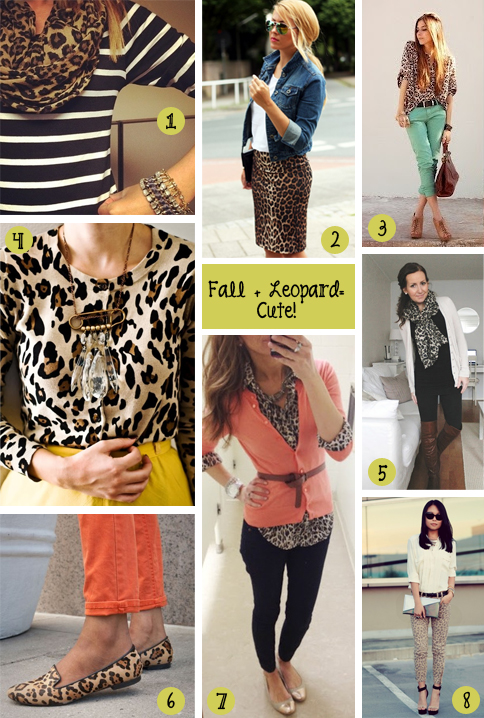 Here's a few tips…
1. Mix & Match: One of the news ways to add a little modern flair to your outfit is to mix & match prints. Add a leopard scarf to a striped shirt… it's really cute & fun!
2. Get Dressy/ Casual: Denim shirts are all the rage these days… have you noticed too? Pair a chambray shirt to a fun leopard skirt for a casual look.
3. Go Bright: Pair a fun leopard shirt with a pair of bright capri's, pants or skinny jeans for a fun pop of color & pattern.
4. Bold & Funky: I love the idea of wearing a leopard sweater with a bright chartreuse skirt (or any bright skirt) and adding funky jewelry to top it off!
5. Go for Comfort: I love getting comfortable during the fall (& winter). Add a leopard scarf over a black shirt, black leggings & a sweater for a cute casual look. Bring in the boots to finish the look!
6. Flats & Skinny's: Try wearing leopard flats with fun & colorful skinny jeans. It gives the shoes an updated, modern look.
7. Wrap It: Have a cute leopard shirt hanging in your closet? Update it by wearing it under a cute, bright sweater… then wrap a cute belt around it for a layered look.
8. Classic & Chic: I am a skinny jeans fan. I have like 8 pair… (counting off the top of my head). I love patterned skinny's… try wearing leopard skinnies with a solid top and understated accessories. It's a modern & chic look.
The idea is to be bold & fresh with leopard these days. Try adding those fun neon's we have been seeing around with the classic leopard print… It's fun, updated & chic! What do you think? Do you have any fall fashion loves? DO TELL…