Hi… Happy November!
Can you believe it's November already? October flew by in a flash. You might have noticed that I have been a little MIA around here lately. We have been in a few transitions and things are hopefully going to slow down a bit now. We have been in the midst of re-decorating our home office, organizing our entire home– every closet, drawer and nook, looking for a new car & most importantly Kevin has moved to a new company! Transition is everywhere friends. Kevin moved to Sotheby's– so if you are looking to buy or sell your home in Sarasota— let us know!
I have a fun week of blog posts for you… I have been storing up since I have been a little spotty over the last few months. Let's start with monthly faves…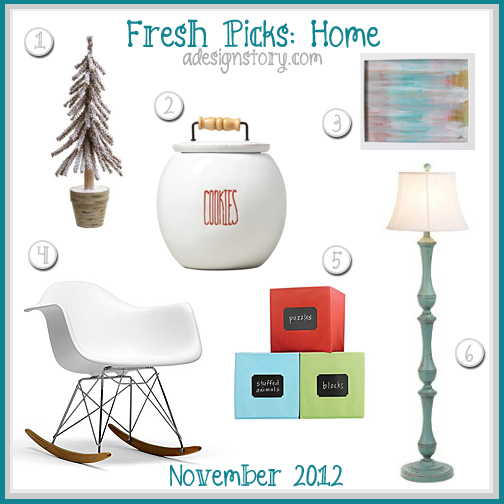 Here's the breakdown:
1. Christmas is coming fast. I have been trying to set aside time to put away all of my fall decor early this year– I am over it! I am not ready to go all out Christmas yet, so I thought it might be fun to go "light" for Christmas until after Thanksgiving… this fun snow glistened tree is perfect for this idea!
2. I adore this cookie jar from Target's Threshold collection. I am a cookie kinda gal and I love the idea of having this on our counter for the holiday season!
3. Have you seen the paintings yet in the ADS Shop? I only have about 8 paintings left! I absolutely LOVE to paint, so I decided to sell a few paintings from time to time to celebrate my love for color & paint. I plan on adding new paintings soon, as well as prints & other home decor items… stay tuned…
4. I absolutely love the White Cradle Chair… I was thinking about it for our office and at $124 to be honest it's still calling out to me. It was be cute as an accent chair in a room, nursery or living area. It's fab!
5. In an effort to clean & organize every single nook & cranny in our home, I stopped by staples and grabbed a few of Martha Stewart's chalk labels to organize in style. I like to have our entire home completely organized before I pull out all of the Christmas decorations.. I just can't do it if there is one closet or drawer not completely organized— it's a sickness people. I put these fun labels in our kitchen, pantry & office— stay tuned for the post on this!
6. Our living room needed some updated lighting. I had a few lamps in there, but only one stayed after I decluttered a few weeks ago. I picked up this floor lamp at my local Kirkland's on sale (& I used my designer discount for extra savings)… it's perfect! I love the fact that some of our accent tables are lamp free now!
What about you? What are your favorite home decor items this month? I would love to hear what you are crushing on…
Now for a few fashion + finds…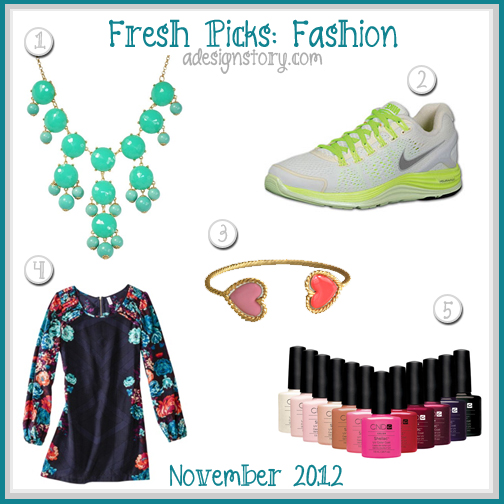 1. Bubble necklaces are a big trend these days. Have you seen them? I love them! I especially love this turquoise one… it's only $9.77.. a total steal! I kinda want one in every color 😉
2. Nike Lunar Glides— these shoes are excellent for anyone with pro-nation issues.. I just recently picked up the newest shade… they match more than the other one's did!
3. I love girly jewelry… I came across this heart bangle the other day from Ashley Duncan jewelry… it's on the wish list for sure! She has several colors and you can stack them too! What do you think?
4. I am a dress fan, are you? I love inexpensive dresses to pair with leggings for "work days out" or church. I picked up this dress from Target a few days ago for only $24.99… I plan on pairing it with black leggings and a few cute bangle bracelets.
5. Shellac Nails… It's "new" to me! I know everyone has been raving about shellac for awhile, but I just gave the treatment my first try. I went to a local salon with my friend (she got married this past weekend) and picked purple shellac (it matched the wedding colors). I LOVE, LOVE, LOVE IT. I usually leave the salon with a regular manicure with painted nails… about 5 minutes later they chip. Not with shellac. I am in love. It will be my go to now!
So… what about you? Share what you are loving these days… Are you planning on decorating for the upcoming season early? DO TELL…