Hi! Happy Monday! Did everyone have a good weekend? We have been busy bees around here… I have so much to show you and I can't wait to wrap up a few projects and get things tidy to take photos to share.
First things first. We started tackling our kitchen about a week ago. Since we decided not to move quite yet (we decided late summer to just hold tight a bit longer in hopes to pay cash for a house we really love… instead of settling), we put together a list of items we could do around our current home to make it feel more us without busting our budget. The items aren't too crazy and they will put a little extra equity in the home… which is always nice down the road. After our list making frenzy, I put together a design board for each project just to give us a little direction. Let's begin with the kitchen today…
Here are a few (poorly) taken before photos…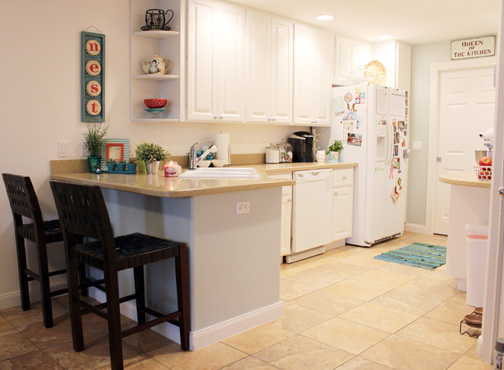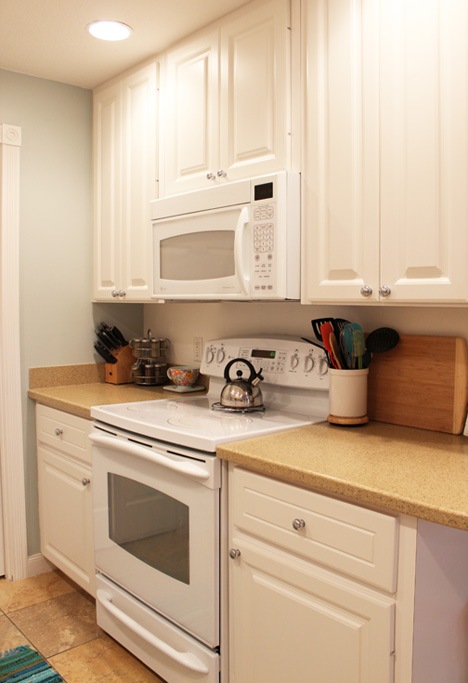 We really want "less clutter" on the counter tops. Some of the items will find there way in cabinets & in the pantry. Reducing clutter in a kitchen always makes a home feel cleaner! We also want to just make the space feel a little more us by adding some color, and metal finishes and bringing in a few plants. Here's what I came up with…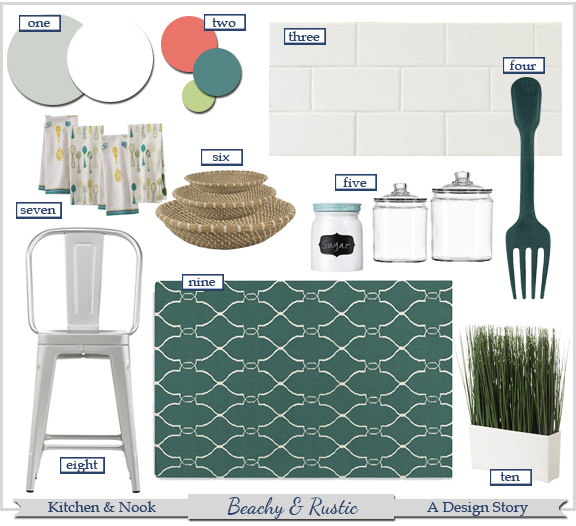 1/ Paint Colors– Trim- Bright White, Walls- Sherwin Williams Sea Salt
2/ Accent Colors– I plan on throwing in some darker turquoise/teal, greens & even coral. I just want a really fun, crisp & modern beachy look.
3/ Back-splash– We opted for white subway tile with bone colored grout… all from Lowe's… we will share this when everything is styled & complete!
4/ Fork– I grabbed this up from Hobby Lobby a few weeks ago. I plan on hanging the fork on our pantry door… kinda cute, right?
5/ Canisters– I love, love, love my glass canisters. I put sugar in the smaller one and my k-cups in the larger one. I also just purchased a set of white chalkboard canisters… I plan on using the aqua one in the kitchen (the yellow one in the office & the coral one in the laundry room).
6/ Sea-grass Bowl– I grabbed a fun sea-grass woven bowl to hang on the wall at Home Goods a few weeks ago. I also picked up about 5 other basket type bowls & chargers at a garage sale that I may use on top of the fridge and maybe on the table… we shall see!
7/ Towels– I love new kitchen towels! I think this spoon set from Target's Threshold line are adorable… don't you?
8/ Bar stools– We have sold a bunch of stuff recently on Craigslist… the bar-stools in our kitchen currently are next. We are thinking about purchasing this metal set of counter stools… They really have that California beach look we are striving for!
9/ Rug– I am thinking about getting a nice cotton rug… something I won't be afraid to "drip on". I love to have a rug in the kitchen that I can just throw in the washer when there is a spill or stain. I am loving this geometric pattern too.
10/ Plants– I really want to incorporate a few plants in the space. Maybe a few ikea plants? I love this green grass… very spring-y!
What do you think? We are so excited & ready to get some of these things checked off our list! Check us out on Vine or on instagram @ A Design Story for sneak peeks as they happen! So, what about you guys… what are you re-doing these days? Have you tackled anything off your list lately? Do tell…