Happy Monday!
You may remember for my tweets & posts that we were looking for a new home last spring & summer. With my husband being a fabulous realtor, it made the hunt really easy & fun. Through looking at tons & tons of homes, we made only 3 offers, all of which had multiple offers on each right before ours came in. After a few tears (on my part), Kevin sat me down and talked with me about each home. We went through the list of must-haves that were had put together before our search and from there we decided that none of the homes were exactly what we were looking for. So… we decided to take a step back and wait. What are we waiting for? Well, our goal is to pay cash for our next home…. because of that we want to be in love. I don't want it to be perfect, because that's my job… I do want it to be a place we can grow in, a place we can be in for awhile and in our desired location. So… we wait it out in our current home until it's we find the right home.
So… since I had a mini-meltdown after our house hunt, Kevin decided to create a plan for this home while we are still here. We sat down and made a list of things we can do to our current home to make it more "us" and more functional and lovely. It's really important to me to live in a place I love. We don't want to over improve the home we live in, so we aren't going to be tearing the place apart by any means, actually the place is pretty upgraded and "new" as it is, we just want to improve some areas. I jotted my must-have items/upgrades and presented them to my awesome hubby. Then I brought the sketchbook out and scribbled & sketched away!
Here's a quick list of home projects that we plan on attacking starting today … I will bring you updated, detailed posts on each room and idea as it happens! Please note: not every room is on the list… some rooms are d-o-n-e… oh and not everything is a project… some items are just purchases!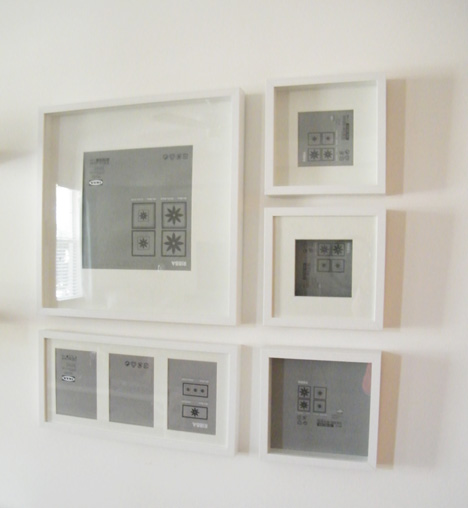 Overall Concept: We already bought & hung a set of frames & shelves… we'll show you! This is just a sneak peak iPhone photo & only half of it!
1. Gallery Wall- Add photos & prints to the frames
2. Shelving- Add accessories!

Overall Concept: Kevin and I both love that California beach look. We are really needing extra seating and are striving for a clean & clutter free look in here. I am thinking about brightening up the space by adding some additional colors to our current scheme of white, tan and aqua. Maybe some coral & navy? Maybe!
What's going: The sofa, coffee table, art above the TV & some of the accessories. Oh, and maybe a sofa console depending!
What's coming:
1. New Sofa- We are looking at a few different leather sectional options.. Once we narrow down our tops 2-3 picks, I will show you!
2. New Coffee Table- We are going smaller! I may even go with two small tables… it all depends on the sofa!
3. New Pillows- I want to add Coral, Turquoise & Navy to what we already have.
4. Re-arrange Furniture- This one goes without saying… we are going to have to adjust the room around a little once we get our new sectional.
5. TV Buffet- Accommodate cable box to go inside top drawer or our TV dresser!!
6. Relocate Art above TV

Overall Concept: We really, really, really need extra seating & space at our table. We plan on
1. New Table- Extendable so we can accommodate 4 on regular days and 6 when we need extra seating.
2. (2) New Chairs- We are going to keep the 4 chairs we have and add two to the ends that are a little more special.
3. Flower Arrangement for Tabletop- I really would love to find a flower arrangement that looks real & kinda crisp & modern!
4. Address Light Fixture- The current light fixture has a silver/brass finish to it. I would love to either paint it silver or replace it all together.

Overall Concept: Not much is really needed in this space… we do want to update it and feel a little more functional and crisp!
What's Going: Bar Stools, Rug & the clutter!
What's Coming:
1. Back-splash- I have wanted to install a back-splash since we moved in. I am thinking we are going to go simple for this property… but we will see!
2. New Bar-stools- I am ditching the wooden & leather counter-stools we currently have for something less "heavy" looking and more modern.
3. New Rug- I am in the mood for a nice sea-grass or something with a little pop of "beachy".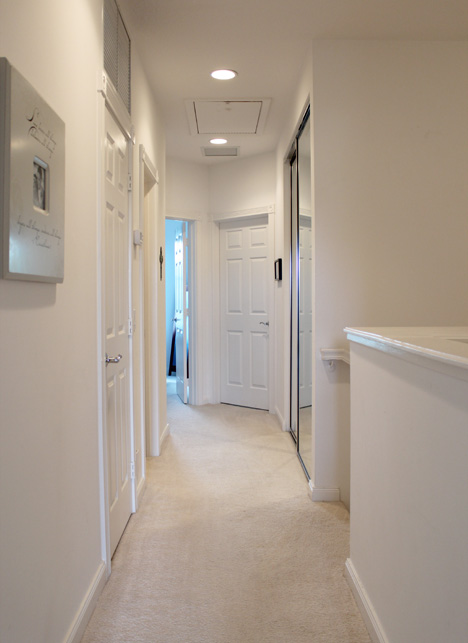 What's Going: Carpet (the carpet is actually being ripped out as I type out of the hallway & all 3 bedrooms).
What's Coming:
1. New Flooring- We are going with a light-medium wood laminate.
2. New Art- I am going to pull in some bright artwork create a little interest in here.
3. Maybe Paint- (although I actually like the bright white hallway since there are no windows)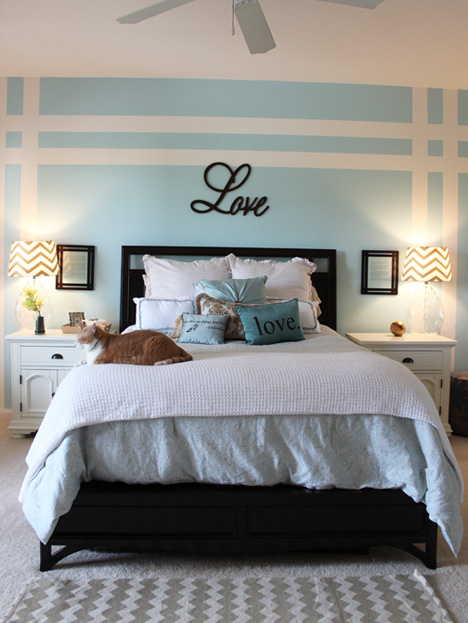 Overall Concept: I would love to have a brighter, more graphic statement in here. We are shooting for a new color scheme with white, turquoises, aqua, tan and greens.
What's Going: Carpet, Bedding, Some of the Pillows & the Paint Color & Stripes.
What's Coming:
1. New Bedding- I am loving a layered bedding look with a solid coverlet on the bed, a nice graphic comforter folded up at the foot, pretty sheets and a few pillows at the head. I want to go a little more layered and a little less "frumpy" & decorative. Clean & clutter free is the new motto.
2. Paint- I am still pondering this one. Once we find the bedding, I can feel more confident in the direction we want to head in.
3. New Art- I am going to use some of the art we currently have in here, but I plan on painting a nice piece of art on a canvas for the space too. Something with color and pizzazz! (If you are interested in paintings, I have a few still left in my shop & will be adding more soon!)
4. New Curtains- We have a nice gathered blackout curtain currently on our window, but it's dark brown and I am looking to upgrade with a pair of solid drapes. I will figure this out too when I nail down the bedding selections!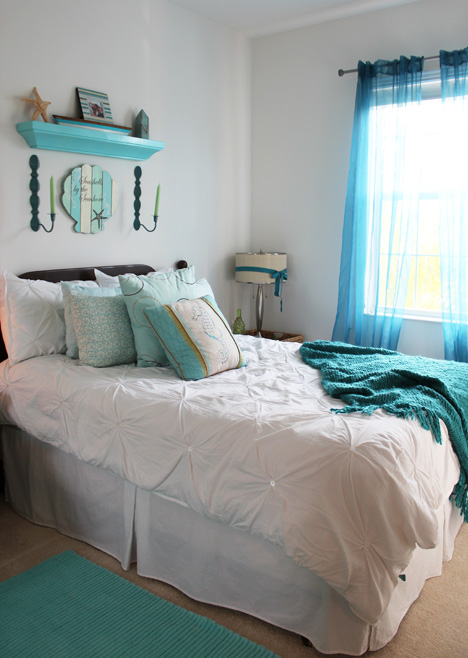 Overall Concept: Let me start off by saying, we really have done NOTHING in here since we moved in. The plan is that it would become a nursery when the time comes, so we may hold off on anything to major in here. I may delay painting… we'll see!
What's Going: The carpet, the curtains, the lamp and one of the bedside tables.
What's Coming:
1. Paint Bed- We are going to have a fun lil diy project with this headboard. Stay tuned for this!
2. New Curtains- Since the bedding is white, I thought it might be fun to replace the curtains with a pair of bold graphic print one's. I have some in mind… we'll see if I can find a few more to choose from!
3. New Lamp- The current lamp was given to me forever ago and it has done the trick, but it must go! I am looking to upgrade with a lamp & fun new shade.
4. Address the Art- I want to make this space feel a little more updated and a little less "beach condo"!

1. New Shower Curtain- The current one is solid brown… I plan on punching it up a bit in here with a bold new print & color!

Overall Concept:
What's Going: Carpet
What's coming: We already painted, purchased new furniture, a new rug and accessories & art! We just need to hang everything and organize a bit!
1. Hang Shelves & Art
2. Organize Closet & Desk Drawers & Files
3. Wood Flooring
I am always changing and moving things around… so these are not the only rooms in our home being adjusted. I will show you details of the happenings as they happen! Make sure you follow my instagram for real time shots!
So… what about you? Any home projects this year? I'd love to know! PS– I am in the process of updating all of my home tour pictures… stay tuned for that!