Happy Valentine's Day! I am a bit late on that, I know!
You see… the night before Valentine's Day, our refrigerator's heating element broke and we had slushy ice all over the back of it. Most of our newly purchased food had to be pitched and we were up until 2am clearing out the fridge and putting things in coolers. Kevin and I facetimed on our ihpones at 1am while he was at walmart getting extra coolers… it was so just oh so much fun. So… this post was scheduled to go out yesterday… but it just didn't happen! So, let's try it now…
In an effort to try new things and get more involved in the blog community, I got involved in a fun Valentine's Blogger Mug Swap that Sew Caroline and Rags to Stitches put on. I signed up right away and about a week later, they emailed me with the blogger I was to shop for! Jessica from JessicaNDesigns was picked for me… which I am so glad she was. I immediately went through her blog and shop and fell in love. Her testimony and creativity really sparked my interest and I immediately jotted down ideas about what things she might like. I had a blast shopping for her and I am thrilled she enjoyed all of her goodies! You can see her loot here.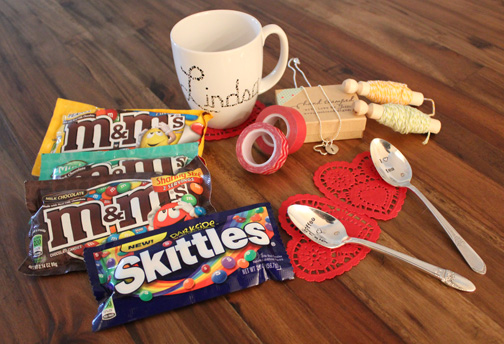 Jessica totally spoiled me! I received M&M's (in a bunch of flavors), Skittles, a beautifully designed coffee mug, two engraved spoons & a necklace from her shop– love those, twine & washi tape. I am so happy!! Thank you so much Jessica, the gift was a true blessing and I am so grateful to have "virtually met" you!
I can't wait to try out more of these blogger exchanges! This was so much fun! And no, the hubby didn't leave me out! I got my flowers at 1am– when we were cleaning out the refrigerator and putting things in coolers. I also was treated to a fabulous dinner out & a movie! Once we arrived home we traded gifts… I got him two new shirts & a card and he got me a card & a gift-card for a massage– which I get to receive today! I am thrilled.
I love and I am loved. I am pretty tangled up in all of that, actually. I hope you all had a wonderful Valentine's Day! xoxo
(ps– we have a full blog post schedule next week… this week has gotten crazy with a new back-splash going in, the refrigerator breaking & other secret projects going on around here… stay tuned!)