It's Thursday, already. Time is seriously flying. It's going to be October on Monday… how crazy is that?!!! I have been hard at work this week on new ideas & projects! I can't wait to show you… until then it's a secret! I do have a fun recipe to share today…
We are always in the market for new ideas & recipes…Being gluten free, I get really tired of the same ol' thing all the time! My mom actually gave me this idea!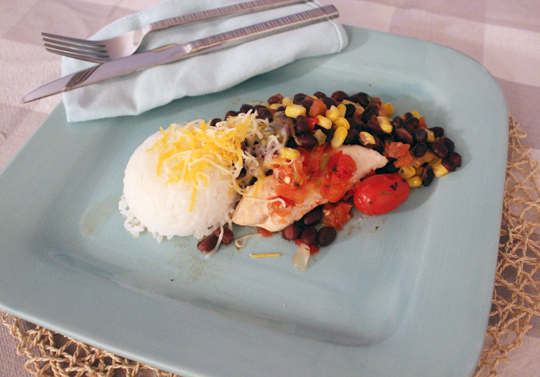 Southwest Chicken (Naturally Gluten Free)
Reynold's Wrap (Aluminum Foil)
1 Can (15 oz) Black Beans (Rinsed & Drained
1 ½ Cups of Frozen Yellow Corn
1 Cup Grape Tomatoes
1 Cup Salsa (I use Mild Fresh Salsa)
4 Boneless, Skinless Chicken Breasts (I use organic)
*Optional: 1/2 Red Onion, Chopped into half-inch pieces (I don't like onions at all, so we skip this)
PREHEAT oven to 450. COMBINE black beans, corn, tomatoes (& optional onion); season to taste in a glass casserole dish. Add ½ cup salsa. PLACE chicken breasts on top of vegetables; season to taste. Spoon on the remaining ½ cup of salsa over the chicken breasts. Cover with aluminum foil. BAKE 22 to 26 minutes or until chicken is cooked thoroughly. Serve with rice & sprinkle cheese on top!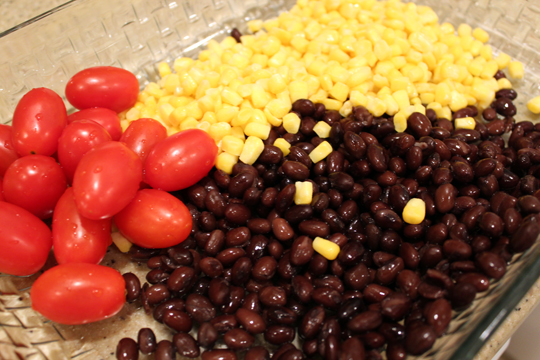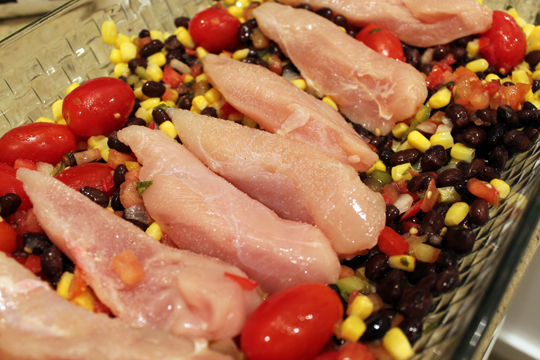 It's quick, easy & delish! It's one of our new favorite go to meals! It actually has a hint of 'sweet'— I think that's from the corn. It's truly fabulous. You gotta try it & Enjoy! What easy recipes are you loving these days? DO TELL… Oh, & tomorrow I will be back with a round-up of some fab new pieces Target sent me & a few fall decorations…