Surprise Getaway to Disney
This year, for my Birthday (& Valentine's), Kevin surprised me with a getaway to Disney World. It was sentimental both in the fact he secretly planned it, but also because last year he asked my parents' permission to marry me at Disney the same weekend. Plus, this year's theme is Celebrate Today… because there is so much in life to celebrate (which totally worked for our little Disney weekend jubilation). This year we decided to take one day to visit the parks and the next day to tour the Resorts, Downtown Disney and even Celebration (the neighborhood formally owned by Disney).
My goal is to share a glimpse of the most Magical Place on Earth through my eyes, but more than likely I am just highlighting some of the most interesting and appealing things about our trip to Disney this time… So enjoy! (There will probably be more trips to Disney because it is easy on our budget… Kevin's cousin works in management and so we get in for free).
One of our favorite things about going to Disney World isn't the rides or even the food; it's all of the "little things"- the attention to detail. From every corner and angle, the "Disneyesque" look is more than achieved (that is not a word… but it best describes there stylized look). Every costume, material and building is custom made to make you feel like you are in a far-off, make believe land (and they succeed).
For example, I am amazed that every resort and area in a park has their own costume and look. In Epcot, each Country has the food, costumes, architecture and aura to make you feel like you are there. It really is the little things that make you forget that you're in the middle of Florida and transport you to a Magical land.  That's what I love about Disney World.
So without further ado, here is some fun info (as we saw it), facts (the concierge gave us) and some photos I snapped on our fun getaway… enjoy!
Our favorite resort we toured was The Grand Floridian, it is an experience I think that every Disney World visitor should have. It is a Victorian- Styled Hotel that sits along the white-sand shores of the Seven Seas Lagoon. Plus, it's right off the Monorail so you're a one-hop stop away from the Magic Kingdom. (You can also take the boat over if you want and both are great ways to arrive at the Magic Kingdom.) The marble floor is something to be seen with its Disney Characters boasting from every corner. The ceiling is also quite exhilarating with its height and grandiose chandeliers. My favorite part was touring the grounds. The lawn is so lush and inviting. The flowers bloom from every direction and the colors are stunning. The pool and beach front exuded relaxation while also keeping with the Victorian feeling blossoming from the architecture and interior design (the ducks even love swimming in the pool with the guests). Even the trash cans looked tidy and pretty with the beautiful blooms growing on the tops. This is truly a picturesque resort and it embodies the traditional Disney treats that are found in nearly every square inch they own.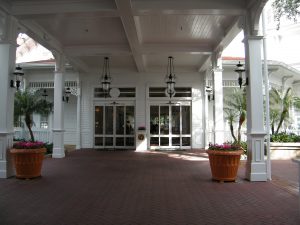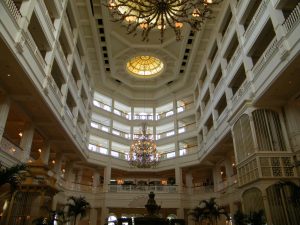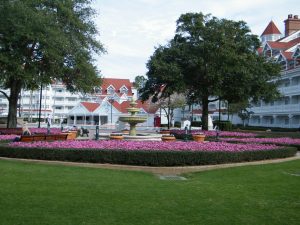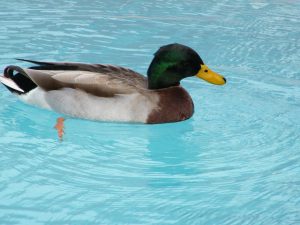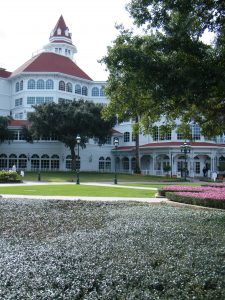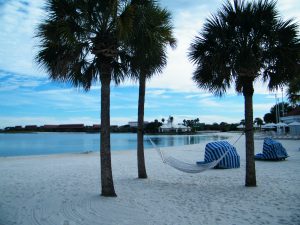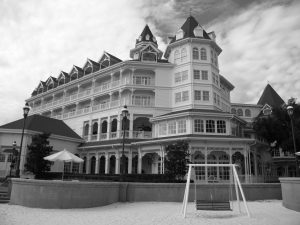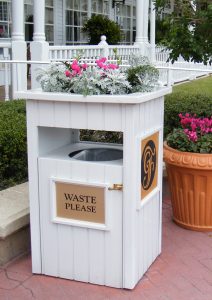 Oh and for a fun little fact, Disney owns 47 square miles (in Florida)… only 1/3 has been developed, the 2nd third will never be used as it has been agreed with the Government that it will be utilized as conservation land and the last third has yet to be developed… they told us to stay tuned for that!! Disney world is 2 times the size of Manhattan and roughly the same size as San Francisco. Impressive!!
Celebration is a little city all in itself. They have their own post office, schools, restaurants, lake and tons and tons of housing options (apartments, condos, single family homes and large estate homes). The neighborhood used to be owned and operated by Disney but since the Government will not allow a Corporation to run a City, they had to sell it. With its white picket fences, Fifties Diner and charming Hotel, being a part of this neighborhood comes at a large price tag (or so the Concierge told us). Before stuffing ourselves on the fabulous food at the Diner, we had to take advantage of snooping on and snapping photos of some of the most gorgeous homes in the neighborhood. We loved that every home is unique and different from the next… Take a look… major swoon fest!!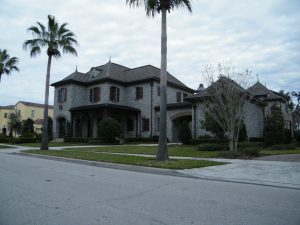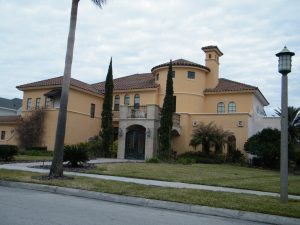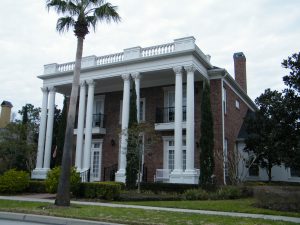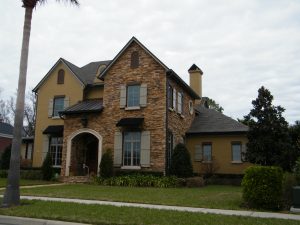 So… that's a quick re-cap of our fun adventure to Disney. Do you have a favorite destination you love to travel to for those short budget friendly getaways? Do tell. Oh, and if you are looking for some personal and decor accessories inspired by Walt Disney World, this collection is just thing!
All photos courtesy of me!