"A good decorator not only plans and schemes, but he also knows how the job is done." ~ Albert Hadley
Designers have home furnishing and decorating information at hand when going into a home. Some of this is passed onto the client during the planning stage and the rest in not revealed; except in the finished product. What is the finished product? A warm, relaxing or glamorous home.
So; when decorating your home think like a Designer!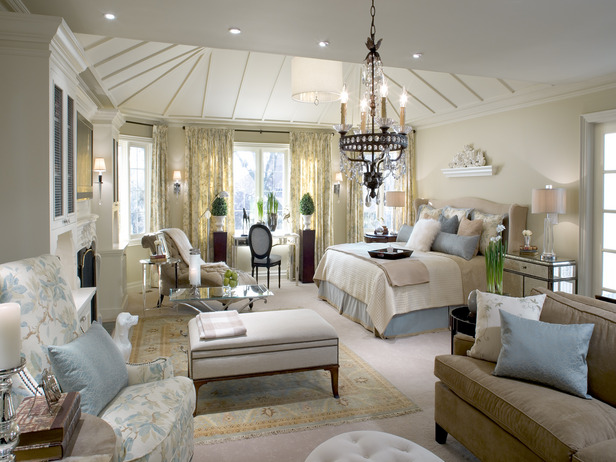 Everyone looks through magazines, books & online for home furnishing and decorating inspiration. You tend to wonder how they have been created and how that look can be achieved in your own home. Of course our rooms don't have the same architecture, room size or often the budget to afford those items in the pictures. And the photographers of the rooms have a lot to do with the ultimate appearance in the images. They use specialized lighting equipment and placement for the best look possible. And, have you ever noticed anything out of place or even fresh flowers or fruit? You never see a stray toy, out-of-place pillow, worn down candle or pet. That is usually due to a photo stylist or the designer who wants the room to look like no one lives there…ever!  Interior home design should reflect your personality not someone else's. I love a good looking house, but I also want the space to look like a "home".
So, how does inspiration add up to a professionally decorated room? Actually it doesn't. Sure you just found a nice way to place some accessories or hang pictures. But what about furniture placements, material matching, color coordinating (see our post on color effects), window treatments, area rug size, lighting and more?  Does this inspiration really add up to your personality?  Or, just something you see that looks nice?
Well, we are excited about giving some tips from the "trade" to help you design a new story for your interior. Of course, we would love the opportunity to help you… just click here. Or if you have any questions along the way… we can help there too, just click here.
This fun post is dedicated to all of our fabulous readers. It will give you the tips and tricks that would take a long time to compile and find in one place. Most designers limit their advice & won't give out all their secrets… but we love great design & think you should too! So, if you need a space straightened out or better designed you have come to the right place!
Make decorating fun and not stressful!
GENERAL DESIGN TIPS
• Always purchase the best your budget can afford   Sometimes you see an item that is within your budget, but poorly made. How long will it last before you have to replace it? Keep in mind that this is an investment and you don't want to have to replace items every year due to poor craftsmanship. This should apply to the large & most used ticket items like sofas, dining room chairs & bedroom furniture.
• Have a clear idea of what you want to do before purchasing items. Remember to tear off your inspiration pages & note what catches your eye. Decide on a decorative scheme or theme. Think about the kind of activities that go on in the space on a daily basis. Do you entertain? How so, in large or small groups? All this information is very important for knowing how you will eventually decorate & design the space.
• Allocate a design budget and try to stick to it as much as possible. Budgets are a great way to avoid overspending. You can get as detailed as you want by distributing a specific amount for each item.
• Remodeling budgets can beyond your budget due to electrical or structural problems which are not revealed until demolition. So keep a "just in case" stash for such situations. We have all heard people say, "Man, this is costing more than expected!" Sure, it does happen because homeowners budget only the amount the contractor has indicated. Well, the contractor can't see behind walls or floors. Expect the unexpected and you will be prepared!!
•Trace or sketch your floor plans for a better understanding of the room and how it should flow. Designer's always plan a room with sketches and drawings. A floor plan will also help avoid constantly moving furniture around the room to find the best position. Graph paper can be purchased at any art/craft store and is an excellent way to sketch out a plan. A Design Story uses AutoCAD 2011 for such drawings so we can be precise and communicate exactly how we want things to look.
• Construct a color board with the furniture your contemplating and fabric samples and color swatches and place them onto a piece form core or think poster board. Now you have a complete view of your design plan. Seeing the items all combined will help you eliminate items and decipher a better plan. You will also be better able to see how everything matches and which items work better than others. We do ours on the computer… check out this board.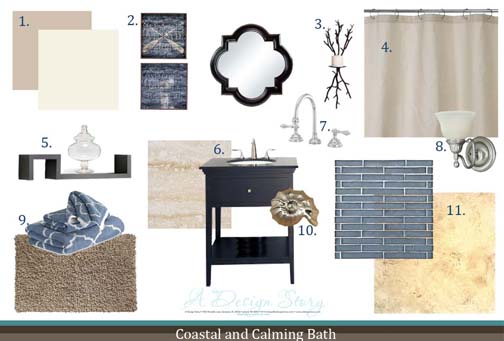 • Shop thrift stores or flea markets Antique and older pieces are made better and have lasted all these years. You can have a piece re-upholstered in your favorite fabric with the money you saved buying used. Or try your own DIY Projects… want some ideas? Click here, here or here.
• Purchase items during sales or clearances if at all possible; make deals to finalize the sale. Remember, it doesn't hurt to ask for a better price from your sales person; often they will work with you. I see the "real prices" of furniture as an interior designer (which they only show to the trade); there are large markups, so they do have room to play. Remember, hiring a designer can actually save you money on furniture because we can get better deals with the places we hold accounts with… just a quick thought!
• Don't be afraid to mix different materials Consider mixing textures and pattern and combining colors in a unique way to enhance the visual interest of the room. You don't have to match every wood finish in your home; layering different finishes can give your space a more dynamic look. Take a look at this room, even though it is neutral, a variety of textures can be found.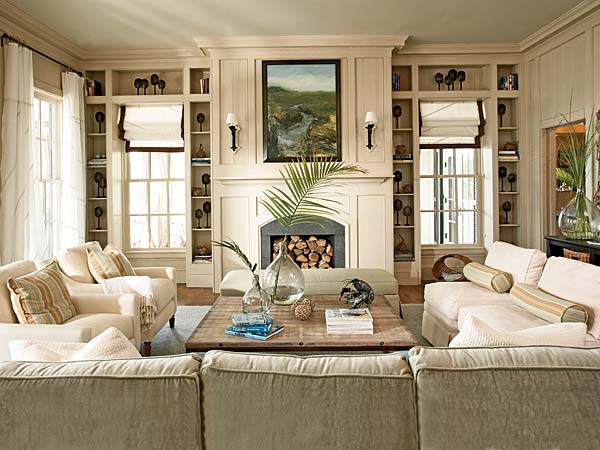 • Take a chance with decorating There are lots of magazine shots with gorgeous rooms, is that your personality? Don't forget to celebrate your character by adding details that speak to you in your spaces. For example, if you love your tea cup collection, find a place to showcase them in an organized and beautiful way. Or if you love blue, try adding accessories in the shade and painting with a more neutral color, pops of color create an enchanting space.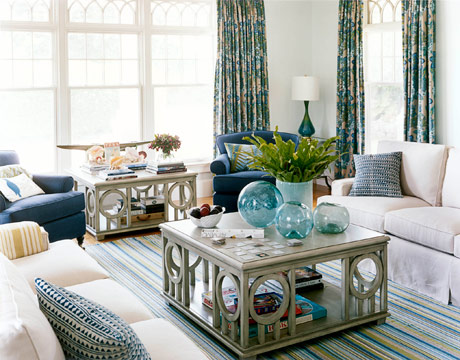 • Don't let anyone influence you into selecting a color, fabric or pattern that you're not totally in love with. Don't be persuaded by magazines, books salespeople or even designers. Carefully consider what you really like before purchasing!
• Don't get to trendy with decorating because when it fades it can be very pricey. If you like trendy pieces you can intermix them with most design styles. Remember buy the "staples" (bigger ticket items) with more classic design styles so they are more versatile with your room as it changes over time.  and keep them in a binder (click here to see mine). You can also place fabric and color samples in it. When you go shopping take it with you to make it easier to match colors and materials or find pieces of furniture or accessories. Take a look at this photo, the designer incorporated trendy patterns with a classic style.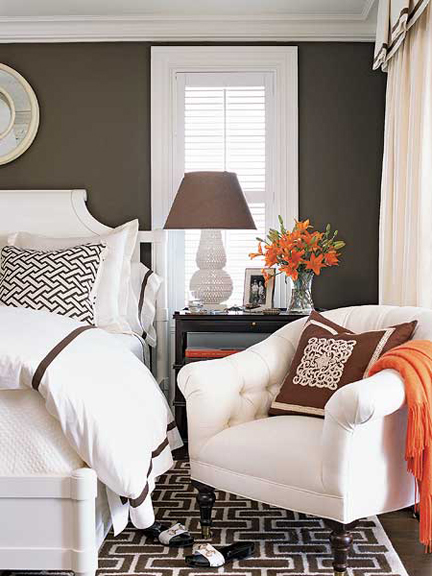 • Get ideas and inspiration from websites and magazines and keep them in a binder (click here to see mine). You can also place fabric and color samples in it. When you go shopping take it with you to make it easier to match colors and materials or find pieces of furniture or accessories. Make a seperate file on your computer for inspirational images you may run across while exploring the internet.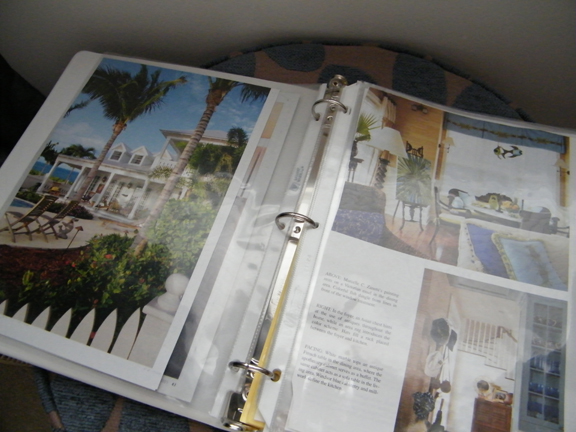 • Good design is in the details so make sure to pay attention to the small things that can really perfect the space. Moldings, cabinet handles, light and accessories, etc; can bring elements together and form a more cohesive appearance.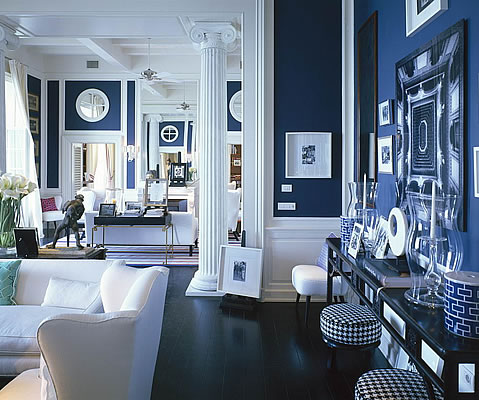 • Discover all the decorating avenues before you make your final decisions. Explore everywhere before purchasing anything. You don't want to decide on a sofa in your first store because you may walk into the next one and find an even better one for half the price!
• Large-open plan rooms are tricky to separate into smaller section.   Area rugs can do a great job of delineating areas in the same room. Yet, since they are in the same room they need a common color to link them together. Another great way to define space is by using pendant lighting or ceiling ornamentation (like applied molding).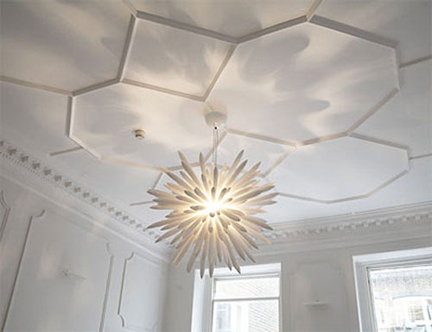 • You can unify his and hers design ideas It's hard when two people living together have completely different ideas on decorating. So, there will have to be some compromise. If he likes antiques and she likes modern…mix them together. It's called eclectic. Compromise is the middle ground where two different ideas become one. There are ways to pull two styles together in a cohesive way (If you need help, ask away… just comment below or shoot us an email).
• Take your time when making decorating decisions   The results will be better than if you rushed to get it finished. Rome wasn't built in a day. And those TV shows take a lot longer than an hour to complete those 'fast' rooms. I will never be truly finished with my own home… I am constantly changing things around and sprucing them up with the seasons.
Let us know what tips you might like to see… Do tell (comment). If you are looking to give your space a complete makeover we include all the advice and information you need to finish any room with confidence, clickhere to browse through our design packages. Oh, and keep in mind when you use the code: Story Began, you will receive 30% off all design packages now through May 7, 2010.
Like what you read? Click here to subscribe.
Images courtesy of A Design Story, LLC, House Beautiful & My Home Ideas.
Want more inspiration? Check out The Inspired Room.