Happy September! I hope everyone had a fabulous Summer & great Labor Day!
In case you noticed, it has been one month since my last blog post. I am still here, I promise! I know I mentioned to you all awhile back that new blog posts, categories & fun & exciting things were on the way… then there was silence from A Design Story. It wasn't on purpose. In fact, we had a crazy, CRAZY, crazy spring & summer this year. We were on a major house hunting adventure, we took some time and spent with my grandparents (who are not doing so well), completely updated my business plan and managed to open up The Shop. It's a "soft opening"… I have a ton of new paintings, prints & some surprises coming up for sale there— so stay tuned! (I promise, promise, promise to update you on all the "stuff" I mentioned above!)
So… I say all of that to tell you that I am back. For real. Like, really for real. Look for new ideas, new posts & categories and some fun secrets! Oh and in case you want "in" on all of the latest & greatest— we now have a fabulous newsletter you won't want to miss— sign up on the sidebar!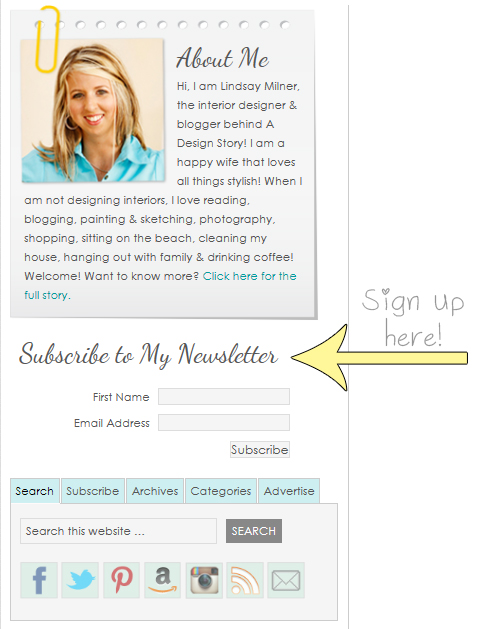 Let's get on with the post, shall we? Here's September's Favorites…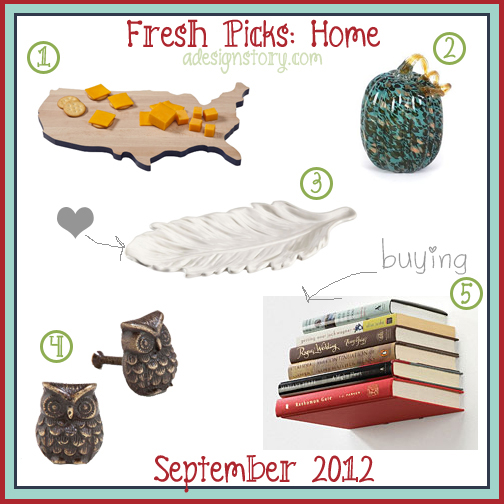 1. My beloved Target is about to release the newest retailers & products for The Shops! I am really excited about the line up this season! My favorite emails just so happen to be the one's from Target (& the marketing crowd) that include the Lookbook's. There's nothing that gets me more excited than to see the latest & greatest collections before they hit stores. I think this America Cutting Board is so fun… at only $25.00 it's a steal! (The new Shops launch in stores beginning September 9th).
2. Fall is upon us… almost anyways. I usually like to decorate a bit early for each holiday, for some reason this year I am not ready to pull out the "harvest decor" quite yet. Maybe it's the colors or the fact that I feel like I didn't get a true spring/summer… either way I am thinking of taking my fall decor in a new direction this year. I love this turquoise glass pumpkin from Kirkland's. It's "my color" and it doesn't seem so in my face with autumn. What do you think? Cute, right?
3. Again, Target truly has outdone themselves with "The Shop" collections. I am a fan, naturally. I am really into feathers these days, which is why this white feather platter from the Patch NYC collection is a fave of mine! Isn't is pretty? Love it!
4. Kevin and I have been on the search for knobs for a few furniture pieces & diy projects we have been working on. I came across these owl knobs from World Market the other day… I love them! They would look great on a small dresser or nightstand.
5. As you may have read from our last Fresh Picks post, Kevin and I are revamping that design plan for our office. We are already in the beginning phases of purchasing new items that fit us both a little more. Kevin loves books. I like organization & pretty decor. Take these two and add them together… We finally found a cute way to showcase some of his favorite books… an invisible book shelf. I found it at Urban Outfitters for only $14.00— we are thinking of ordering 2! Aren't they great?
What about you? What are the home items you are loving or drooling over this month? DO TELL. Now for the good ol' fashion & beauty roundup…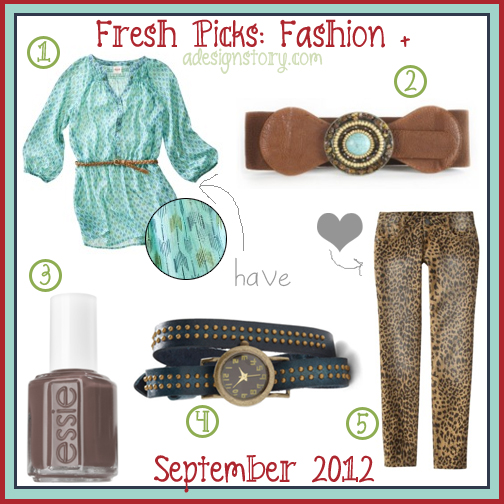 1. I am loving graphic patterns with feathers or arrows. I found this fun tunic from Target recently and quickly made the purchase! I pair it with super skinny dark jeans, tan pumps and gold jewelry. It makes for a really pretty outfit!
2. I am starting to pair belts over dresses and cardigans. I came across a new site (new to me anyways) called Lovenell and this brown & turquoise belt… I think it would look fab paired over a cute cardigan and dress… It's currently on top of my wish list. Love it!
3. Nail Polish… it's no secret I adore it. I do. When fall begins, I like to tone my nail polish down and use neutrals, metallic and darker shades. Mink Muffs by Essie is a new favorite of mine. It's kinda a smoky taupe hue. It's goes with almost everything… check it out!
4. Is anyone else crushing on wrap watches lately? I have quite a few watches, but I love all of these great wrap watches. I picked up one this weekend (I'll show you later on), but I also love this jeweled toned watch from ModCloth.
5. Printed jeans. I love them almost as much as I love colored jeans. It started with the purchase of floral jeans about a month ago… now I am crushing on a pair of leopard print jeans from Target. I think they would be cute paired with a fun black shirt… your thoughts?
What are your fashion must-haves this month? What's in your shopping bags? I love to hear what fun things are exciting you guys these days! Do share…
P.S. I am not paid or perked for including any item on the Fresh Picks posts… I just love each item and thought you might also!