So, fall is in the air. OK. Not true here in Florida, but I guess it is a little wishful thinking. We are a week away from it truly being autumn (from the calendar standpoint), so I think we are close enough to say the season is among us (if not in the air, at least in the décor).
Welcome to the First Annual Fall Wreath Party on A Design Story!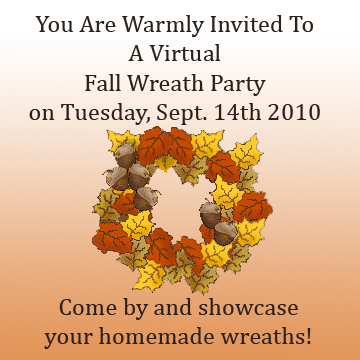 Before we get to the party, I have a couple fun announcements to make!
– Remember Nate Day (click here if you don't)… well I was picked to be in the audience September 21 for the Nate Berkus Show! Yep, I got an invitation yesterday from the producers! How exciting, right?
– For all of you who love HGTV's Design Star… I am now working with Jason Champion (Season 4) on a few things… so fun! He is fantastic and I feel quite blessed! Visit his blog here.
– There are more fun announcements coming… so get excited!
Now, onto the fabulous fall party…
I am a big believer in the notion that first impressions are everything, especially in interior design. I think there is nothing more charming than a dressed up entryway! I love to embellish our front porch and door with the changing seasons.
Last year, Kevin and I were only a few months into our marriage when the fall season began. I was really excited (and still am) about being his Mrs., so I was completely obsessed with the letter M (we are the Milner's). If you pop over our home for any length of time, you might just find over 5 or 6 "M"s… I love repetition. So, with my love of my new last name, I designed a very inexpensive "M" Fall Wreath…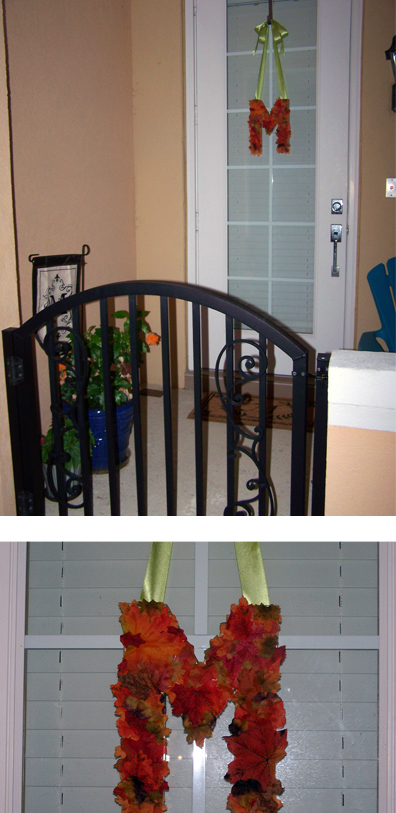 This year, I changed it up a bit and went a little more classic in design. I stuck to my plan of designing a low budget fall wreath since I like to change mine out with every changing season.
So without further ado… This Year's Fall Wreath (our 2nd)…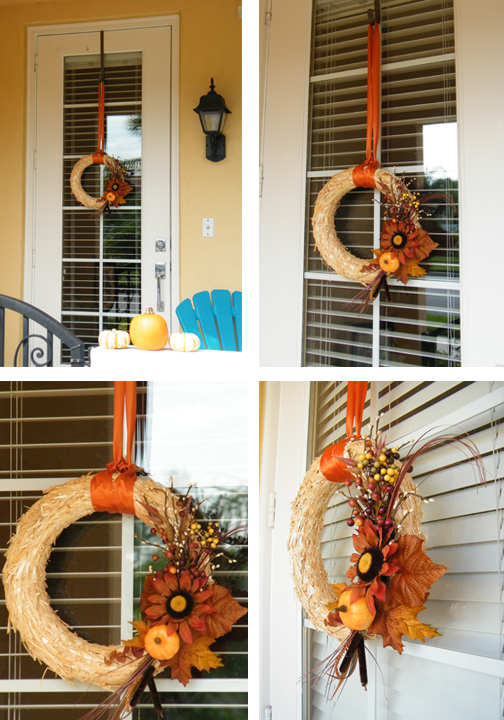 P.S. Want a wreath just like mine? We have one right here in our Etsy Store! Happy Shopping.
Wait, what happened to our first year's fall wreath? No worries, it got put to use again this year (yes, I am still into "M"s… I will forever be a newlywed). We actually hung it on our pantry door.
(Speaking of pantry… stay tuned for a fabulous and inexpensive makeover post coming soon).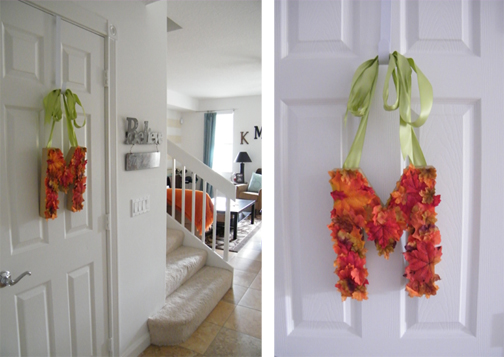 If you are ready for more fall décor and inspiration… we have got ya covered! We have a bunch of posts coming up dedicated to all things autumn!
So, now it's your turn! Show us your fall wreath! The rules are easy…
– It has to be handmade by you
– It can be from this year or last… no worries if you didn't make a new one this time
– Add the link to your wreath post, not your general blog url.
– Link back to A Design Story's party in your post!
I linked to Today's Creative Blog Party.
So, let's see those charming autumn wreaths… the party is open until Tuesday, September 21st!