We have big, big, big news to share today!! It's so big that I could shout it from the roof tops. Y'all… we are buying a house!
We have been looking for a house for about a year off and on. The market here in Sarasota is crazy. Every house we wanted to make an offer on had multiple offers on it. Like one house literally had 18 offers on it… ours would have been 19. It's been a very long road to say the least. We kind of have put the whole thing on the back burner until God put the right situation in our hands.
Kevin's a real estate professional and one of his short sale listings became available again (the buyers walked because they bank took too long). We decided to run by and make sure it would be the perfect house for us. It's a great, great, great price and oddly enough it's literally only 2 minutes from our current home. So, back in June we wrote up the contract and crossed our fingers (and toes). Kevin warned me this could take around 3-6 months because short sales take forever, plus it's never a guarantee. So, I have prayed and believed since signing the contract that the process would be easy & go pretty fast! Well… the praise report is that it really has! We have first loan approval and waiting on the letter from the second. We are ready on our end with the funds, so as soon as we get this letter we will be jumping for joy. We expect the letter to come this week or early next week.
I do get the benefit of going in as soon as we get the next letter to start painting, ripping out carpet and starting my list. We already have the key and the current owner has already moved and agreed to let us start moving in and getting things accomplished whenever we want. It's really been nice to pop over there whenever I want to get inspired and get ideas rolling. It's so exciting.
So let me give you a few brief details about our new home…
Great Location
Built in 2006
Open Floor Plan
3 Bedrooms
2 Full Baths
2 Car Garage
Laundry/Mudroom
Designated Foyer
Living Room
Dining Space
Kitchen
Sun Room
Cute & Cozy Backyard
We have big, big, big plans for this house. It's a builder, cookie-cutter type of house and we really want to make it look more like a custom model home. I will go over the list of to-do's soon… we are still planning them all out! But in the meantime, let me show you a few pictures I snapped…
Here's the exterior… it needs some tlc and some serious landscaping so you can see the house…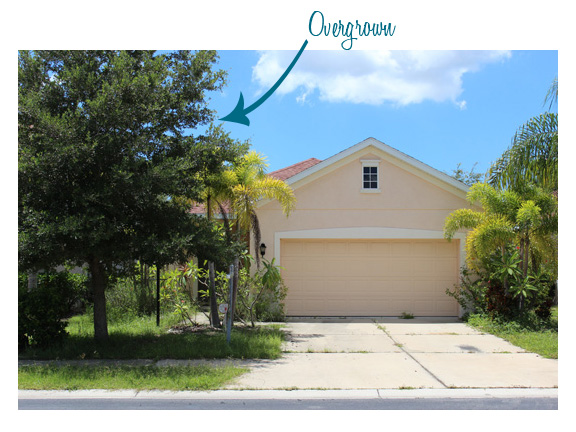 The front entryway… (this door is begging to be some shade of aqua)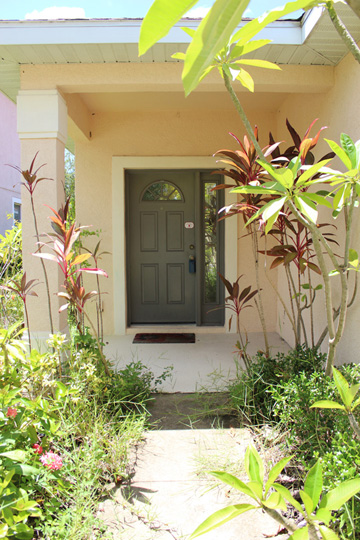 The foyer… (we have huge plans for this)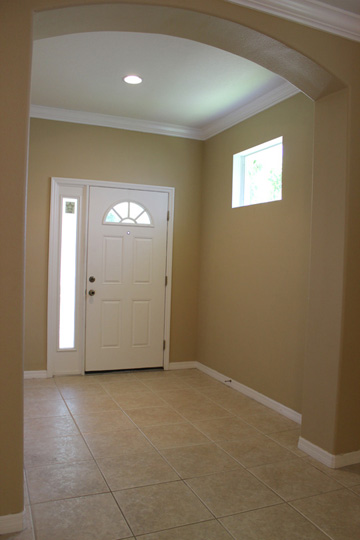 This is a snapshot of the living area/dining space. It's a large open concept type of home so one room flows right into the other.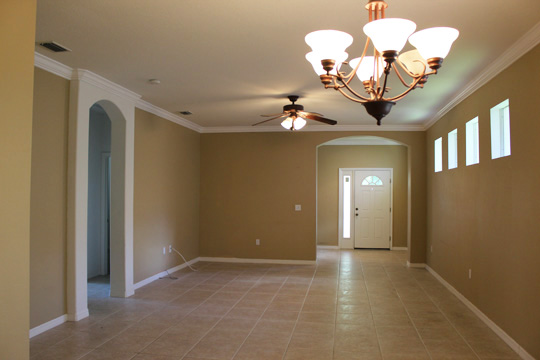 We are lucky enough to have great ceiling designs in a few areas. This one is above the dining table (or where it will be soon). It's great to have these elements in a home that is so open to designate spaces within such large rooms. We have fun plans for this too…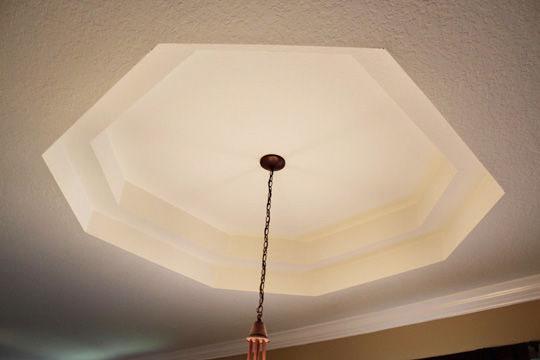 This is the kitchen… the cabinets are very nice and in great shape, but I have big ideas for these puppies…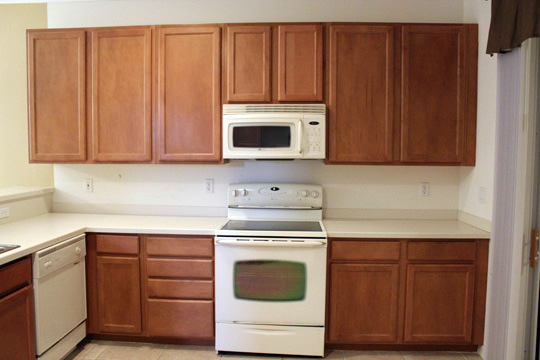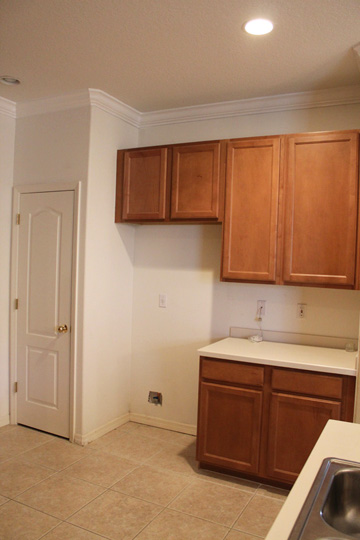 The previous owners turned the lanai off the kitchen into a storage room. We plan on taking those sliding glass doors out, adding 2 windows & a glass french door to that room and calling it our sun room. It's going to be so fun.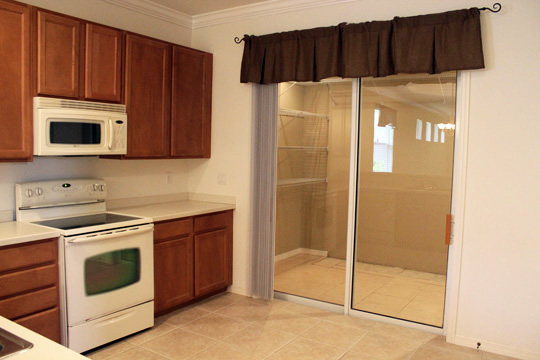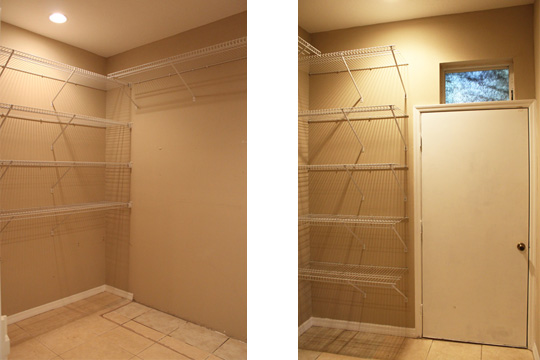 Our master bedroom is pretty large and has a great ceiling detail to add some character to as well…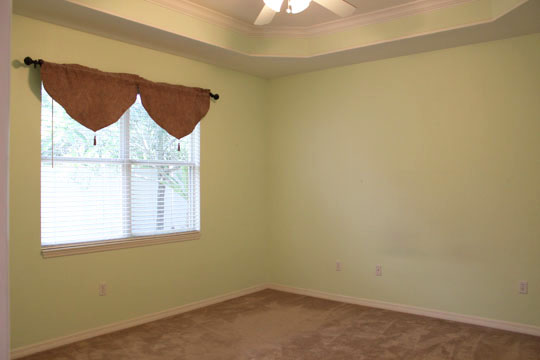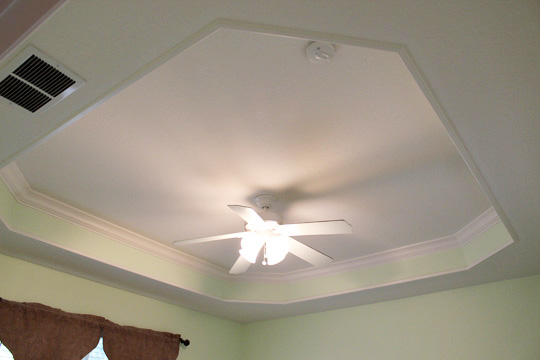 Our master bathroom is going to get a bunch of work too…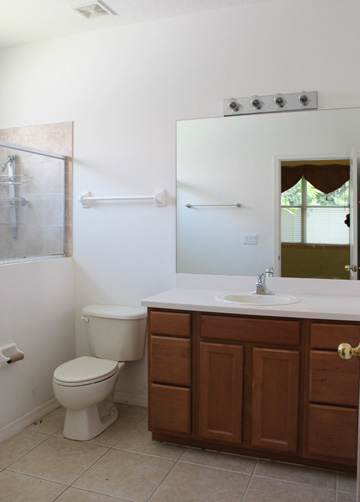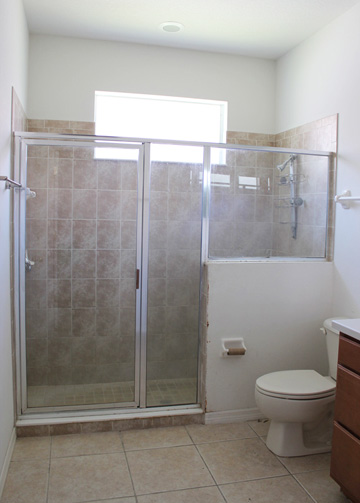 This is the guest bathroom…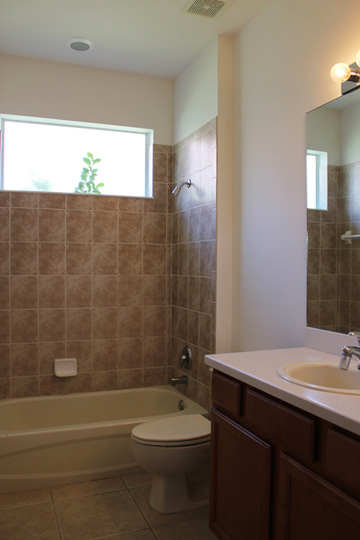 There just a few of the many rooms we have! I'll be sure to show you each room's before's soon! Maybe even a walk-through video?! I think that might be fun!
God really has shown up in a big way in our lives. This house is a total blessing and it's marking another chapter in our marriage. We are thrilled beyond belief and in awe of what He has done for us!
What about you? Are you house hunting? Do you have any new plans or to-do's for your current home? Do share…
P.S… I will be back with more about our trip to Destin this week…