The upcoming season is on the way bringing with it lots of chilly weather…
On these gloomy rain-drenched or bitterly cold days when you're reluctant to do much besides stare out the window at the blustery weather, why not spend some time "cozying up" in your home? After all, this is the type of weather that forces one to stay inside more often so why not celebrate that fact! Lighten up your space with these fantastic candle holders. Use them for a centerpiece, on your fireplace mantel or even on a side table to "warm" up your space.
Rustic or refined, these new, stylish candelabras and candle holders bring a warm and graceful radiance to an elegant fall or winter evening.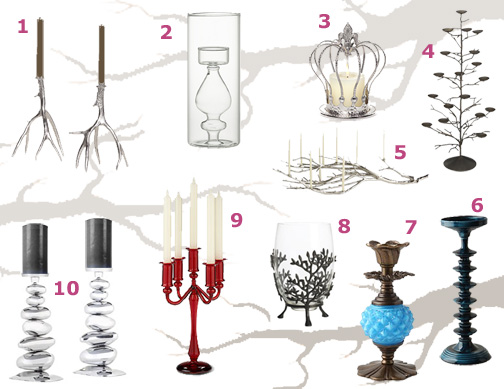 We put together a little mood board full of ten of our favorites…
1. Marquette Taper Holder by Z Gallerie
2. Pixie Candleholder from Crate and Barrel
3. Imperial Tea light from Z Gallerie
4. Woodland Candelabra from Crate and Barrel
5. Manzanita Candelabra from West Elm
6. Pressed Sunflower Pillar Holder from Anthropologie
7. Analiese Taper Holder from Anthropologie
8. Branch Hurricane from Pier 1
9. Sonata Reed Candelabra from World Market
10. Sassolino Pillar Holder from Z Gallerie
What do you think? Are you a lover of candles? Do you use them to add warmth and coziness to your space? Do tell.
Getting ready for the holidays? We are too! Get your business ready and sponsor a Gracious Giveaway and get the "word" out about your products before the shoppers have their list complete… just email me @ lindsay@adesignstory.com.
Interested in taking part of our Christmas Advertising Special? Just click on the photo below for the deets!