Happy March friends! I am thrilled March is already here…. I am a big 'spring lover', so the faster I get to put out my spring wreath, plant new flowers and brighten up our home for the season the better! Plus, I can't help but l-o-v-e spring clothes… (I am such a girl). How about you guys? What do you look forward to the most about the pending spring season?
I wanted to thank everyone once again who voted for us in the Apartment Therapy Homies Awards. We appreciate it! In fact, we are running a lil thank you giveaway here for you!
Now.. It's a new month… we know what that means! It's time for Fresh Picks/ Monthly Favorites! This month I couldn't help but get in the green/yellow mode. Maybe it's the sunshiny days we have been having…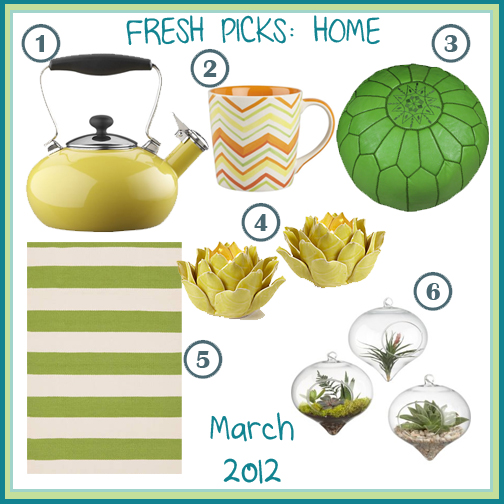 Here's the breakdown:
1. Yellow Tea Kettle by Crate & Barrel 2. Chevron Mug by Crate & Barrel 3. Moroccan Pouf by John Derian 4. Yellow Candle Holders by Z Gallerie 5. Green Striped Rug by Dash & Albert 6. Hanging Terrariums by CB2
Aren't those just fun? What do you love these days?
Now… for some other fun goodies I am '…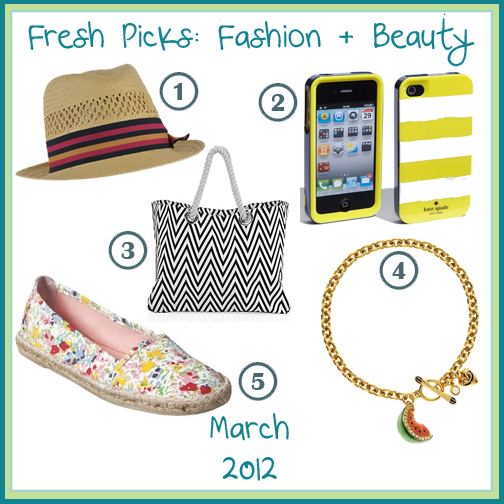 Here's the breakdown:
1. Straw Fedora by Forever 21 (I just bought this) 2. Iphone Case by Kate Spade 3. Zig Zag Beach Tote by Z Gallerie 4. Watermelon Bracelet by Juicy Couture 5. Floral Flats by Target
Cute, right?!!! What are you all into these days? Looking forward to pulling out those shorts and flip flops? How about getting into the garden? Maybe re-painting the house? DO TELL.
Have a Great, Blessed & Happy weekend!