Hello! Can you believe it's March already! I am so glad… spring is on the way! I am so thankful! Are you? We have been experiencing the spring weather for a couple of weeks now and we are loving it. We have plans to start landscaping our new yard and decorating the front porch…. its exciting. With the new month comes a fresh picks post….
Before we get started, I apologize for my absence… I have a new venture starting and I had to take a few days and work on a few details. It's really exciting and I can't wait to share more about it with you guys! It's pretty epic!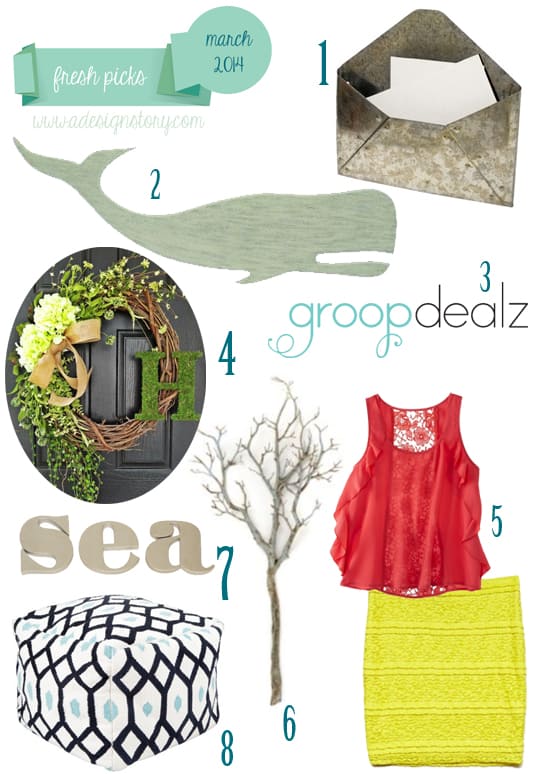 Here's the breakdown:
1> Who wouldn't love this galvanized mail holder to organize mail and maybe coupons in the laundry room on the way in or out? I think it's the perfect spot
2> I am a sucker for all things beachy & coastal, so when my mom and I spotted this whale beauty in Target last week, we grabbed it up. It's for the special new venture my mom and I are starting…
3> Groop Dealz is where it's at folks. If you are a Pick your Plum fan, you will LOVE Groop Dealz. Everyday they offer great home decor, fashion, kids and jewelry products at a super discounted rate. I love waking up in the morning and reading my email to find the latest and greatest. Since signing up about two weeks ago, I have purchased a chevron shirt, two headbands, four art prints and a hello vinyl sign. It's fantastic… go and sign up!
4> With spring coming, it's making me ready to diy a new spring wreath. Like I mentioned above, we are in preparations to start decorating the front porch, planting new flowers and getting new grass for the yard. It's exciting and we are learning how much we love yard work since buying this house. I have big plans for the new front porch so making a new wreath is absolutely on the list. I love this one… it's very chic and preppy!
5> The spring season always makes me want to shop for new pieces to add to the wardrobe. I picked up this cute coral lace tank top from Target the other day when I was there for laundry detergent. Hey, it's Target… you always walk in not planning on shopping for yourself and then you always end up shopping for yourself. It happens to you guys too… you know it! I also picked up this cute chartreuse lace skirt from Forever21 to wear with a white tshirt, a scarf and flip flops… Are you guys spring shopping too?
6> We are still working on perfecting the decor we have in our mail living area. We really wanted a classic, beachy/coastal look. I have several tall vases that I have been wanting to fill with either greenery or something else. I happen to walk into Kirkland's the other day for a client and found this cute coral stem… it came in a great rustic blue shade! I picked up two and added them to a white vase in the living room. It's look great… I will show you the progress soon!
7> I love typography type of signs… especially metallic ones! I picked this Sea sign up from Target for our new venture. I have to keep it top secret for at least a few more days! When I share it with you, you will understand why!
7> The pouf. I have had a pouf on my wishlist for like 2 years… seriously. Then I walk into Target on another errand run for something not decor or clothes related and I spot an entire front aisle full of these beautiful poufs in many patterns and colors. I immediately ran with my cart like I was on Supermarket Sweep and picked up the blue and aqua pouf. I couldn't pay for it fast enough… no lie. I am in love with it and so is our cat… see…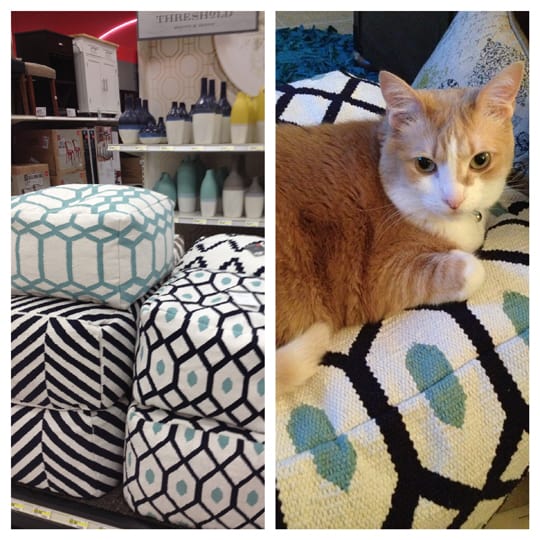 So… what are you guys loving these days? Do share…