Hey, Hey! It's almost Valentine' Day… one of my favorite holidays!! I thought since we are just days away, I would put together a fun Valentine's Day Gift Guide. These are easy gift ideas for your loved one.
Valentine's Day has always been one of my favorite holidays! I think it's all the girly hearts, color and mushy gushy lovey doveyness! What about you guys? Do you love V-Day too?! As far as shopping, I always feel like it's hard to figure out what my guy would like! So, this year I thought he could put some ideas together and help us out! He has it easy with me, I am easy to please and love girly things, home decor & makeup! Let me show you the gift guides we came up with…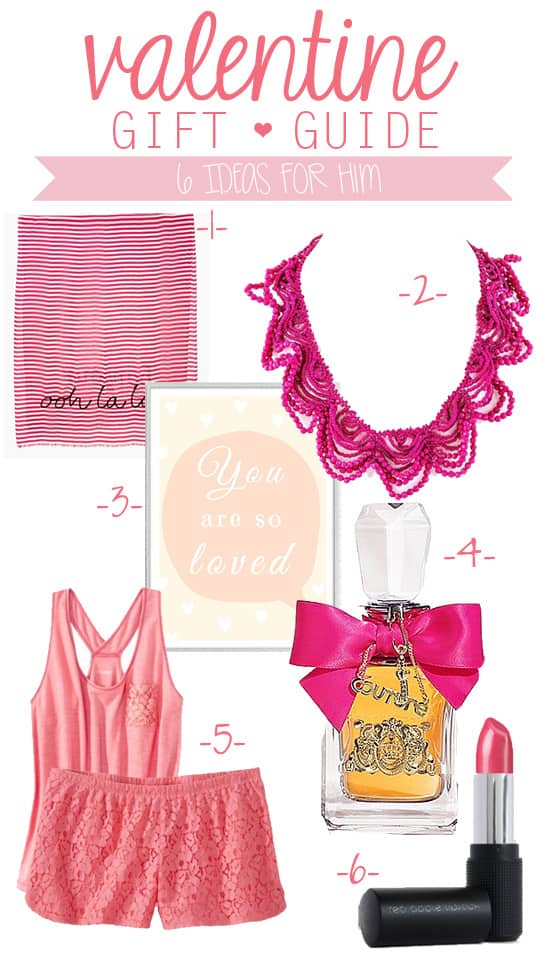 Here's the "HER" Gift Guide Breakdown:
-1- Ooh la la… this scarf is so chic! I would pair it with either a cute pair of skinny jeans, a black tank and a cute sweater or a black fit and flare dress!
-2- How much fun is this magenta beaded collar necklace? I think it would be the perfect gift to wear on a V-Day date! Pair it with a fun black dress or even skinny pants, a tank and long sweater for a more casual look.
-3- Say I love with you with a fun print. This would be a sweet gift a gal could keep in her office or even on a nightstand. It's adorable!
-4- One of my favorite perfume's ever… Juicy Couture Viva la Juicy. It's a perfect girly scent!!
-5- Comfy & cute jammies… I love this matching lace tank & shorts for lazy days in the house or movie night!
-6- Luscious lips! I love the idea of pink lipstick as a gift! Red Apple Lipstick is gluten free & has a long lasting color!!
What do you ladies think? What's on your wishlist? Now… here's a little shopping help for your guy…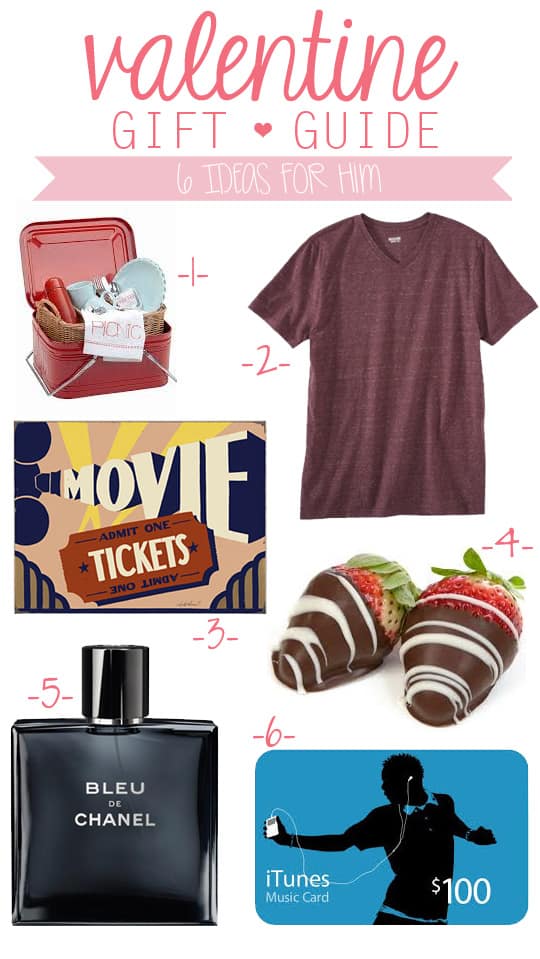 Kevin helped me out a bit with the for "Him" shopping guide…. so here's what we came up with…
-1- Make a fun picnic lunch and bring it to him at the office for a little impromptu quality time. Kevin has a great open park area downtown near his office and we have done this once or twice. It makes for a great mid-day date!
-2- If your guy is like mine, he's in a nice suit or dressy outfit all day… he loves to come home change and put on a comfy t-shirt and short or pants. Grab up a new v-neck tshirt for him to lounge around in!
-3- Kevin mentioned guys are more of an experience type and women are more things driven. Basically in a nutshell, get your guy a date night out to the movies because they like being out with you and doing something fun! Miniature golf, playing tennis or another sport would do too!
-4- Whip up some quick chocolate covered strawberries for a yummy treat!
-5- Attention women… if you love your man to smell good, don't walk, run to the nearest store and pick up Chanel Bleu! I bought it for Kevin for Christmas and it is amazing. It's his cologne he's ever had… & it's mine too! haha
-6- Give the gift of music. Kevin enjoys getting new cds for his iphone/ipod for the gym and work, rarely will he break bad and buy one off i-tunes. (He's is more budget conscious than me)! Pick up an i-tunes gift card and let him enjoy some new music!! It's really about being thoughtful and knowing what they need or might enjoy!
So… what do you all think? Ready for shopping and V-Day? What are your big plans? Dish it…