Happy April! It's spring and I am loving it! Spring is by far one of my favorite seasons. I love the colors, the weather and the fresh start! I have been hard at work on a new venture I hope to share soon… plus I have some dining room updates and new projects to show you guys too. In the meantime, it's a new month and that means it's time for fresh picks… let's get started!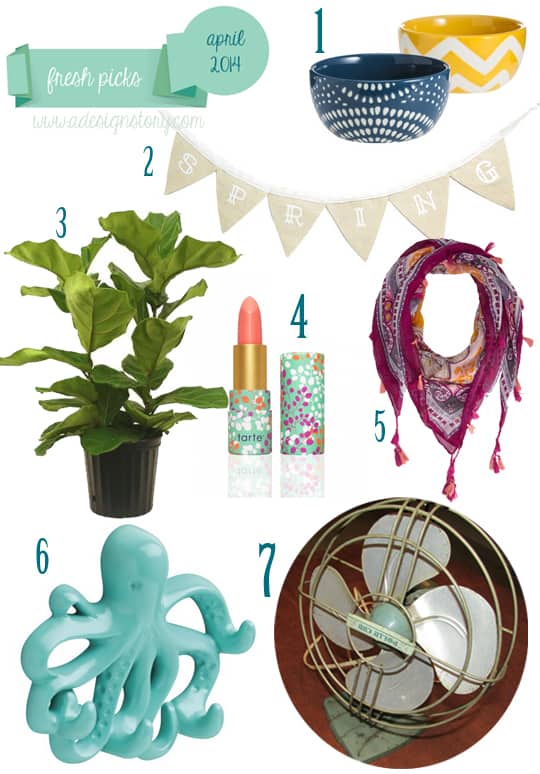 Here's the breakdown:
1/ I am loving these graphic bowls from Target. They are perfect for snacks, office supplies, a key bowl or even for bath necessities.
2/ Spring is in full swing here in Florida and I am loving it! I picked up this fun burlap spring bunting about a week ago. I put it on our new hutch and it looks adorable. It's one of those items that I could have diy'd, but at $4.00 it was worth the purchase!
3/ Fiddle Leaf Tree… I am obsessed. Remember when I posted all about my obsession with these trendy little trees? Well, I have been to Ikea twice looking for one and every time I get there they are sold out. Ugh. I happened to be walking through Home Depot the other day and walah… there they sat for $8.99ish. I grabbed up that leafy beauty and brought it home. I am still looking for the perfect pot, so it doesn't have a permanent home yet!
4/ Luscious lips are all the rage these days. I have been wearing lip gloss instead of lipstick for quite a few years since becoming gluten free. I recently came across Tarte products and they have a great line of gluten free products. (Yes, I wear completely organic and gluten free makeup…. in fact, I use organic and gluten free soap, lotion, shampoo and conditioner too). I picked up this coral shade for a fun new addition to the spring season. It' absolutely perfect!
5/ Scarfs… oh how I a totally obsessed with scarfs. I have an entire cabinet filled in our closet with scarfs. I love the idea of a thing scarf like this tassel one with shorts and a t shirt for the spring season. It's one of my favorite new accessories!
6/ Young House Love. The are big time these days… they just launched a line at Target with Liberty Hardware and I am in love with everything. Seriously. I quickly ordered Liz the octopus as soon as I saw her online and she came just as cute as she looked online. She is the perfect new addition to our gallery wall. I can't wait to show you!!
7/ Vintage goodness… oh how I am loving all things vintage these days. While Kevin was working a few weekends ago, my friend Melissa and my parents and I all jumped in the car and drove up to St. Petersburg to a vintage market. I fell in love with MANY things but only took home a vintage map for Kevin and a vintage fan like this one (except navy blue). I am loving it… it found a home in our living room and it's perfect!
So… come on y'all… what are ya loving these days? Share, come on do!