Disclaimer: This is a post sponsored by Honeywell. I received a Honeywell Wi-Fi Programmable Thermostat in exchange for a review + giveaway. All opinions and thoughts about this product are my own.

***** This Giveaway Has Ended. Congrats to Courtney Bella*****
Hello All! Let's talk about Honeywell's Wifi Thermostat! It's been a super long time! I have had a lot going on around here… projects and other secret happenings I just can't say quite yet! In time, in time. Today I wanted to share a review with you guys. A couple of months back, I received an email from Honeywell asking if I would be interested in joining the review team for a Wifi Thermostat they were about to begin a campaign for. I researched the item and quickly realized this item would be something we would be interested in reviewing + offering a giveaway. I filled out the forms and crossed my fingers! What do you know… we were chosen!
Here's a bit of background info. Kevin and I go to bed at the same time every night. We always have… and that's almost 5 years (well it will be in July) of going to bed with each other. Truth be told, we have never had a night apart since our wedding night! Cue the 'awwww's'. Moving on… I make ask Kevin get up almost every night to turn the air down because I am a little heater box at night and the dog and cat tend to sleep right on top of my legs. I get hot and plead with him to help me out because I am literally stuck in the bed. So my loving husband obliges and the air gets jacked down a bit. It's located in the hallway where our guest bedrooms and bath is located.
So… when this new Honeywell Wifi Thermostat was offered, I had to jump on the deal to save us at bedtime! I actually had my brother come by and install it because he is great with all things electrical (among other things)! Our home was built around 2006 I believe so nothing is super duper old. This is the old thermostat in all its builder grade beauty…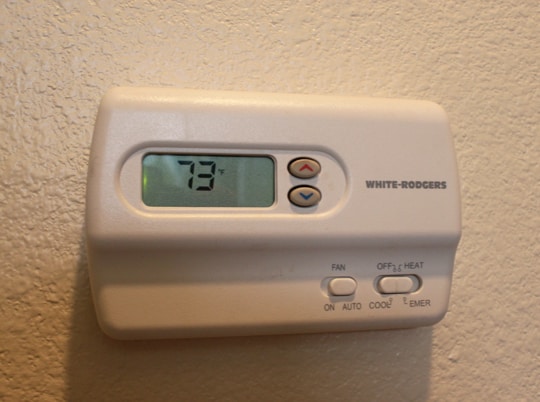 Note: Please make sure if you are diy'ing the install to turn the power off before you start the uninstall and installation process. Let's not have anyone's hair standing straight up on their heads now!!
Really, we just took it off and then my brother took a photo of the wire configuration just in case he needed to refer back to it while installing the new one. Genius idea. But that's Mark for ya!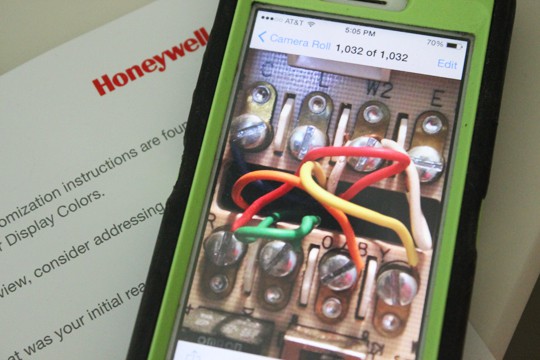 Then he began to show me the steps to removing the wires from each location. This process was pretty easy. He just unscrewed each of the tiny screws that held the wires in place and carefully pulled each one out.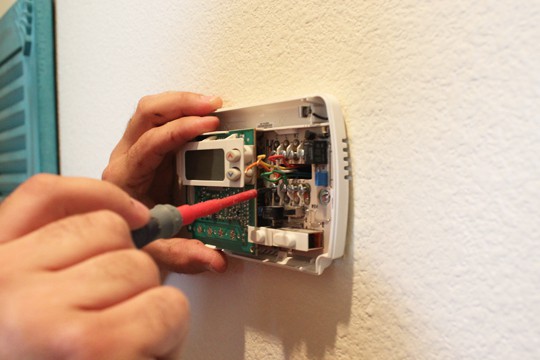 He then unscrewed the wall plate from the wall. Before installing the new wall plate, he cut a few of the wires and then pulled back the rubber surround because he said they would have had bad connections because they were curved. See…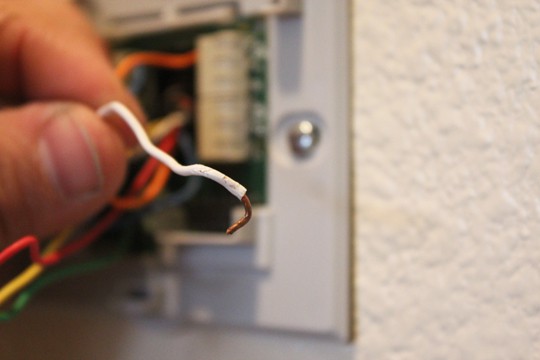 So those were then cut and and stripped and then ready to go.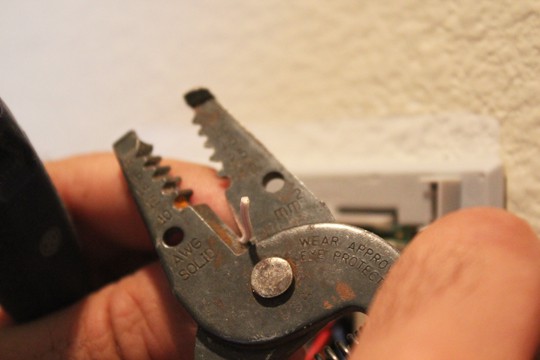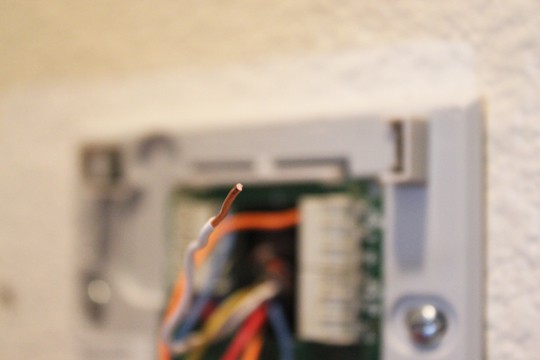 Next, he began attaching the wires to the correct letters and wrapping up the electrical part of the process. Once everything was connected, he put the power back on in the garage panel box and put the thermostat on the wall plate. We quickly realized the new thermostat was a bit smaller and sleeker… so there is a small hole we need to patch and even touch up paint…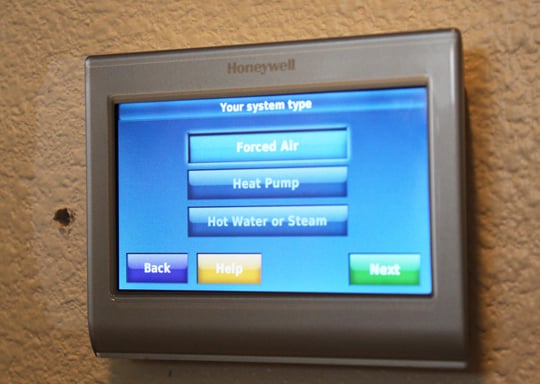 The directions were easy to follow and right on. We only made one small error. We had our air conditioner as a forced air system. So once we put the power back on the heat come on. Wowzers. We took a few minutes and discussed it and decided to give the Honeywell peeps a call from customer service. Let's just say they are awesome. They walked us through our tiny mistake with ease and kindness and a few minutes later we had it all set up and working. So make sure you have know which type of air conditioning unit you have and it will make the process quick and super easy!
From there, we just followed the promps and connected the system to our wifi and we had air!! After that, I downloaded the app on the iphone by going to the app store and typing in Honeywell Total Connect Comfort. I logged in and ta dah… it was that easy. We are all set!! The entire thing without our mistake only took about 20 minutes total from uninstalling the old one to installing the new one and setting up both the thermostat and app. Easy peasy.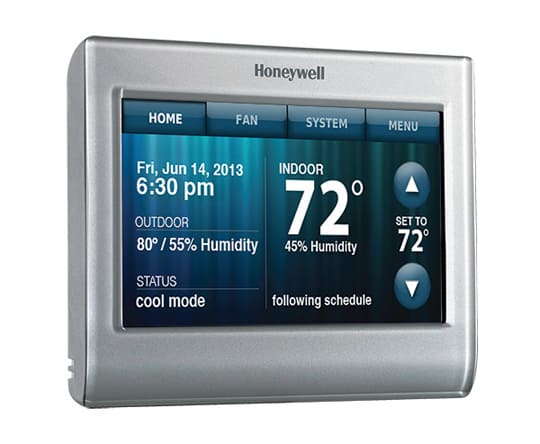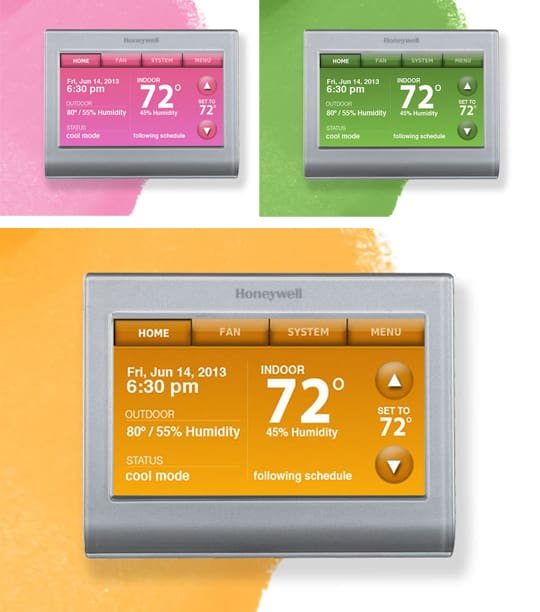 Here are a few fun things we love about the new Honeywell Wi-fi Touchscreen Programmable Thermostat:
There are 14 color schemes you can pick for your system. It's just a fun feature. I love a good aqua but my brother thought the purple was where it's at!
We can be lazy and turn the air down or up from inside the house or when we are out and about.
We can schedule changes to the air or heat.
The outside temperature and humidity is shown too!
The system is easy to operate… the touchscreen and app are both functionally easy to understand and use.
We are so happy with the new system and can't thank the fine people at Honeywell enough. From the bottom of our hearts we just l-o-v-e our new thermostat! But we have even more news…. Honeywell decided they wanted to give one lucky reader the opportunity to win their own Wifi Thermostat… go and sign up!
Another Disclaimer: Please make sure you turn the power off before you begin the installation processes.