Fresh Picks March! Happy almost spring everyone! Truth be told, spring and summer are my favorite seasons! I love cute bright colors and everything about the warmer months!
Fresh picks posts in the past were always really popular, and since I just relaunched A Design Story, it's something I wanted to keep up with! Fresh picks are basically my monthly favorites… anything I am obsessed with and am just excited to share with you all. Items can range from home décor, outdoor products, beauty. accessories, clothes or kids stuff. Anything really that I have or even items on my wish list!
Disclaimer: This post contains affiliate links.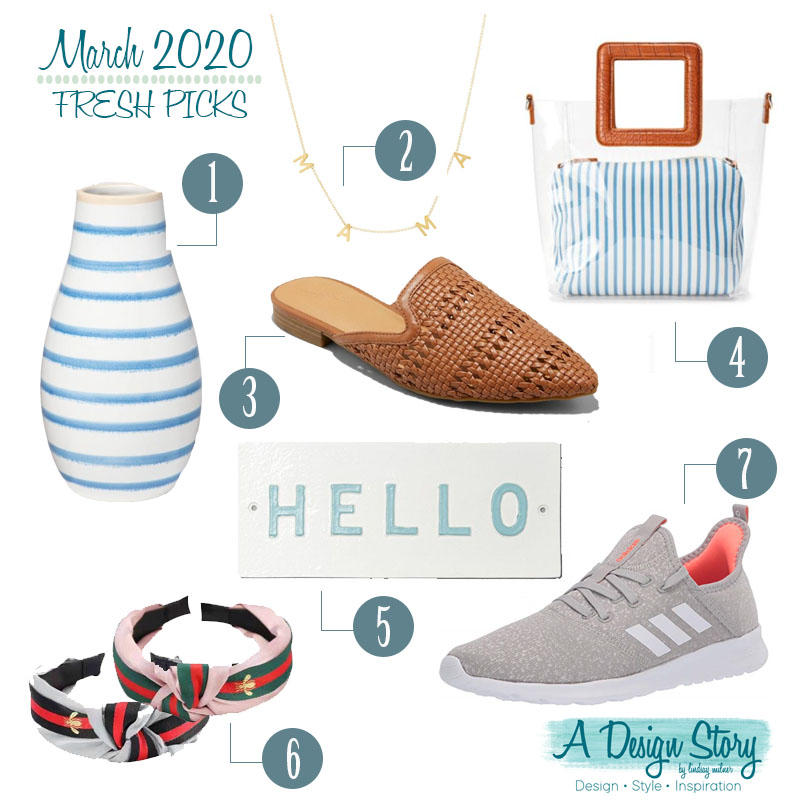 Here is the breakdown of the March 2020 fresh picks…
Loving this (inexpensive) striped stoneware vase. I have one on my window sill above our tv and I change out the greenery filler based on the season.
2// Mama Necklace 
Moms, I have this cutie in rose gold and in gold. They have become my go-to necklace because let's face it, the word is everything to me! I get a ton of compliments every time I wear them. They are adjustable in length, so I am able to pair them with letter monogram necklaces. Super cute and super on trend!
3// Brown Mules
These are a must shoe! I have had mine since last spring and I wear them all the time. I pair mine with shorts and cute tops, dresses/skirts or even jeans. They go with everything and are really quite comfortable. I absolutely love mine!
4// Handbag
I just purchased this cute little spring/summer handbag and I am so excited about it! It's going to be really cute and I am hoping to find a cute pair of clear sandlas to go with them. I have my eye on a pair so I will share if I make the purchase. I do think clear accessories and shoes are going to be on trend during the warmer months this year!
5// Hello Sign
This sign is a brand new item for the Magnolia collection in Target. It was on my list and it just became available on the 8th! Super excited to get mine delivered and I plan to hang it with a gallery wall collection I have going just beyond my entry way. For those of you who don't use the traditional black and white signs Magnolia has been putting out, this robin's egg blue is perfect!
6// Headbands
This collection of headbands actually comes in a set of 6 for a great price! I plan on giving a few to my niece because I am such a nice aunt! Kidding, kidding… but I really won't one in every color so why not share the love?!?! Fun way to add color to your outfit!
You may have seen me sport these in a few of my Instagram photos recently. I have 2 pairs of cloud foam shoes and I am literally obsessed because they are comfortable, light weight and they never hurt my feet. Best athletic shoe on the planet in my book! Get you some busy ladies!
Ok… what are your March 2020 faves? Share away because it's always fun to hear what you all are loving or what's on your wishlists…
Don't forget to check out my latest amazon must haves, the blog post on all things blue & white and my must have makeup items!