Happy 2013! Can you believe that? Wow. Hopefully everyone had a very Merry Christmas & enjoyed all of the New Year's festivities… we sure did! it's been awhile & the blog has been a little neglected lately… here's quick update…
We had a very eventful December. Kevin (my hubby) has moved over to a new company and we are very excited about his new opportunity. With the switch came a ton of transition! He has been training and preparing to serve a higher-end clientele here in Sarasota… so if you need any real estate services… get in touch with the BEST REALTOR in town!
In addition to his amazing opportunity, I also had quite the busy schedule. I took on several new local interior design clients and have been extremely busy designing! With those projects near completion, I am excited for a few new adventures coming this year! Kevin and I took a few days over the holidays to discuss my business and where I want it to go this year. I am excited to announce that I am taking on only a few design projects a year and focusing on my blog & online business with that extra time. So, there will be a bunch of new & exciting things to announce and see here on the blog this year. There will be more on this coming in a post soon…
Alright… now onto today's post!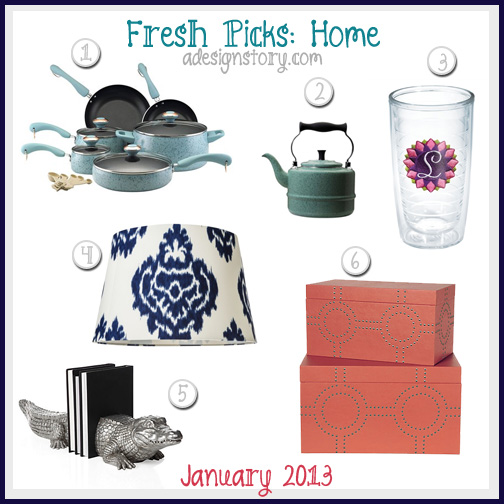 Here's the breakdown:
1. Kevin and I were on the hunt for additional posts & pans to add to our collection. We already had a few quality pieces, but we needed to replace a few of our other pots & pans… we came across this aqua ceramic set from Paula Deen. We took the plunge and purchased them and we are glad we did. They are very nice and with every wash the look brand new. We are thrilled.
2. With the new aqua pots & pans in our cabinets, I put this Paula Deen aqua ceramic teapot on my list to purchase soon. It matches the pots & pans and when I am not drinking coffee, I am drinking tea… so this will get used a bunch!
3. Kevin has a ton of large Tervis Tumblers, which I have grown to love. However, they are all "boy-ish" and very large. I put one on my wish-list this year and Santa didn't disappoint. I received a monogrammed "L" tumbler with a pink lid. I love it. Actually, the Tervis Tumbler Outlet & Factory are only about 30 minutes south of our house… I am thinking I may need to venture down and get a few more! P.S.- They have a lifetime guarantee– so if it breaks, leaks or fogs up… they will replace it!
4. Blue ikat. I love it. Just wait until you see our newly re-decorated home office/studio (which is coming in a post soon). We are loving navy blue these days and we love ikat. This ikat lampshade is perfect… It's going to go on an apple green lamp I currently have. I can't wait to get it!
5. Kevin is working at his downtown office with the switch to Sotheby's (his new broker firm). Although it is super exciting, I miss him too. We do have a spot for him in our new home office/studio, but he is mainly at the downtown office now. When I stopped by to see his new office and meet some of his new co-workers the designer inside of me was like… "wait, what"!! Kevin is simply a minimalist and his office was completely bare. I can't believe anyone can be productive in such a plain space. He had nothing on his desk and nothing in the room as far as decor/office accessories go. Thank goodness his wife is a designer. Haha. He was actually just so busy he didn't have time to think about that "stuff". No worries, I couldn't let his office be ugly… it would look bad on me 😉 That's what I told him anyways. We sat down and created a "theme". He wanted an upscale Gator (he graduated from The University of Florida)/Urban/California Beach theme. No problem… I went out and found some amazing office accessories & decor. We did a lot of modern woods, stainless steel and blue. One of things I recently ordered were the gator bookends… they are a secret. So, if you are reading this Kevin… surprise!
6. Kevin and I have a ton of items on our project/to-do/home improvement list this year. I will share that at some point this coming week. One of the things are on list is to add a little more color to some of our rooms. We love the current aqua, turquoise, tan & white scheme we have going on, but we really like the idea of adding some green, navy & coral to our current color scheme. Stay tuned for more on that! I love the idea of adding these coral trunks in the corner of a hallway or room… aren't they great?!
What do you think? What home decor items are you guys loving these days??
Now… here are a few fashion/beauty items I am loving…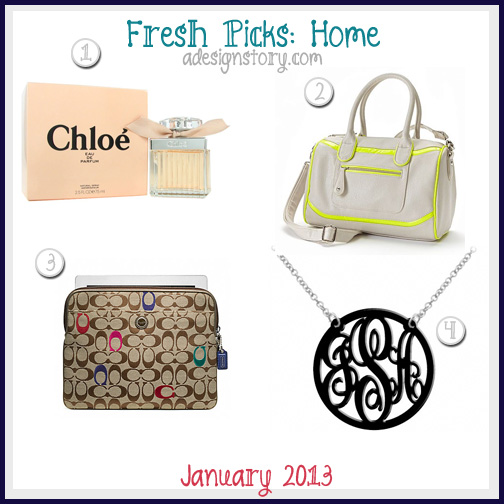 Here's the breakdown:
1. I contacted my super fashionable cousin, Kara, a few months ago in search for a new perfume to add to my Christmas list this year. I am a huge Juicy Couture fan when it comes to parfumes… so I asked her to help me find one that had a similar girly & sweet smell to those in the Juicy collections. She immediately texted me a picture of Chloe. She said this is the one. So, trusting her judgement I added it to my list. Afterall, if anyone knows what I am talking about, it's Kara. My hubby got it for me for Christmas and I am in love. It's a fun girly, sweet scent and I adore it. Ladies, it's a winner. Thank you Kara!
2. Among all the fabulous gifts I received this Christmas, one of my favorite gifts from my parents stash was a beautiful handbag. Although I can't find it online, it was a patten leather nude & black bag. It's beautiful! On my search to locate the bag online to show you all (with no luck), I came across this neat neon bag. I love the neon green/yellow piping. Perfect for winter/spring?!!
3. During my Christmas shopping journey with my friend Melissa, we stopped in the Coach store… you know just to see what we see type of thing. Right. Anyways, we came across these Coach ipad cases… yep, we both took the plunge and bought one. There was a sale and we couldn't resist. Isn't it fabulous?!!
4. One of my favorite gifts I gave my mom this year was a monogrammed necklace I found on Etsy. I loved it and knew she would too! The necklaces come in all kinds of colors and styles… go and check them out! Tell them I sent ya!
So… tell me what you ladies are loving this month? Neons, nudes or floral patterns? Share… I wanna know!
Stay tuned for some amazing updates and real blogging on a more frequent basis. Thanks for sticking around with me… it means so much!