Hi! It's Wednesday? Yeah, I had tons of scheduled posts for last week & this week, but family comes first. My sweet grandparents (on my mom's side) are not well & sometimes it's better to put the to-do lists, the blogging & the projects on the back burner… after all, they are going anywhere and my grandparents just might. It's been a long journey of healing after my sweet Memaw went to be with Jesus, and I almost shutter to think we may have to go through that type of pain again. The good thing is, I know they love me & they know I love them & there is comfort in that & the fact they know Jesus.
OK… Let's get back to decor, shall we? We are in the midst of working on our house to do list, so I am not quite ready to show you those items yet… maybe next week, maybe. I am always no the hunt for furniture & decor for clients or myself. Sometimes it can be a one for you, one for me type of hunt… which is my favorite! On my selection hunt early last week for a client, I came across so many beautiful side tables. I adore the idea of adding a fun, bright or rustic side table in a bedroom or living space. Don't you? I quickly spotted 6 of my faves & thought I might share…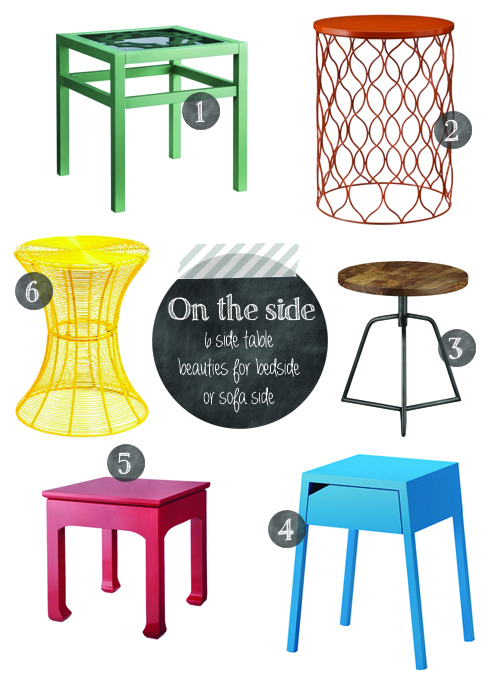 1// Green Lattic Table / 2// Orange Wave Table / 3// Rustic Stool / 4// Blue Mod Table / 5// Coral Side Table / 6// Yellow Wire Table
What do you think? Are you into the fun, trendy side tables too? Do you have any neat accent tables in your home? Do tell… Oh, and while you are at it, we are taking submissions for diy projects & room re-do's to showcase here on the blog. Email me at lindsay@adesignstory.com for a feature!