Its Fall… and it actually feels like it in my parts. Well only in the mornings and evenings, but we'll take it! As most of you know, I do like to change up our space a bit with the changing seasons… I think it gives your home's interior personality and character!
You saw our Autumn Wreath last month… now we brought some other accessories in!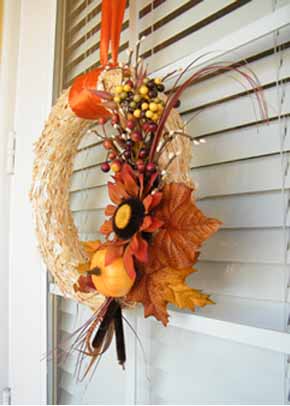 Since we still live in a beach town, I do keep some of my beachy accessories out all year. They coincide with both our love for the beach and our interior. We heart the beach! Anyways, I do put away some of the starfish dishes and seahorse pillows to bring in warmer things for the autumn and winter (stay tuned for winter posts).
This year, I decided to go simple. Autumn is all about warming up your space a bit before the true cold gets here. Since we will only be keeping our autumn accessories out until probably Thanksgiving this year (although last year as newlyweds, we decorated for Christmas the day after Halloween… we were excited), I didn't want to spend a great deal on pricey pieces!
So, let's get to it. Here's a fun breakdown of our fall accessories.
1. We don't have a fireplace so we don't have a mantel to decorate. But, we do have a fabulous, tall storage bench we use to add holiday decor & pillows to. This year, we picked up a few small pumpkins for $4 at our local grocery store. I pulled out a glass candle holder, added a ring of leaves and put the largest pumpkin on top with the smaller two on both sides. We spotted a deal on the two candle shields on the ends from Pier 1 last year~ they give a great glow to the space in the evenings when the candles are lit! Next, we hung an autumn inspired door hang (I make and sell on Etsy) on the middle hook.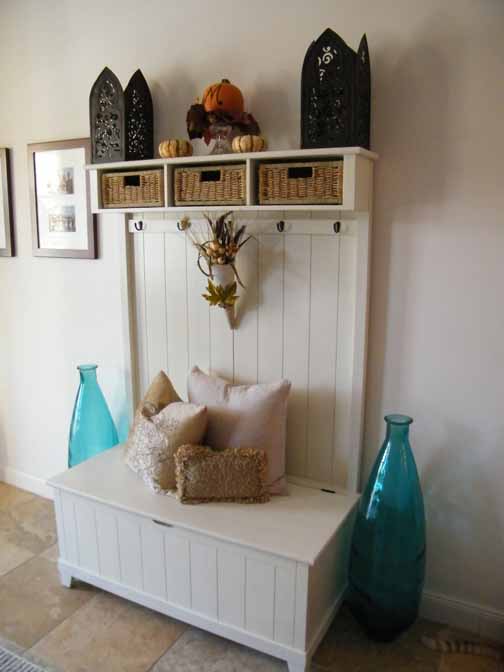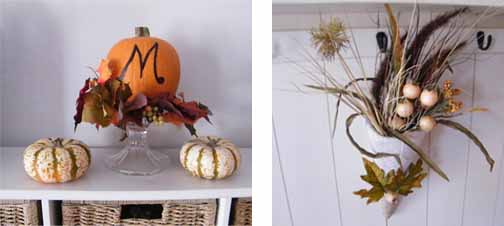 2. Our sofa table is a great place to add holiday decor too. This year we added a glass cube with faux acorns and a candle with two candle holders flanking both sides, which we made these candle holders out of old spaghetti jars. This project is both cheap and easy! We just grabbed some burlap and hot glued it on the spaghetti jars and finished them off with a rope bow and a candle. We also added fall leaves to one of the taller jars for height!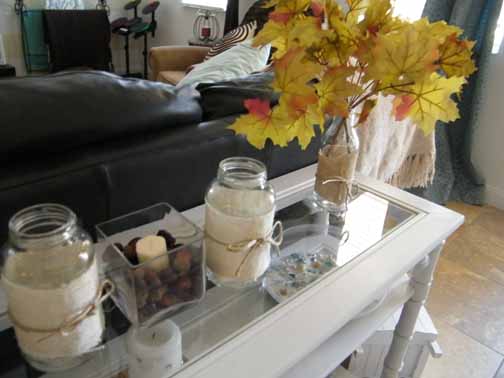 3. Inside the living room, we have a ladder shelf (which we love). This makes a great spot for smaller holiday accessories to reside. This year I added a ceramic pumpkin light, it looks great in the day and even better in the evening.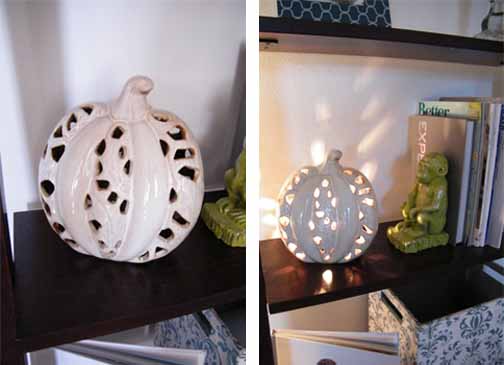 4. Fall accessories don't always have to be literal. I take the time to warm up our space with blankets and pillows in darker hues. For example, I added this burnt orange throw and darker brown pillows to our chairs for extra comfort.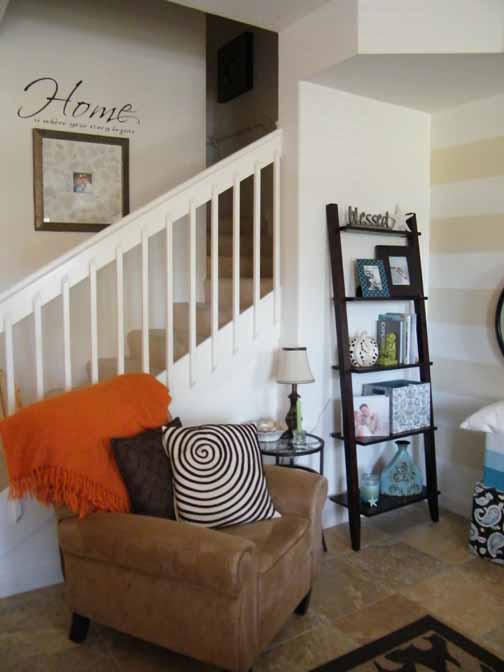 5. In the kitchen nook, we added some candle holders with pumpkins on top, another small burlap jar and a picture frame that ties in all of the orange hues we are introducing.
6. The kitchen table also got some attention! We brought back our brown place mats, added brown & yellow napkins (which were a wedding gift) and topped the table scape off with a new centerpiece. The entire centerpiece cost us $5 from our local Goodwill!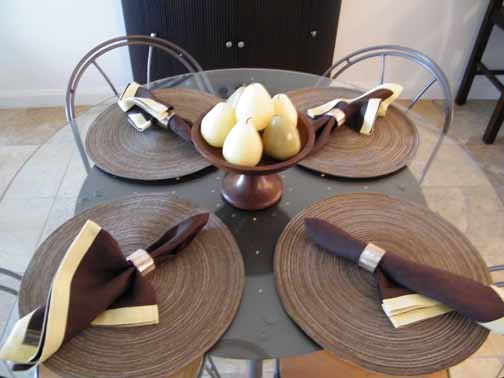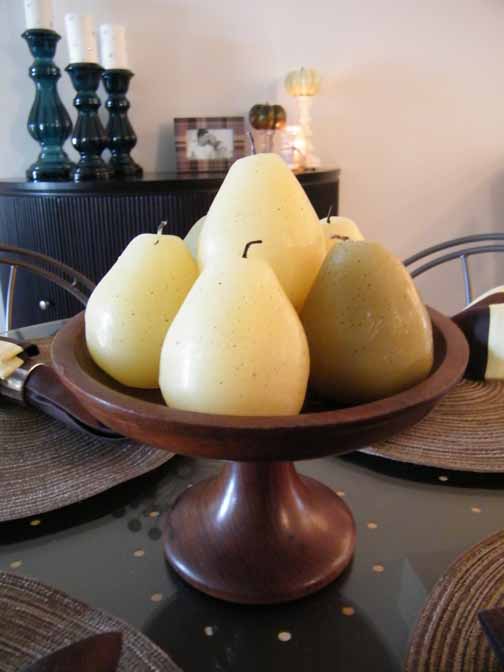 7. In the kitchen, we used one of the serving trays we received as a wedding gift and added pumpkins to it. We love making items we have multi-purpose… it makes us feel like we are actually utilizing our things to the best of our ability, which makes buying certain items more attractive!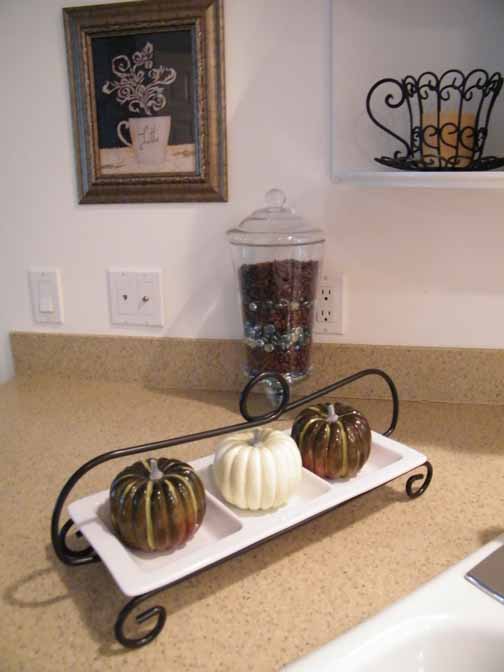 8. The last few things are just small items we place out in certain nooks and crannies to add to the overall autumn feel! We aren't clutter or nick-knacky people, so you won't find holiday décor in every corner, but sometimes the small things can really help pull a space together! Plus, when you can pick things up on discount from places like Goodwill & Target, it makes it easier to take up seasonal decorating!

Have you decorated for fall yet? How did you do it? Or maybe you are more of the Halloween decorator? We don't have kids yet… well except for our pets… so Halloween isn't a huge deal around our abode. We are not much for scary things anyways (we are dorks and anything remotely scary freaks us out).
But Bentley gets dressed up… even though it embarrasses him!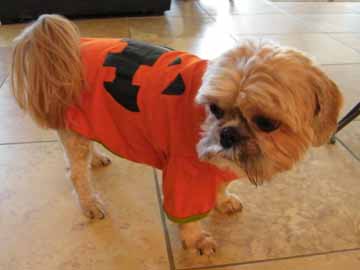 What have you done to warm up your space for the coming season? Do tell!
We have been featured today on ShelterPop… want to learn how to build a room around patterned bedding… hop over and check it out!
P.S. Did you sign up for this week's Gracious Giveaway? Hurry to enter for your chance to win a luxurious pillow cover!
Also, we are taking submissions for your DIY and Home Re-Designs. Just email Lindsay@adesignstory.com for details.
Last but not least, We are having a sale on advertising… stop by and secure your space!
All images are courtesy of A Design Story, LLC. This post was added to Southern Hospitality Fall Post.