Hi! Happy February! It's that time again, Fresh Picks! For those of you who are just joining in here at A Design Story, this is where I dish about what we've been loving over the past few weeks, things we've bought and generally what's catching my eye. I started this feature way back when the blog first began and it's become a fan favorite. Let's begin…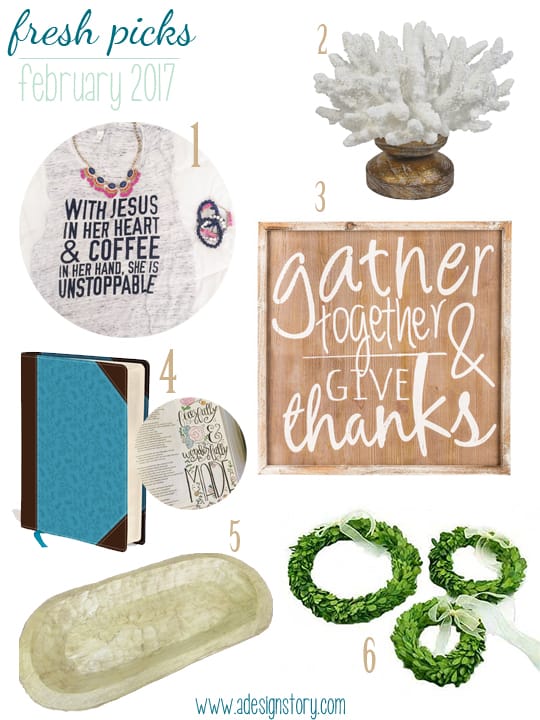 Here's the breakdown:
Boxwood wreaths are the rage these days with the increasingly popular farmhouse décor obsession. I have had a fairly large one in our foyer for a few years now. It still sings to my heart! Our home is beachy/farmhouse, I believe these wreaths can lend itself to traditional décor all the way to modern. The one tip I could give, these needs to be watered. Remember these boxwoods are still alive. I take a water spritz to the both sides once a month to ensure the wreath won't to brown and die.
Nautical and beach décor is my love language… ok I am kidding, I love classic beach décor. I think this would look adorable on a bookshelf as a bookend or on a nightstand.
It's not Thanksgiving, I know! This piece had me at gather. I think this wall art would look great in a kitchen breakfast nook or dining area. There is something about gathering around the table with our loved ones and all the prayers of thanks that have gone up that makes me teary eyed. I adore family time and I think this would be a very cute addition to a dining area. PS- I did buy this! It was on a super sale and I snagged it!
Be still my heart. I love a good wooden dough bowl. My mom and I go to the Fancy Flea Market in Florida twice a year and we have a blast shopping and perusing! The Fancy Flea is a big weekend of all things vintage, home décor and crafts. I picked up a wooden dough bowl similar to this one this fall and I am loving it. It's on my dining table right now and it's the right bit of farmhouse and classic!!
Adore and obsessed. Being a stay at home mom has its perks and its tough times. Getting the luxury of dressing how I wish everyday is pretty amazing. I love the idea of this tshirt with a cute pair of denim jeans or shorts with a cute messy bun. The plum short sleeved style fit my taste and can't wait to get it. Karla Storey shirts benefit foster girls to show them they have a purpose and a future!
My amazing hubby bought this journaling bible for me for Christmas. It was a wishlist item and he delivered the perfect one. It blends my love for creativity with my thirst for the word. I love the idea of giving this to our son one day as a keepsake. (When we have another child, I will get another to do all over again).
What's on your fresh picks list? Any favorites you want to share about?